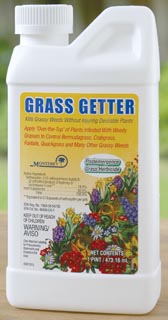 Click here to view product label
Grass Getter (formerly Poast) postemergence, selective grass killer for grassy weed control over the top of bedding plants, ornamentals, groundcovers, shrubs, wildflowers, clover, and vegetables.
Controls annual grasses as well as hard to control species such as Bermudagrass, Johnsongrass and Quackgrass.
Directions for Use
When to Apply
Apply any time grassy weeds are actively growing, not exceeding the minimum of days from application to harvest when used on vegetables and fruits. Warm sunny weather will accelerate systemic movement from leaves and stems down to the roots to give complete kill. Do not mow or cut off tops of weeds before spraying. Do not apply if rainfall is expected within one hour following application. Growth of treated grasses stops soon after application. They turn yellow and die within one to three weeks depending on the grass species, stage of growth and weather conditions. Cool weather, drought and heat stress slows activity.
How to Apply with Hose-End Sprayers
A. No Water Dilution/Premixing Needed. Determine how much area is to be treated in square feet. Pour 1 fluid ounce of GRASS GETTER and 1 fluid ounce of oil concentrate in the hose-end sprayer bottle for each 1800 square feet to be treated. Set the sprayer dial to apply as close to 1 fluid ounce per gallon as possible. After application, wash the sprayer with a dilute soap solution and rinse according to the sprayer instructions.
B. Water Dilution/Premixing Needed. Some hose-end applicators recommend that liquid products be premixed with water before pouring into the sprayer bottle. Read the hose-end sprayer instructions for making treatments at 1 fluid ounce per 1800 square feet. Clean the sprayer after use according to the sprayer instructions.
With Tank Sprayers
Mix 1 fluid ounce of GRASS GETTER plus 1 fluid ounce of oil concentrate per 1 gallon of water and spray to just wet the unwanted weedy grasses. One gallon of spray will treat 1800 square feet of area. Wash sprayer by flushing soapy water and then clean water through the sprayer.
IMPORTANT: For spot treating grassy weeds near lawns and around any sensitive plants, a tank type sprayer is recommended. Spray carefully to avoid spray or drift contact with desirable plants. If drift occurs, wash off foliage immediately with water.
Grass Getter should be used with an oil surfactant such as Herbicide Helper. Herbicide Helper is an oil concentrate penetrant that is used with herbicides to make them work better and faster. It works very well with Grass Getter.