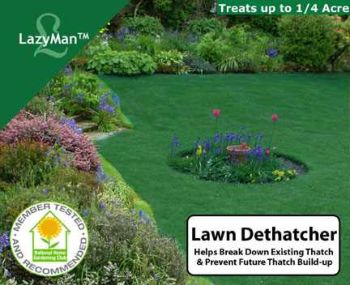 LazyMan™ Liquid Lawn Dethatcher is an easy to apply spray-on liquid. The liquid dethatcher has microbes that feast on dead plant tissue, which helps break down the unwanted thatch into organic soil.
THATCH BUILD UP CAUSES PROBLEMS!
Thatch is a layer of grass stems, roots, clippings, and debris that settle on the ground and either slowly decompose and/or accumulate over time. Thatch accumulates on the surface of your soil just below the grass line and is usually out of sight.
What causes thatch buildup? The causes are numerous and range from poorly aerated soil and excess nitrogen to high or infrequent mowing. Thatch buildup is commonly found in lawns where grass has grown tall, mulch is frequently left, and lawns that have never been aerated. The thatch layer is an ideal environment for pathogens and pests such as fungi and insects. Additionally, thatch tends to repel water, leading to hydrophobic soil conditions, which in turn adds stress and leads to additional maintenance requirements.
Liquid Dethatcher Advantage
LazyMan™ Liquid Dethatcher contains an advanced formulation of naturally occurring microbes that feed on dead plant tissue. Like any other population, they multiply when there is abundant food (thatch). By adding the concentrated microbes in Organica Natural Dethatcher, you help nature keep up with the accumulation of dead plant material. Repeated application establishes a thriving community of thatch eating microbes that help keep you ahead of thatch related maintenance problems by degrading cellulose, lignin, ligno-cellulose, and xylose which is all part of dead plant material.
LazyMan Products Comparison Chart
Aerator
Dethatcher
Gold
Soil Doctor
Contains Liquid Aerator:
Yes
No
Yes
Yes
Contains Microbial Dethatcher:
No
Yes
Yes
Yes
Contains Soil Conditioners:
Yes
Yes
Yes
Yes
Contains 6-1-2 Organic Fertilizer:
No
No
No
Yes
Contains Amino Acids:
No
No
No
Yes
Contains Kelp Extracts:
No
No
No
Yes
Contains Potassium Humate:
Yes
Yes
Yes
Yes
Enhances Seed Germination:
Yes
Yes
Yes
Yes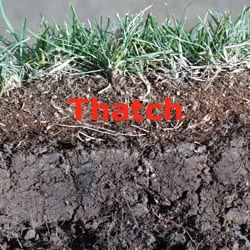 LazyMan Liquid Dethatcher is:
Effective under a wide range of conditions
Treats and controls thatch layer in turf
Helps minimize thatch related turf maintenance problems
Accelerates the decomposition of thatch into nutrient rich humus
Allows better water and oxygen penetration
May reduce the need for some associated pesticide applications
It has organic components that are beneficial to the soil
Mechanical dethatching alone may not work! Dethatching and aerating machines cut through and disturb the thatch layer, allowing water and oxygen penetration. But thatch is often produced faster than normal decomposition and machines can remove it. The result is a recurring problem that requires repeated temporary treatments; labor costs increase and associated problems persist.
Stay ahead of thatch build up. LazyMan™ Liquid Dethatcher accelerates natural thatch decomposition and will reduce the frequency of mechanical treatments or can completely eliminate them. This program helps improve soil and turf conditions and may reduce the need for some associated pesticide applications.
Research has shown this microbial dethatcher to reduce thatch approximately 50% after three applications at 4 week intervals. Once thatch is broken down, this microbial dethatcher will also help prevent future thatch build up. If organic fertilizers are used instead of synthetic in conjunction with this lawn dethatcher, the need for mechanical dethatching is virtually eliminated.
Soil Conditioning
LazyMan™ Liquid Dethatcher is not only formulated to break down thatch, but we have also added humic acids which is a concentrated form of Mother Nature's compost.
WHAT DO HUMIC ACIDS DO?
PHYSICAL BENEFITS - Physically modify and improve the soil.

Increases water holding capacity.
Increases aeration of soil.
Improves soil workability.
Helps resist drought.
Improves seedbed.
Makes soil more friable or crumbly
Reduces soil erosion.

CHEMICAL BENEFITS - Chemically improve the fixation properties of the soil.

Retains water-soluble inorganic fertilizers in the root zones and releases them to plants when needed.
Promotes the conversion of a number of elements into forms available to plants.
Possesses extremely high ion-exchange capacities.
Participates in the decomposition of rocks and minerals.
Increases buffering properties of soil.
Chelates metal ions under alkaline conditions.

BIOLOGICAL BENEFITS - Biologically stimulate the plant.

Stimulates plant growth by accelerating cell division, increasing the rate of development in root systems, and increasing the yield of dry matter.
Increases germination of seed and viability.
Increases vitamin content of plants.
Increases the permeability of plant membranes; promoting the uptake of nutrients.
Stimulates root growth, especially lengthwise.
Increases root respiration and formation.
Stimulates growth and proliferation of desirable soil microorganisms as well as algae and yeast.
Aids in photosynthesis.
Stimulates plant enzymes.
Acts as an organic catalyst.
Has no detrimental effects on quality of product.
When you combine all the benefits of humic acids with the tested and proven microbes to help break down thatch, you will turn thatch into rich organic compost and improve the overall health and quality of your lawn.
Liquid Dethatcher Usage and Application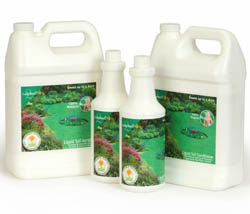 LazyMan™ Liquid Dethatcher is safe to use and is very enviromentally friendly. It is safe to use around animals, pets, and people. However, when using any product, precautions should be taken to avoid direct skin or eye contact due to possible irritation. Click Here for MSDS
APPLICATION RATES
Apply 3 - 6 ounces per 1,000 square feet or 1 - 2 gallons per acre 2 - 3 times a year or until thatch is under control.
Coverage Per Application:
Soil Aerator: 1 quart - Up to 10,000 Square Feet
Soil Aerator: 1 gallon - Up to 40,000 Square Feet
Soil Aerator: 2 1/2 Gallons - Up to 100,000 Square Feet
Soil Conditioner: 1 quart - Up to 10,000 Square Feet
Soil Conditioner: 1 gallon - Up to 40,000 Square Feet
Soil Conditioner: 2 1/2 Gallons - Up to 100,000 Square
Lawn Dethatcher: 1 quart - Up to 10,000 Square Feet
Lawn Dethatcher: 1 gallon - Up to 40,000 Square Feet
Lawn Dethatcher: 2 1/2 Gallons - Up to 100,000 Square Feet