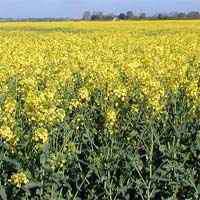 Winfred Rape Seed - Forage Quality
Winfred forage brassica napus is a cross between a turnip and a kale, traditionally termed a rape. These different genetic make-ups have conferred very different characteristics.
Winfred forage brassica was identified, by its Netherlands breeders, as a rape line that survived an unusually cold winter. The name is derived from the reference to winter (Win) and a close approximation to the German word froid (Fred), meaning cold. The ability to withstand minus -15oC frosts and retain green leaf makes Winfred a reliable forage brassica for winter feed.
Traditionally, Rape has been used as a summer lamb finishing crop and ewe flushing feed. However, cultivars with good frost resistance and better regrowth potential have extended grazing times from early summer to late winter. Rape is the most versatile of the brassicas, being suitable for a wide range of soil fertility and environmental conditions, stock classes and sowing times.
Rape seed may be sown from early spring to late summer, and used 12-16 weeks later (depending upon cultivar and environment). Sowing with the herb Plantain will increase the regrowth potential of the crop and provide a more balanced diet.
Rape can be grown at lower soil fertility than most other brassicas, and responds well to irrigation. It is not often grown in clubroot infected areas, but resistant cultivars are available.
Break feeding is recommended to control diet and minimize wastage. Careful stock management will prevent rape scald, scours, and nitrate poisoning by gradual introduction and grazing when crop has matured (often indicated by a purplish coloration of the leaf margins).
Winfred Rape:
Early maturing, 10-12 weeks
High leaf:stem ratio for excellent utilisation rates
Regrowth potential for 3-4 grazings
Retains leaf and stem quality in frost and cold conditions
Tolerant of dry conditions
Ideal for summer, autumn and winter feed
Seeding Rate
5 lbs per acre.