Flower Specifications
Season: Perennial
USDA Zones: 5 - 9
Approximate seeds per pound: 354,120
USDA Zones: 5 - 9
Height: 6 - 12 inches
Bloom Season: Spring
Bloom Color: Purple
Environment: Full sun
Soil Type: Moist, well-drained, pH 6.1 - 7.5
Planting Directions
Temperature: 70 - 75F
Average Germ Time: 28 - 35 days
Light Required: Yes
Depth: Press into soil, do not cover
Moisture: Keep moist until germination
Plant Spacing: 6 - 12 inches
Care & Maintenance: See: Blue-Eyed Grass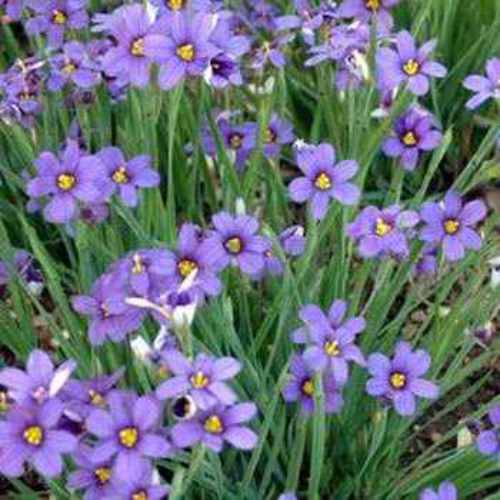 Blue-eyed Grass (Sisyrinchium bellum) - These Blue Eyed grass seeds are sure to thrill you! As you might expect from the common name, Blue-eyed Grass, this little perennial has grass-like foliage with a blue-purple flower. It is categorized as an ornamental grass, however, it is in the Iris family. Usually this six petaled flower will begin to flower in April and doesn't stop blooming until the end of July or August. Sow Sisyrinchium bellum seeds if you are looking for a star performer! It works well in rock gardens, cottage gardens, at the front of borders and along pathways. Use it in woodland areas and allow it to naturalize in informal settings, or for a more traditional setting, combine it with other low-growing ground covers like creeping thyme or a sedum.
How To Grow Blue Eyed Ornamental Grass From Seed: Sow Sisyrinchium bellum seeds in a sunny area. It likes moist but well-drained soil and a light application of low nitrogen fertilizer in early spring. Divide the Blue-eyed Grass plants every 2 - 3 years in the early spring.
Shaker Bottle With Seed Starting Matrix

Shake 'n Seed - We are now offering shaker bottles filled with our seed starting matrix: rich soil, gardening sand, water absorbing crystals, and starter fertilizer. This not only helps dispense your seed, but it gets it off to a great start! Simply remove lid from shaker bottle, add seed from packet, put back on lid, shake the bottle vigorously for 15 seconds, and then shake your way to beautiful new plants! Use Shake 'n Seed over good quality soil, and then gently water to keep seed moist until it sprouts. Great for ground covers or mass planting flower seeds.