Grass Specifications
Season: Perennial
USDA Zones: 7 - 11
Height: 24 inches
Width: 24 inches
Foliage Color: Green
Flower Color: Pink
Growth Rate: Moderate
Fall Color: Shades of brown
Soil Requirement: Well drained
Environment: Full sun to partial shade
Planting Directions
Temperature: 68 - 72F
Average Germ Time: 2 - 3 weeks
Light Required: Yes
Depth: Cover seeds lightly
Sowing Rate: 4 - 6 seeds per plant
Moisture: Keep seeds moist until germination
Plant Spacing: 24 inches
Care & Maintenance: See: Ruby Grass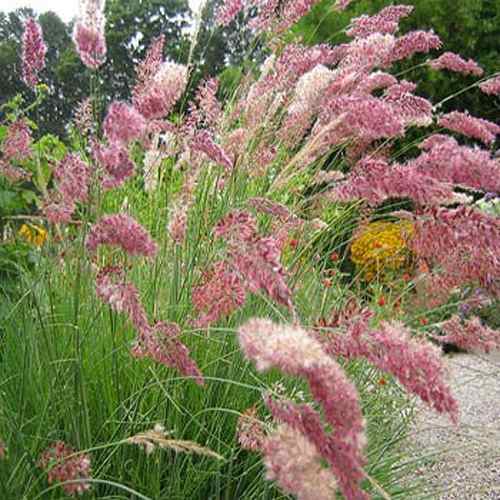 Ruby Grass (Rhynchelytrum Nerviglumis) - This is a spectacular ornamental grass is derived from South African species. Ruby Grass is an annual in colder climates, perennial in warmer climates. Ruby Grass has blue-green foliage that turns brown in the fall. It blooms from early summer throughout the summer with beautiful 3-4 inch ruby-pink blooms that sit about a foot above the foliage and are breathtaking blowing in the wind. This ornamental grass is great for use as borders, in mixed perennial beds, as well as in mixed containers.
It is best to plant Ruby Grass outdoors at the start of spring by lightly covering the seed after sowing. The plants should be spaced from 1 – 1 ½ feet apart and like most ornamental grasses should be grown in a sunny part of the garden. The soil type is not overly important but Ruby grass will thrive in a light and well drained soil. If starting off indoors then sow Ruby ornamental grass seeds about 7 weeks in advance. The seeds should take about 3 weeks to germinate.
Transplant the young grass seedlings following the last frost of spring. Caring for Ruby grass is fairly easy. The plants should not be grown in areas that experience strong winds as they will flatten. They thrive in a moist soil so water moderately when required. Cut back the ornamental grass in fall or by mid to late spring before the new growth starts. Warm season grasses turn shades of brown as the weather turns colder. Once Ruby grass turns brown you can trim it back at almost any time. If you require more plants then it is easiest to grow this ornamental grass from seeds, even though you can divide the plant . Divide Ruby Grass anytime in the spring through the beginning of summer. All ornamental grasses should be divided when they are actively growing but not while they are flowering. If the plants are dormant when they are transplanted they won't establish a good root system.