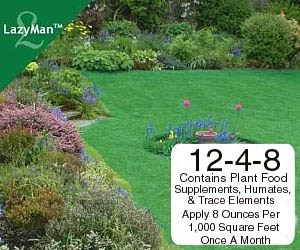 LazyMan 12-4-8 Liquid Lawn Fertilizer is the perfect ratio for bermuda grass and other lawn grasses. With this convenient ready-mix formulation, This liquid fertilizer contains a blend of quality, natural lawn food supplements plus soil activators and liquid humus. It's great for a quick lawn green-up since the nutrients are absorbed by the leaves within minutes. Avoid the messes and chemical hazards of harsh fertilizers. Give your lawn a LazyMan liquid fertilizer treatment.
With liquid lawn fertilizer treatments, nutrients are taken in directly through the leaves, which means faster, more efficient absorption of the fertilizer. LazyMan Liquid Lawn Fertilizer helps grow greener, more vigorous lawns from Spring to Fall by supplying plant nutrients in combination with Humic Acids for more complete nutrient uptake (less fertilizer waste) and soil activators to stimulate natural soil organisms.
Product Features:
Fast, efficient absorption
More vigorous lawns from spring to fall
Stimulates natural soil organisms
Complete nutrient uptake for less fertilizer waste
Directons For Use:
Use in any spray equipment. If you are using a hose-end sprayer set mixture to apply 1 - 2 ounces of 12-4-8 liquid lawn fertilizer to each 1 gallon of water. Use 8 ounces per 1,000 square feet of grass. Treat once a month during growing season. One quart covers 4,000 square feet. Do NOT water lawn for 24 hours after application. Apply lightly and evenly to leaves. Do NOT soak the soil.
Guaranteed Analysis:
Total Nitrogen (N)..........12.00%
Phosphoric Acic (P2O5...4.00%
Soluble Potash (K2O......8.00%
Copper (Cu)...................0.05%
Iron (Fe)........................0.50%
Manganese (Mn)............0.05%
Molybdenum (Mo)..........0.0005%
Zinc (Zn).......................0.05%
Humic Acid...................0.50%

Derived From: Urea, Phosphoric Acid, Potassium Nitrate, Potassium Hydroxide, EDTA Iron, EDTA Manganese, EDTA Zinc, EDTA Copper, Sodium Molybdate, Leonardite Ore.
FAQ:
What is the shelf life of this liquid lawn fertilizer?
8-10 years
Should I put LazyMan Liquid Lawn Fertilizer on before I mow or after?
This fertilizer needs to sit on the grass for 24 hours after application. It is best to put it on when you will not need to mow or water in that time frame.
What if were expecting rain?
It is best to use LazyMan Liquid Lawn Fertilizer when it will not be washed off the blades/leaves. For LazyMan Liquid Aerator and LazyMan Liquid Gold it needs to be watered in so applying before rainfall is perfect.
Are the products safe for children and pets?
All our products are safe to use around children and pets.