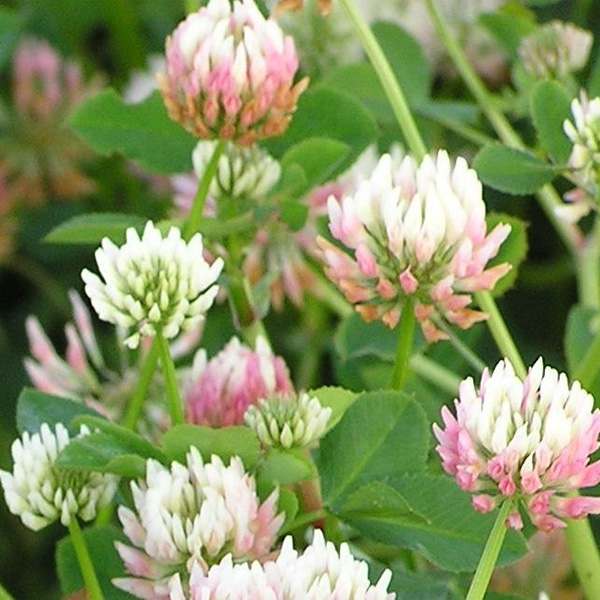 Balansa Clover (Trifolium Michelianum Savi) - Balansa is a mid maturing, semi erect, self regenerating annual clover that grows mainly in spring. It is very water logging tolerant and shows resistance to clover scorch and root rot. With its easily curable hollow stems is used extensively for production of high yield, good quality hay.
Balansa somewhat resembles white clover, yet has very distinct differences. It has white and pink flowers, hairless serrated leaflets that can grow very large. Its stems are hollow. Select varieties can extend up to 10 feet in length.
Balansa clover is unique cool-season annual legume native to the northeastern Mediterranean region and becoming widely used in North America and other parts of the world. Balansa can be used for grazing, hay, cover cropping, and wildlife feed. Balansa clover can be used in mixtures with other legumes and grasses in pasture situations, where it can re-generate from seed under proper management conditions. Other applications include silage (by itself or in rotation with corn silage), as a cover crop for nitrogen production and weed control, and in over-seeding warm season grasses and crops that can utilize the nitrogen created by the clover over the winter months.
Suitable for most soils on which Subclover grows well
Prolific seeder resulting in good persistence
Excellent spring growth
Good hay producer
Great for sheep, beef cattle, horse hay & silage
Strengths:
Sets large amounts of seed.
Hardseeded in cool climates.
Excellent waterlogging tolerance.
Adapted to a wide range of soil types and pH ranges.
Mild salinity tolerance.
Tolerant of clover scorch.
Regenerates well on suitable soils under appropriate grazing management.
Limitations:
Not suited to deep infertile sands.
Not suited to moderate-high soil salinity.
Slow establishment in the first year if sown under cold conditions.
Grazing/cutting: Balansa clover can be lightly grazed in the first year. Care is needed to limit grazing pressure during flowering to ensure adequate seed set. Paddocks should not be "crash" grazed or cut for hay in the first year if the stand is expected to regenerate. However, plant residue should be grazed over summer to encourage hardseed breakdown and maximise regeneration. It can be used for both continuous and rotational grazing but persistence is better under the former. It remains relatively prostrate when continuously grazed and is very tolerant of regular defoliation while young. Left ungrazed it will grow up to 1 metre tall in spring, the stems collapsing and growing horizontally. It does not recover well from a late cut or grazing when stems are large and the plants tall and flowering. Very little seed will be produced if mature flowering stands are hard-grazed.
Feeding value: Balansa clover provides excellent green feed, and although quality reduces after maturity, but remains sufficient to ensure satisfactory animal production over summer e.g. crude protein levels in the dry matter at the very early bud stage may be over 20% and digestibility about 80%; within 4 weeks, these values may drop to about 15% and 70% respectively. In the same period, metabolisable energy may drop from around 11.5 to 10 MJ/kg DM.
Palatability: Readily consumed by livestock, either as green or dry feed.
Livestock disorders/toxicity: Bloat can occur in cattle grazing lush balansa clover dominant pastures.
Seeding Rate Monoculture:
5 lbs/acre drilled
8 lbs/acre broadcast
Seeding Rate In Mixes:
3 lbs/acre drilled
5 lbs/acre broadcast
Planting Depth: 1/8 - 1/4 inch
Ideal Soil: Soil pH of 4.5 - 7.5, and tolerates poorly drained soils with moderate salinity.
Inoculated Seed - Balansa clover seed has been coated with an inoculant for better establishment. Nitrogen fixation is a one of the key values found in legumes and can only occur with the proper inoculation. Although many strains or Rhizobium may be present in the soil, all are not equally beneficial. With Nitro-Coat® each seed is inoculated with the correct Rhizobium strains and coated through a proven process that ensures a very high level of successful inoculation. A key to any successful establishment and early seed development is moisture. Nitro-Coat® is naturally water absorbent and helps attract soil moisture to the seed, getting your stand established quickly. This coating process which Outsidepride utilizes, assures that only the top-performing and crop-specific rhizobia will be applied to ensure your clovers reach maximum nodulation, stand establishment, and yield potential. With Nitro-Coat® each seed is inoculated with the correct Rhizobium strains and coated through a proven process that ensures a very high level of successful inoculation. The weight of the clover seeds will contain approximately 34% coating material that contains the inoculant and water holding material for better establishment and viability of the seed. There is no difference in the seeding rates between the coated and raw seed due to the increased germination and viability of the bulk clover seeds that are coated and inoculated. This coating material is not OMRI certified.