Season: Annual
USDA Zones: 3 - 10
Height: 6 - 8 inches
Bloom Season: Summer and fall
Bloom Color: White
Environment: Full sun to partial shade
Soil Type: Moist, pH 5.6 - 7.5
Temperature: 68 - 72F
Average Germ Time: 7 - 14 days
Light Required: Yes
Depth: Do not cover the seed but press into the soil
Sowing Rate: 2 - 3 seeds per plant
Moisture: Keep seed moist until germination
Plant Spacing: 6 - 8 inches
Care & Maintenance: Mimulus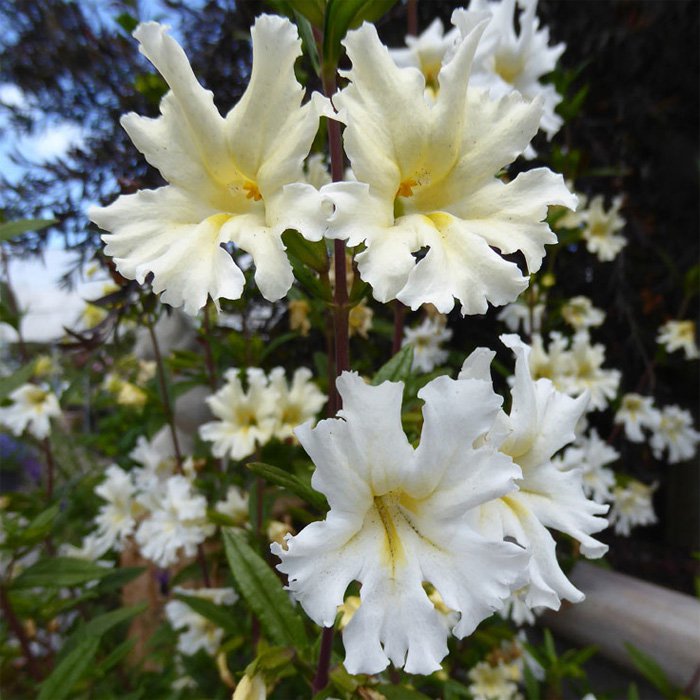 Mimulus (Mimulus Hybridus F2 Twinkle White) - Also known as Monkey Flower, this small 6 - 8 inch shrub has a somewhat upright rounded and compact habit, and it grows quickly from Mimulus seeds. Mimulus Monkey Flower is moderately vigorous and is freely branching with dark green glossy leaves that are slightly serrated. White Mimulus has a profusion of large white ruffled flowers that continuously bloom from late spring to first frost. In frost free regions, Mimulas will bloom year round. The white Monkey Flower plant is easy to start from flower seeds, and it makes a great addition to the front of the garden or in containers.
The blooms on this white Monkey Flower generally open in a pale yellow-ivory and fade to white. Mimulus annual plants have the useful characteristic of sprouting new growth from the base so that old growth can be pruned away. In hotter climates, it is best with light shade.
Sow Mimulus seeds indoors 6 - 8 weeks before the end of frost season. Press the flower seeds into the soil but do not cover. Transplant Monkey Flower seedlings outdoors after danger of frost has passed 6 - 8 inches apart. From Mimulus flower seed to blooming in 8 - 10 weeks.