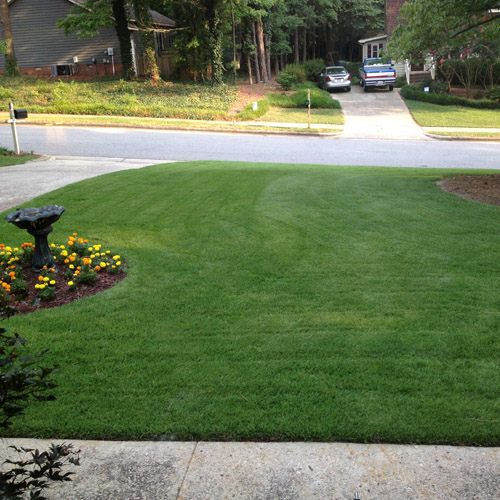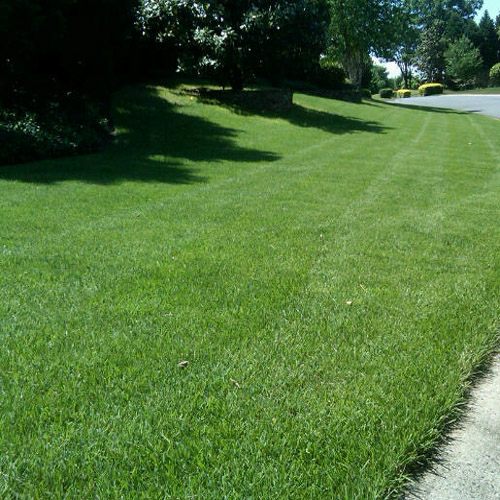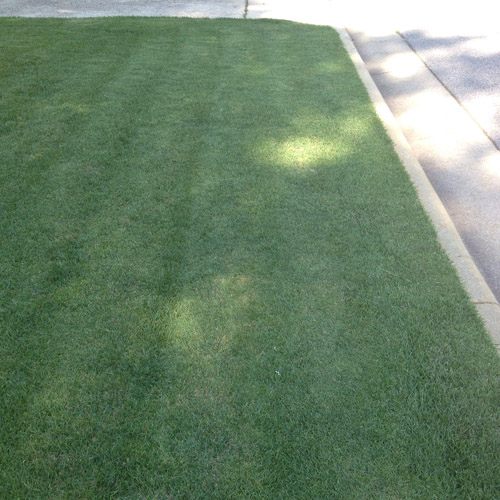 We will not be carrying any zenith zoysia grass in 2016. Crop shortage.
Description: Zenith zoysia grass (Zoysia japonica Steud.) has a dark green color and leaves of medium texture. Zenith creates a dense, slow growing, low maintenance turfgrass that can tolerate traffic and wear better than most warm season grasses. Zenith is commonly used in both commercial and residential landscapes, sport fields, golf courses, roadsides and medians. Zenith grass seed is one of the more shade tolerant warm season grasses. Zenith Zoysia grass is a low-growing, creeping grass that is heat resistant, drought resistant, wear resistant, and cold resistant. Zoysia grass Zenith grass looks much like Meyer (Z-52), but is not as fine-bladed as Emerald Zoysia. Tests plots grown from Zenith seed clearly demonstrate that Zenith produces a higher quality turf than imported Zoysia seed.
Adaptation: Zenith zoysia grass tolerates extreme heat and cold and is well adapted for climates from the southern coast of the US to the upper transition zone. It can establish, survive and provide quality turfgrass cover as far north as New York and Illinois and west to California and Oregon. Zenith survives drought conditions by going dormant (leaves roll up and turf turns gray) then greens up at the first exposure to moisture. Zenith does not like poorly drained soils especially where water may stand for several days. Optimum water management for Zenith zoysia grass, as with any grass, is dependent on soil physical characteristics.
Wear & Disease Resistance:s dense turf restricts weed establishment and minimizes weed presence wherever it is used. Zenith is particularly tolerant of common lawn insect pests. Disease is a minor problem with Zenith zoysia grass and is generally limited to patch and rust diseases.
USING THE QUICK GRASS SEED CALCULATOR:
Simply select your unit of measurment and enter your area value(s). The total square footage (if appropriate) and seed required to cover your area will be automatically calculated.

Coverage Type
Grass Type:
Coverage:

Coverage Area
Units:
Length:
ft.
Width:
ft.
Sq. Ft.:
Acres:

Grass Seed Options and Information:

Grasses Used in Your State:
You can look up to see what the most popular grasses used in your state are.

USDA Zone Map:
This is a USDA zone map specifically for your state so you can tell exactly what zone you are in.

Best Grasses For Your State:
This feature gives you a list of all the grasses that Outsidepride.com carries that are good for your state.

Grass Characteristics:
Start fine tuning your grass selection based on what priorities you are looking for: drought, shade, texture, water use, etc.

Grass Seed Calculator:
Can't figure out how much seed you need? No problem, go to this section to calculate your exact grass seed needs.

LazyMan Liquid Gold:
Provides a brief description of LazyMan Liquid Gold and gives you a link to learn more about this hugely popular product.

Choose your state below for grass seed info!
Optimum Growth: Zenith zoysia grass grows best when soil pH is between 6.0 and 7.0. Slow release or organic nitrogen applications totaling 2 to 3 lbs per 1,000 sq ft total through the growing season produces a healthy turf. Maintain cutting height of 1/2 to 1 1/2 inches. Mowing may be required on a 7 to 10 day interval. Zoysia lawn grass can be slow to get established; however, seeded per instructions on a new seedbed and well managed, a spring planting of Zoysia turf seed can produce a good lawn by early fall. Zenith Zoysia lawns have more tolerance for extreme cold and light shade than Bermuda, and much more tolerance for extreme heat and high humidity than ryegrasses, fescues, and bluegrasses. Zenith will compete well with crabgrass and other annual weed grasses, and usually chokes out cool season grasses in hot, humid climates. Once the zoysia turf is fully established, it forms the most dense turf of any grass available.
Zoysia Grass Comparison Chart
Here is a quick chart to help you compare between Zenith zoysia and Compadre Zoysia grass seed (formerly Companion). The checkmark designates the better grass (may be slight difference) for the description. For example, if frost tolerance/winter kill is your primary concern then you would want to buy Zenith Zoysia grass. If disease resistance to dollar spot is your primary concern then you would want to buy Compadre Zoysia grass.
Zenith vs. Compadre Zoysia Grass
Description
Zenith
Compadre
Genetic Color
√
Color - Sept. & October
√
Color - Winter
√
Spring Green-up
√
Leaf Texture
√
Density - Spring
√
Density - Summer
√
Density - Fall
√
Frost Tolerance/Winter Kill
√
Seedhead Ratings
√
Mowing Quality
√
√
Disease - Dollar Spot
√
Disease - Brown Patch
√
Disease - Mole/Cricket
√
Seeding Rate & Planting Time For Zenith Zoysia Turf Grass Seed
New turf: Sow 1 - 2 pounds Zenith Zoysia seed per 1,000 square feet or 40 - 80 lbs/acre for broadcast seeding
Plant warm climate grass seed when soil temperature reaches 70 degrees in spring up until a minimum of 10 weeks before frost in fall