Groundcover Specifications
Season: Annual
USDA Zones: 4 - 10
Height: 8 inches
Bloom Season: Late spring to mid summer
Bloom Color: Violet blue
Environment: Full sun to partial shade
Temperature: 70F
Average Germ Time: 7 - 14 days
Light Required: Yes
Depth: Surface sow seed and press lightly in to soil
Soil Type: Moist, well drained soil
Sowing Rate: 3 - 5 seeds per cell or approximately 5000 seeds covers 100 square feet
Moisture: Keep seeds moist until germination occurs
Plant Spacing: 6 - 9 inches
Note: For detailed directions for indoor and outdoor planting, please Click Here
Care & Maintenance: Legousia
Legousia Blue (Legousia Speculum-veneris Blue) - Sowing Legousia Blue seeds is a great way to establish this lovely, spreading ground cover plant. Also known as Venus' Looking Glass, this annual is covered with pretty purple and lilac-blue flowers with a white center. The Legousia Blue flowers open in sunshine and close up when the weather is dull or wet. Legousia Venus's Looking Glass makes an excellent ground cover plant or use it to edge the border of flower beds.
Sow Legousia Blue seeds directly outside into a prepared seedbed. Press the ground cover seed into the soil to make good contact. Keep the seeds moist until germination. Legousia flowers will bloom in about 3 months when planted from ground cover seed.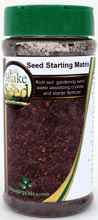 Shake 'n Seed - We are now offering shaker bottles filled with our seed starting matrix: rich soil, gardening sand, water absorbing crystals, and starter fertilizer. This not only helps dispense your seed, but it gets it off to a great start! Simply remove lid from shaker bottle, add seed from packet, put back on lid, shake the bottle vigorously for 15 seconds, and then shake your way to beautiful new plants! Use Shake 'n Seed over good quality soil, and then gently water to keep seed moist until it sprouts. Great for ground covers or mass planting flower seeds.