Fountain Grass Seeds - Rueppelii
Season: Perennial
USDA Zones: 8 - 10
Height: 24 - 36 inches
Width: 24 - 36 inches
Foliage Color: Green
Flower Color: Rose-pink
Growth Rate: Fast
Fall Color: No change
Soil Requirement: Evenly moist soils, pH 5.8 - 7.2
Environment: Full sun
Temperature: 68 - 72F
Average Germ Time: 7 - 14 days
Light Required: Yes
Depth: Cover seeds lightly
Sowing Rate: 4 - 6 seeds per plant
Moisture: Keep seeds moist until germination
Plant Spacing: 24 - 36 inches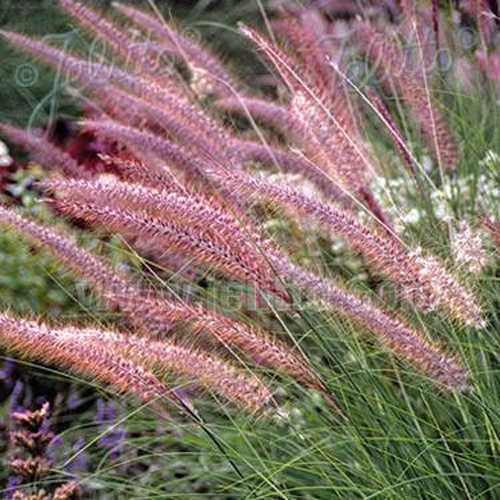 Fountain Grass (Pennisetum ruppelii) - Grow Fountain Grass seeds for a breathtaking ornamental grass that will bring beauty to any landscape setting. One of the most popular ornamental grasses, rose Fountain Grass add rich rosy-pink color to the summer landscape. The 12-inch plumes have a fuzzy, soft consistency and seem to float above spinach-green stalks 2 feet tall. Fountaingrass is perfect as a specimen or accent planting. The blades bow under the weight of its bright blooms, creating a lovely cascading effect.
The flowers are lovely in arrangements as well as in the garden. Fountain grass is an ornamental grass that adds both color and architectural effect, blooming from midsummer till fall. It is often grown as an annual as it only survives the winter in the warmest climates. The plant does re-seed itself.
How To Grow Fountain Grass From Ornamental Grass Seed: Start Fountain Grass seeds indoors in the late winter. Use pots or trays filled with moist seed starting mix. Sow the ornamental grass seeds on the moist soil and lightly cover. When the seedlings are large enough to handle, transplant them into a larger pot for continued growing. Harden the ornamental grass plants off for 10 days or more before transplanting outside once frost danger has passed. Grow pennisetum plants in full sun and in dry soil. Once established, this ornamental grass is largely maintenance-free.