Flower Specifications
Season: Annual
USDA Zones: 4 - 9
Height: 4 - 5 inches
Bloom Season: Late spring to mid summer
Bloom Color: Mix
Environment: Full sun to partial shade
Soil Type: Well-drained, pH 6.0 - 6.5
Deer Resistant: Yes
Planting Directions
Temperature: 64 - 70F
Average Germ Time: 7 - 21 days
Light Required: Yes
Depth: Cover seed lightly with peat moss after sowing
Sowing Rate: Approximately 1000 seeds covers 20 square feet
Moisture: Keep soil slightly moist but not wet
Plant Spacing: 6 inches
Care & Maintenance: See: Alyssum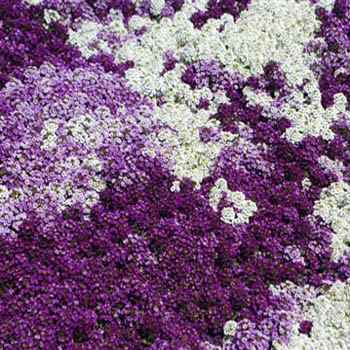 Alyssum (Lobularia Maritima Mix) - Alyssum plants grow well in full sun to partial shade, and they make a wonderful annual ground cover. This Lobularia Maritima seed mix offers blooms in white and shades of purple and violet. It is low-growing, branching, and has a trailing habit. Alyssum is easy to grow from flower seed, and it is dependable and versatile in its many uses. Because Lobularia Maritima has a tidy, compact growth habit it is ideal for edging the flower garden and for containers as well.
Alyssum is an old-fashioned favorite and is easily grown from Alyssum seeds. The dainty, spreading plants are covered with clusters of small, sweetly fragrant flowers. Bees love the lavender and white blossoms. Sow Lobularia flower seed directly outdoors once danger of frost has passed. Trim to keep fresh blossoms, and to start new shoots, shake flower seeds from older plants directly on the soil to encourage re-seeding.
Shaker Bottle With Seed Starting Matrix

Shake 'n Seed - We are now offering shaker bottles filled with our seed starting matrix: rich soil, gardening sand, water absorbing crystals, and starter fertilizer. This not only helps dispense your seed, but it gets it off to a great start! Simply remove lid from shaker bottle, add seed from packet, put back on lid, shake the bottle vigorously for 15 seconds, and then shake your way to beautiful new plants! Use Shake 'n Seed over good quality soil, and then gently water to keep seed moist until it sprouts. Great for ground covers or mass planting flower seeds.