Flower Specifications
Season: Perennial
USDA Zones: 3 - 7
Height: 32 inches
Bloom Season: June - August
Bloom Color: Pink
Environment: Full sun
Soil Type: Tolerant of poor, dry soils, pH 5.8 - 7.2
Planting Directions
Temperature: 68F
Average Germ Time: 21 - 28 days
Light Required: Yes
Depth: Surface sow seed, do not cover
Sowing Rate: 3 - 4 seeds per plant
Moisture: Keep seeds moist until germination
Plant Spacing: 36 inches
Care & Maintenance: See: Milkweed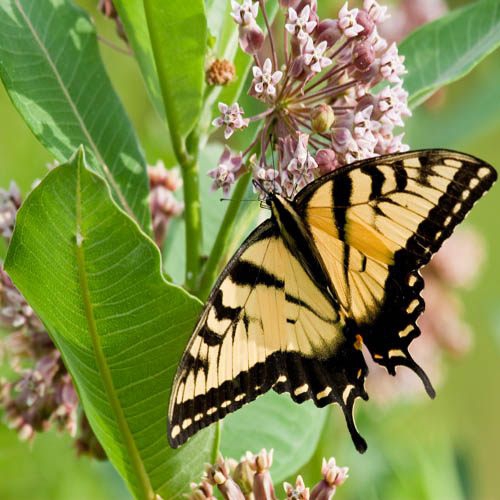 Common Milkweed (Asclepias Syriaca) - This is a bold, attractive plant with broad leaves and large clusters of pink blossoms. It can be grown from Milkweed seeds, and it is a must have for the butterfly garden. Asclepias Syriaca draws butterflies with its strong lilac-like fragrance and sweet nectar. Sometimes called Butterfly Milkweed, the perennial is a host plant for Monarch butterfly larva. The eggs are laid on the plant, and the larvae will feed on the plant and mature into a chrysalis. In addition to attracting butterflies, Common Milkweeds are perfect for a naturalized setting. It is very attractive, easily controlled, and easily grown from flower seeds.
Milkweed plants contain cardiac glycosides, allied to digitalins used in treating some heart disease; however, this plant should not be eaten by humans or live stalk.
Growing Common Milkweed from flower seed is very rewarding. It is appropriate to sow Asclepias seeds outdoors after the frosts of fall have begun. The cold, dormant planting will aid the germination of the seed in spring when temperatures warm. If sowing Common Milkweed seeds indoors or in a greenhouse, refrigerate the flower seed for 2 months before sowing. The cold treatment will help to break the dormancy of the seed.