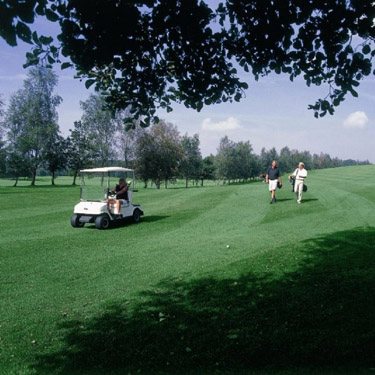 SR 7150 Colonial Bent grass (browntop) is a versatile low maintenance grass that can be used on golf courses and in home lawns and easily establishes from grass seed. This turf seed can also be used as part of an over-seeding blend for bermuda grass greens. Under low maintenance conditions with reduced nitrogen, Colonial Bent grasses have shown excellent turf quality and the ability to survive where other grasses have given up. This cool season grass seed produces a very wear tolerant turf, and it is an important component in creating a links-style turf. The darker green color of SR 7150 makes it better for combining with other species than older lighter green Bent grass varieties. Growing Bent grass lawns can be a rich and rewarding experience!
Uses
SR 7150 grass seed produces a fine-textured, dark green Colonial Bent grass lawn. This cultivar was selected for an upright growth so it does not false crown and scalp like many other Bent grasses. It retains its color into the fall, has excellent winter growth and greens-up early in the spring. SR7150 Colonial Bent grass has excellent dollar spot resistance and improved brown patch resistance. This grass seed can be used for golf course fairways from the Transition Zone north in addition to the Pacific and west. It is ideal for a low maintenance and reduced input fairways, especially when combined with improved fine fescues. Bent grass lawn seed can also be used for low maintenance roughs and home lawns. Colonial Bent grass is often found in sites with no irrigation, fertilization or management.
History
SR7150 Colonial Bent grass was developed from plants collected from an old turf site in Beltsville, MD that had once been planted with the Bent Grass Plant Introduction collection at least 25 years before. The best plants were allowed to inter-pollinate and the progeny screened in Columbia, Missouri for persistence, turf quality, color and brown patch resistance when maintained as spaced plants and mowed at fairway height. The resulting superior plants were cloned and allowed to inter-pollinate near Corvallis, Oregon and became the basis for SR 7150 Bent grass seed.
Features
Superior, low maintenance fairway turf
Reduced fertility and fungicide requirements
Wear-tolerant
Dark green color all seasons
Excellent turf quality
Excellent Dollar Spot and Brown Patch resistance
Great for fairways, roughs, parks and home lawns
Benefits
Upright growth for reduced thatch development
Lower maintenance requirements
Low water requirements
Reduced fungicides
Seeding Rates
New turf: Plant SR7150 Colonial Bent grass seed at a rate of 1.5–2.0 lbs/1,000 sq ft or 65–90 lbs/acre
Overseeding/Interseeding: Sow 2 lbs Bent grass seed per 1,000 sq ft or 90 lbs/acre
Southern Winter overseeding: Sow 2–4 lbs Bent grass seed per 1,000 sq ft on dormant bermuda greens
Seeds/lb: Approximately 5,000,00
Establishment
Emergence: 10 days under ideal conditions
First mowing: approximately 3 weeks after seeding
Playable in 4–6 weeks
| | |
| --- | --- |
| | The Grass Seed Certification program establishes the genetic purity and germination of varieties, blends, and mixtures. The certification process begins with the proper field history before production and continues through the bagging of a grass seed lot with every step independently verified by Seed Certification personnel. Each bent grass seed lot to be certified is sampled by Certification personnel and tested in the state seed laboratory, so the grass seed you buy is the seed that was tested If even one standard in this process failed, the lot is uncertified. You can rest assured that your bent grass seed is certified! |
USING THE QUICK GRASS SEED CALCULATOR:
Simply select your unit of measurment and enter your area value(s). The total square footage (if appropriate) and seed required to cover your area will be automatically calculated.

Coverage Type
Grass Type:
Coverage:

Coverage Area
Units:
Length:
ft.
Width:
ft.
Sq. Ft.:
Acres:

Grass Seed Options and Information:

Grasses Used in Your State:
You can look up to see what the most popular grasses used in your state are.

USDA Zone Map:
This is a USDA zone map specifically for your state so you can tell exactly what zone you are in.

Best Grasses For Your State:
This feature gives you a list of all the grasses that Outsidepride.com carries that are good for your state.

Grass Characteristics:
Start fine tuning your grass selection based on what priorities you are looking for: drought, shade, texture, water use, etc.

Grass Seed Calculator:
Can't figure out how much seed you need? No problem, go to this section to calculate your exact grass seed needs.

LazyMan Liquid Gold:
Provides a brief description of LazyMan Liquid Gold and gives you a link to learn more about this hugely popular product.

Choose your state below for grass seed info!