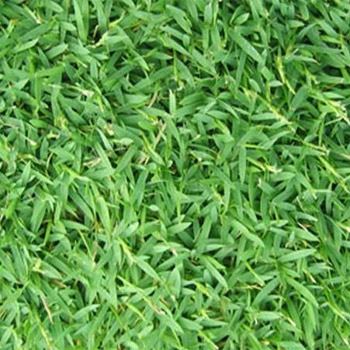 Carpet grass seed grows primarily well in wet, shady areas and it even grows well on extremely wet acidic soils (pH 5-5.5) where no other grass will survive. Axonopus affinis, Carpetgrass, requires irrigation on dry soils. It is a warm season, creeping, perennial grass. It is coarse bladed and makes a dense turf. The downside of a Carpet grass lawn that it is not drought tolerant due to a shallow root system. It is as cold tolerant as centipede grass, but has poor salt tolerance.
Carpet grass is a native grass to the interior Gulf states and similar tropical climates and can easily be planted from grass seed. Weeds and bermuda grass can be crowded out by its thick sod. It is a good turf grass for erosion control and is a low-maintenance grass on low fertility soils. Carpetgrass can thrive if not mown and without the addition of fertilizers. Ideal for shadier, low, damp areas and withstands higher traffic than many others.
Carpetgrass seed establishes medium to fast depending upon the amount of care that is given. It can be grown from the edge of Virginia and across the southern states to the east side of Texas. You can plant this warm climate grass seed in sandy, damp soils of moderate acidity, but not on soils with high salt levels.
Carpet Grass Seeding Rate & Planting Time
New turf: Plant Carpet grass lawn seed at 2 - 3 pounds per 1,000 square feet
Plant Carpet grass turf seed when soil temperature reaches 65 degrees in spring up until a minimum of 10 weeks before frost in fall
USING THE QUICK GRASS SEED CALCULATOR:
Simply select your unit of measurment and enter your area value(s). The total square footage (if appropriate) and seed required to cover your area will be automatically calculated.

Coverage Type
Grass Type:
Coverage:

Coverage Area
Units:
Length:
ft.
Width:
ft.
Sq. Ft.:
Acres:

Grass Seed Options and Information:

Grasses Used in Your State:
You can look up to see what the most popular grasses used in your state are.

USDA Zone Map:
This is a USDA zone map specifically for your state so you can tell exactly what zone you are in.

Best Grasses For Your State:
This feature gives you a list of all the grasses that Outsidepride.com carries that are good for your state.

Grass Characteristics:
Start fine tuning your grass selection based on what priorities you are looking for: drought, shade, texture, water use, etc.

Grass Seed Calculator:
Can't figure out how much seed you need? No problem, go to this section to calculate your exact grass seed needs.

LazyMan Liquid Gold:
Provides a brief description of LazyMan Liquid Gold and gives you a link to learn more about this hugely popular product.

Choose your state below for grass seed info!