At Outsidepride.com, we feature a wide selection of ornamental grass seed for sale that can help you create the perfect landscape design for your home. Let's check out some of top ornamental grass seed sellers: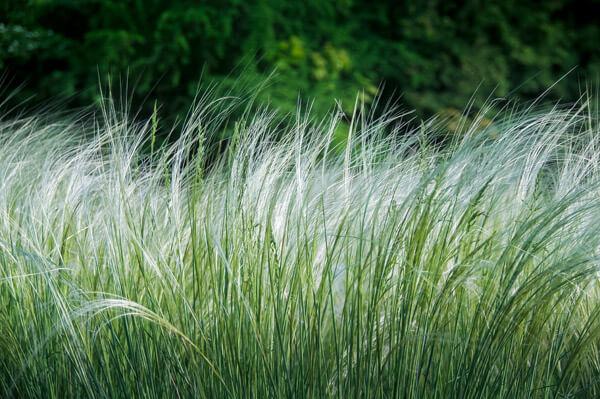 Pennisetum - Alopecuroides
Also known as black-flowered fountain grass, this species has flower spikes which are both fuzzy and a dark purple-black color. It creates the perfect contrast to deep green foliage in late summer, and looks amazing planted for accents, or in drifts.
Blue Fescue
Because it's easily planted from seed, Blue Fescue is one of the most popular ornamental grasses. Its distinct blue-green color makes it ideal for many applications, including cemeteries, golf courses, and even commercial sites.
Bluestems
As native grasses, big and little bluestem can be excellent choices for planting in containers or flower beds. Their beautiful reddish-copper color during autumn is quite striking, and makes for a great accent to mix with wild flowers.
Feathertop
A self-seeding grass, feathertop has flowers that resemble clouds and producers silver panicles throughout late summer and early fall. Be sure to plant them in an area where they can spread to avoid having to cut off the flowers before the seeds ripen.
Fountain
Fountain grass has an attractive rosy-pink color during summer, and is well suited for hot and dry conditions. Ideal for both mixing with wildflowers or planting alone, it forms a dense clump that can measure up to 18 inches.
Mexican Feathergrass
This grass features needle like leaves that form bright green clumps. Flowers appear in June, and change to gold during fall. Mexican Feathergrass is perfect for planting alone or in drifts.
Miscanthus
This hybrid grass is one of the easiest to grow and most adaptable. Miscanthus can reach heights of up to seven feet and spread up to three feet wide in the garden. Its ideal uses are for a hedge or screen, but it also looks great as a specimen planting.
Pampas
Adding a rich texture and gorgeous white and pink colors, Pampas is one of the most popular varieties of ornamental grass seeds. They feature eight-to-twelve-feet tall bloom stalks, each topped with rosy pink "featherdusters." Be advised that the leaves can have sharp edges, so plant them in a safe area.
Ruby
Derived from an African plant species, Ruby Grass is best when planted in clusters. It reaches a height of three to four feet, and look best when planted around taller perennials that have late-blooming tendencies.
Weeping Lovegrass
Introduced to the U.S. from Africa, this grass proliferates in warm seasons and features characteristic "drooping" leaves, hence the name. Also considered as a native grass, Weeping Lovegrass is dark green, and forms dense clumps.
If you're looking to beautify your outdoor area with attractive ornamental grasses, then Outsidepride.com has exactly what you need to get started. We feature a huge selection of ornamental grass seed for sale, all to help you enhance your landscape and create picturesque beauty for your space.
To order ornamental grass seed or
native grass seed
, or for any other questions,
contact us
today!