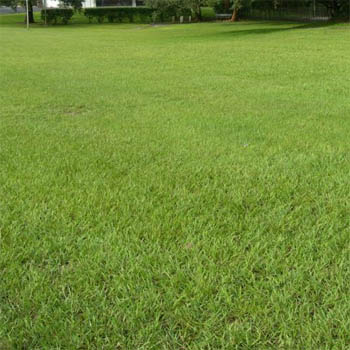 Pensacola Bahia Grass Seed - Don't let cheap imitations fool you. Our Bahia grass seed is high quality seed that goes through rigorous testing and meets all quality control standards. We want you to have the best grass seed available that will germinate quickly, fill in quickly, have a lush green look, and be drought, wear, and disease resistant. Bahia grass seed is used for lower input lawns, roadside erosion control and pastures. It is planted from the deep south to Texas to North Carolina to Florida. Bahia grass seed produces a narrow blade with attractive green leaves. Bahiagrass is used extensively for pasture and erosion control throughout the southern states. Bahia Pensacola grass is a much more winter hardy variety than Argentine Bahiagrass. Pensacola Bahia grass has good drought resistance with a deep root system. It is a very good environmentally friendly grass which will save on your water bill. Bahia should be re-seeded over time because it naturally thins out.
Pensacola Bahia grass seed is grown and planted on more acres than any of the other varieties of Bahia. It has been established on several million acres of roads, lawns, pasture, forage and conservation lands in the southern United States.
For growing Bahia grass from seed, once dormancy is broken in the seeds they germinate in approximately 28 days. During hotter summer months such as July / August when rainfall is also plentiful, Bahia lawn seed can germinate in as quick as 10 - 14 days. Higher soil temps coupled with moist conditions will also cause more of the Bahia grass seed to germinate.
Pensacola Bahia grass has long, slim (narrow) leaves with an extensive root system that grows to depths of 7-10 feet. Pensacola also has more tolerance to cold than the other Bahia varieties, thus it can be grown further north toward and in the transition zone. Top growth is usually killed by "mild frost," but it recovers fast with warm weather. In colder areas the Pensacola variety produces more early and late season forage growth than the other Bahiagrass varieties.
USING THE QUICK GRASS SEED CALCULATOR:
Simply select your unit of measurment and enter your area value(s). The total square footage (if appropriate) and seed required to cover your area will be automatically calculated.

Coverage Type
Grass Type:
Coverage:

Coverage Area
Units:
Length:
ft.
Width:
ft.
Sq. Ft.:
Acres:

Grass Seed Options and Information:

Grasses Used in Your State:
You can look up to see what the most popular grasses used in your state are.

USDA Zone Map:
This is a USDA zone map specifically for your state so you can tell exactly what zone you are in.

Best Grasses For Your State:
This feature gives you a list of all the grasses that Outsidepride.com carries that are good for your state.

Grass Characteristics:
Start fine tuning your grass selection based on what priorities you are looking for: drought, shade, texture, water use, etc.

Grass Seed Calculator:
Can't figure out how much seed you need? No problem, go to this section to calculate your exact grass seed needs.

LazyMan Liquid Gold:
Provides a brief description of LazyMan Liquid Gold and gives you a link to learn more about this hugely popular product.

Choose your state below for grass seed info!
Bahia Grass Pasture Use
Pensacola Bahia grass was discovered in the coastal gulf of the Florida panhandle and has since grown into one the major pasture grasses. Bahia pasture grass seed is easy to establish, and it grows well in full sun, high heat, and it is drought resistant. It can grow in shadier conditions than most warm season grasses and is grown in conjunction with pine tree farming. Bahia Pensacola forms a dense, thick sod that can keep the weeds out and is very disease resistant with the mole cricket and army worms being the only pest problems. The fertility rates for Bahia Pensacola grass are lower than many other forage grasses, and it can withstand heavy herd trampling and recover from overgrazing rather quickly.
Bahia Grass Seeding Rate & Planting Time
New turf: Plant 5 - 6 pounds of Bahia grass seed per 1,000 square feet or 200-240 pounds per acre
Plant Bahia grass seed when soil temperature reaches 65 degrees in spring up until a minimum of 6 weeks before frost in fall