Groundcover Specifications
Season: Perennial
USDA Zones: 8 - 11
Height: 2 inches
Width: 36 inches
Environment: Full sun
Foot Traffic: Light
Soil Type: Loamy, well drained, pH of 5.5 to 6.2
Foliage Color: Dark green
Planting Directions
Temperature: 72 - 76F
Average Germ Time: 7 - 14 days
Light Required: Yes
Depth: Press into soil but do not cover
Sowing Rate: 3 - 4 seeds per plant
Moisture: Keep seeds moist until germination
Plant Spacing: 18 inches
Note: For detailed directions for indoor and outdoor planting, please Click Here
Care & Maintenance: See: Dichondra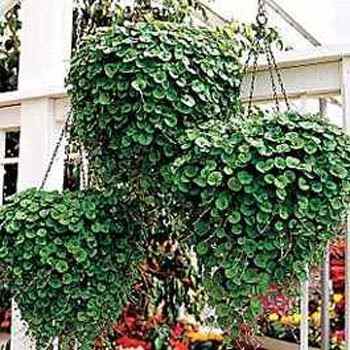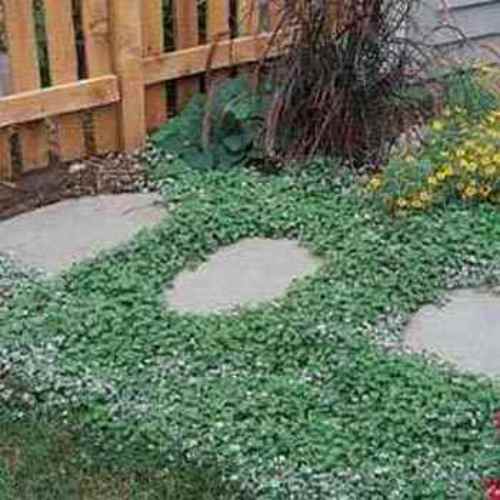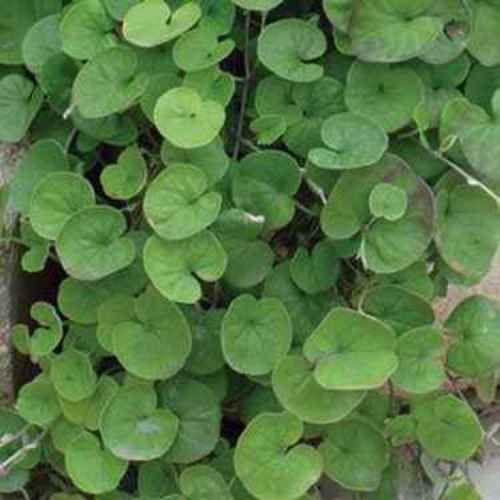 Dichondra (Dichondra Repens Emerald Falls) - Start Dichondra seeds if you are looking for a rich, green plant for a hanging basket or a dense, lush ground cover! Dichondra Repens Emerald Falls has the perfect foliage for you. Emerald Falls Dichondra is full and very trim, with deep green leaves and a dense, uniform habit that looks as if you must keep it trimmed at all times. Plant Emerald Falls Dichondra ground cover seed in full sun and let mother nature do the rest. Vigorous and easy to grow, this Dichondra boasts thick, super-soft deep green leaves which are about 1 inch in width. The foliage is thick arrayed on very well-branched plants that need no pinching. This Dichondra repens will cascade about 3 feet from your baskets, windowboxes, or other containers, but it will also form a nicely domed shape that fills the available space beautifully!
As with most Dichondra plants, Emerald Falls is no exception when it comes to heat and drought tolerance. It also recovers quickly even if wilted, and looks fresh all season long. It looks great side by side with Silver Falls Dichondra for contrasting foliages. Emerald Falls thrives in full sun and well-drained soil so buy your Dichondra ground cover seed today!
Don't think you have to use this Dichondra just for baskets and mixed containers, Emerald Falls creates a dense, tight, and low growing ground cover as well. It is a shorter plant than Silver Falls, and does not require pinching. Excellent as a ground cover or Dichondra lawn alternative, but requires well-drained soils due to the ground-hugging habit. This Dichondra will be an annual in frost heavy zones.