Pollinator Wild Flower Seed
Season: Annual & Perennial
USDA Zones: 3 - 10
Height: 2 - 3 feet
Bloom Season: Spring through fall
Bloom Color: Mixture
Environment: Full sun to partial shade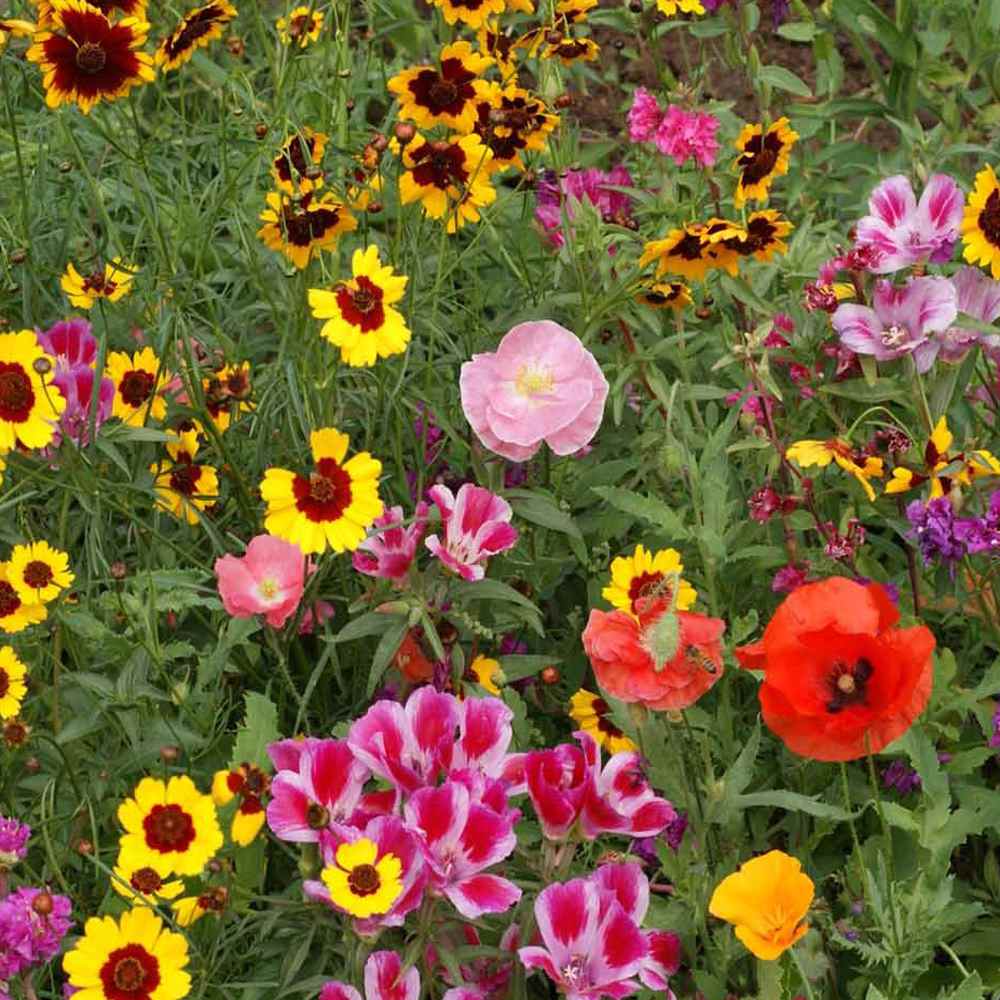 Pollinator Wildflower Seed - Pollinators are probably the first beneficial insect that we think of. Without pollinators, our food resources would be drastically reduced. Pollination is required to produce seeds and fruit in up to 80 percent of the world's flowering plants, including 2/3 of the world's food plants. It would be difficult to imagine our food choices without food plants!
Pollinator Wild flower seed mixture includes:
10% Echinacea purpurea, Coneflower, purple
10% Helianthus annuus, Sunflower Dwarf Sunspot
8% Coreopsis lanceolata, Lance-leaved Coreopsis tall
8% Gaillardia aristata, Blanketflower
7% Linum usitatissimum, Annual blue flax
6% Lupinus perennis, Perennial lupine
5% Coriander sativus, Coriander
5% Rudbeckia amplexicaulis, Clasping coneflower
4% Ocimum basilicum, Basil, Genovese
4% Ratibida columnaris, Mexican hat
3% Asclepias tuberosa, Butterfly milkweed
3% Aster tanacetifolius, Prairie aster (rubbed)
3% Chamaecrista fasciculata, Partridge pea
3% Lupinus succulentus, Arroyo lupine
3% Ratibida columnaris, Yellow prairie coneflower
2.5% Lupinus hartwegii, Dwarf lupine, Pixie delight mix
2.5% Trifolium incarnatum, Crimson clover
2% Cosmos bipinnatus, Cosmos sensation mix
2% Exchscholzia californica, California poppy orange
2% Monarda citriodora, Lemon mint
2% Phacelia tanacetifolia, Lacy phacelia
1% Aster novae-angliae, New England aster
1% Coreopsis tinctoria, Plains coreopsis
1% Monarda fistulosa, Bee balm, Wild bergamont
1% Phacelia campanularia, California blue bell
1% Rudbeckia hirta, Black-eyed Susan
Seeding rate: 10 pounds per acre or 1 1/4 pounds per 5,000 square feet.