Season: Annuals
USDA Zones: 6 - 10
Height: 4 - 6 feet
Bloom Season: Summer
Bloom Color: Yellow
Environment: Full sun
Soil Type: Well drained soil, pH 5.6 - 7.5
Deer Resistant: Yes
Latin Name: Luffa Cylindrica
Temperature: 70 - 75F
Average Germ Time: 10 - 15 days
Light Required: No
Depth: 1/2 inch
Sowing Rate: 3 - 4 seeds per plant
Moisture: Keep seeds moist until germination
Plant Spacing: 36 inches






Luffa (Luffa Cylindrica) - Luffas (also spelled loofah or loofa) are part of the same family as cucumbers, squash, pumpkins and other gourds. Luffa cylindrica is native to India and grown in many other parts of the world. It's been called dishcloth gourd, vegetable sponge or Chinese okra. In fact, when the luffa is less than 7 inches long, it is actually edible if you slice it up in salads or cook it like squash or okra.
Luffas will dry on the vine if you leave them there long enough, but many people like to cut them off when the luffa is as about 2 feet long. As they dry, they'll turn from dark green to brown, and become lighter in weight. After about two weeks, remove the tough outer skin. Either soak them for a day to help loosen the skin, or shatter the dry, crispy skin and peel it off the luffa in sections.
Traditional Sponge Vegetable
The fruit of the luffa plant has long been used as a natural sponge! It is remarkably useful when dried.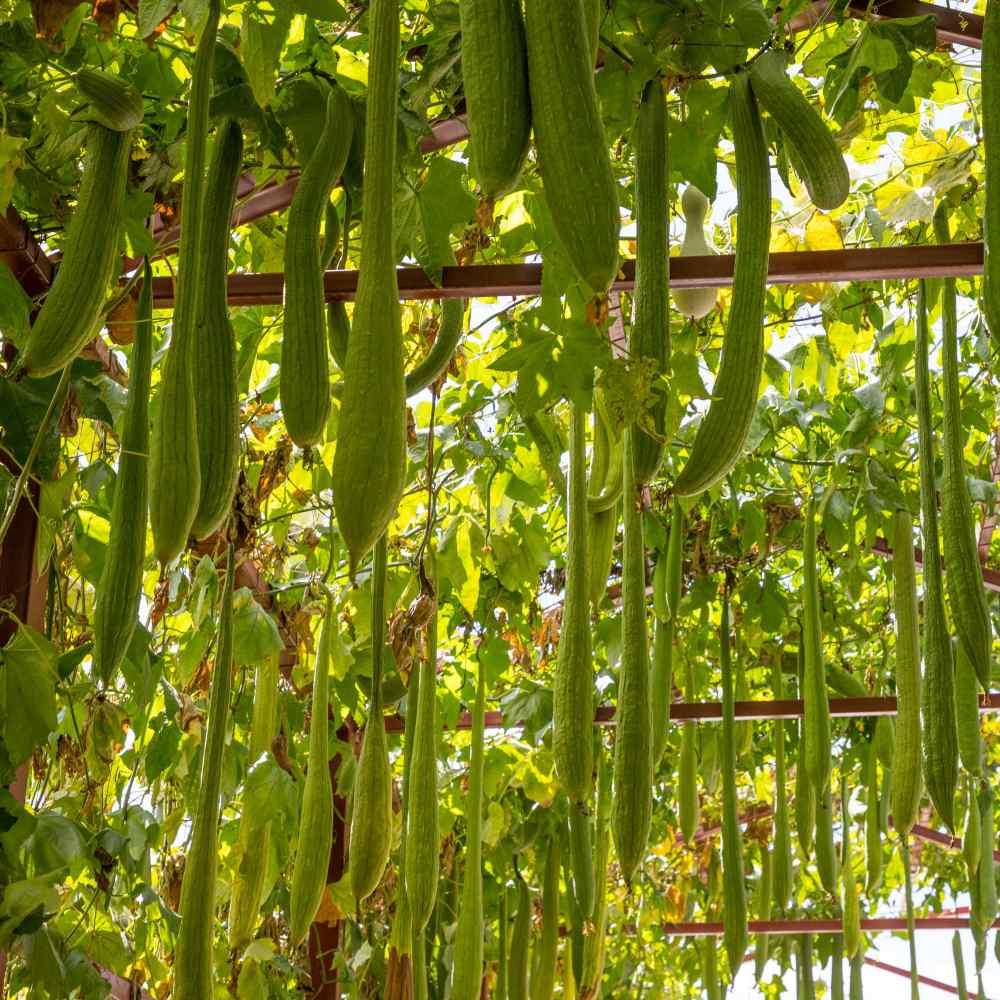 Remarkable Sponge-Producer
How To Grow
Luffas are annual plants that can take up to 200 days to mature, so plant them as early in the spring as possible after all danger of frost has passed. Sow directly outside along the bottom of a sturdy structure that the vines can climb. In colder climates, it may be necessary to start seeds indoors so the plant has enough time to mature. Transplant outdoors once the weather has properly warmed. Luffa vines can grow up to 30 feet long, so plan ahead in providing a structure strong enough to support their height and weight. Plant in an area that gets full sun, and water daily in the summer.
Soil: well-drained with pH 5.6-7.5
Sowing rate: 3-4 seeds per plant
Moisture: keep seeds moist until germination
Plant Information
Luffas are annual plants that grow in USDA zones 6 through 10. They do not typically survive the winter and their fruit should be harvested in autumn. These remarkable plants have a vining habit and can grow up to 30 feet long!
Height: 4-6 feet
Bloom season: summer
Bloom color: yellow
Produces a useful fruit