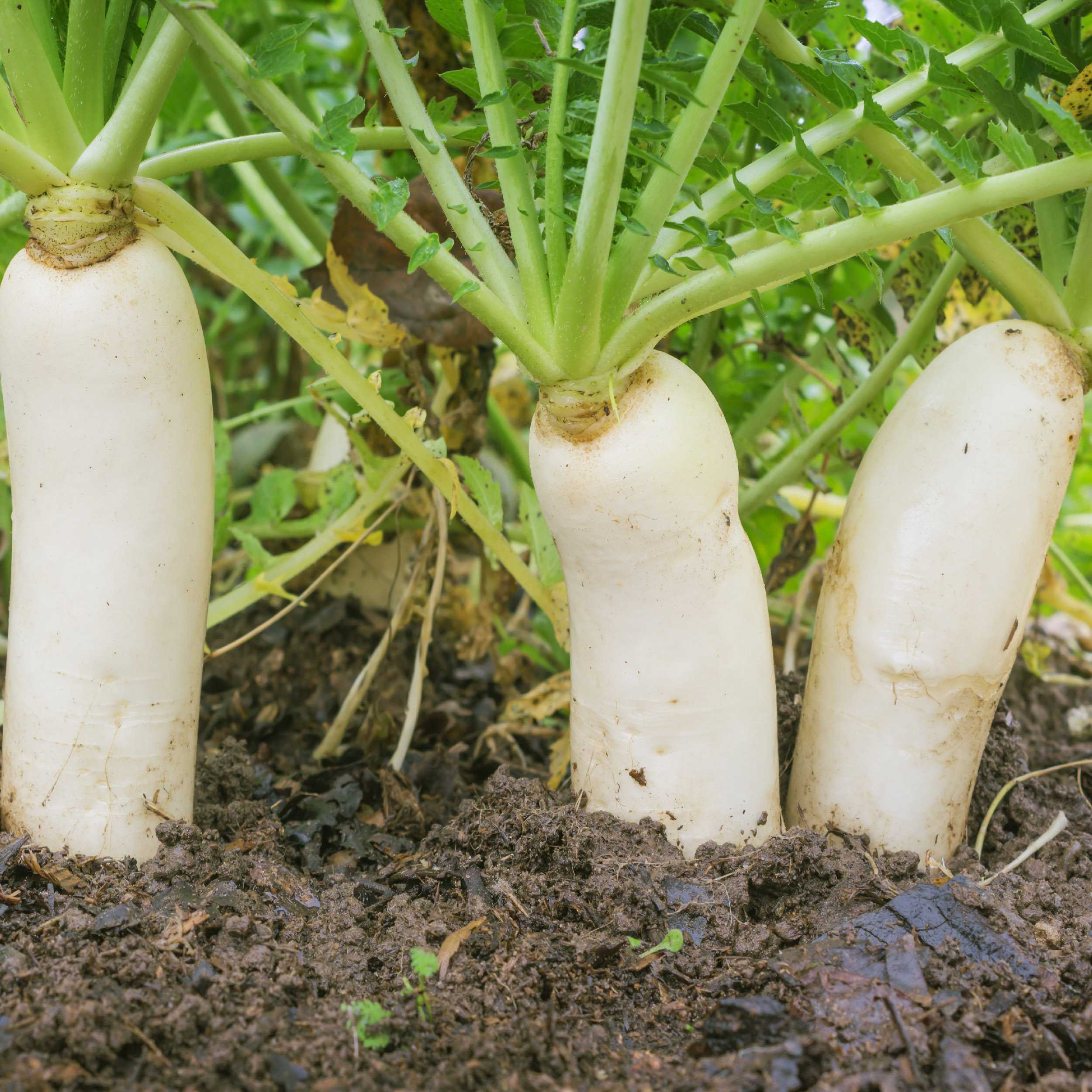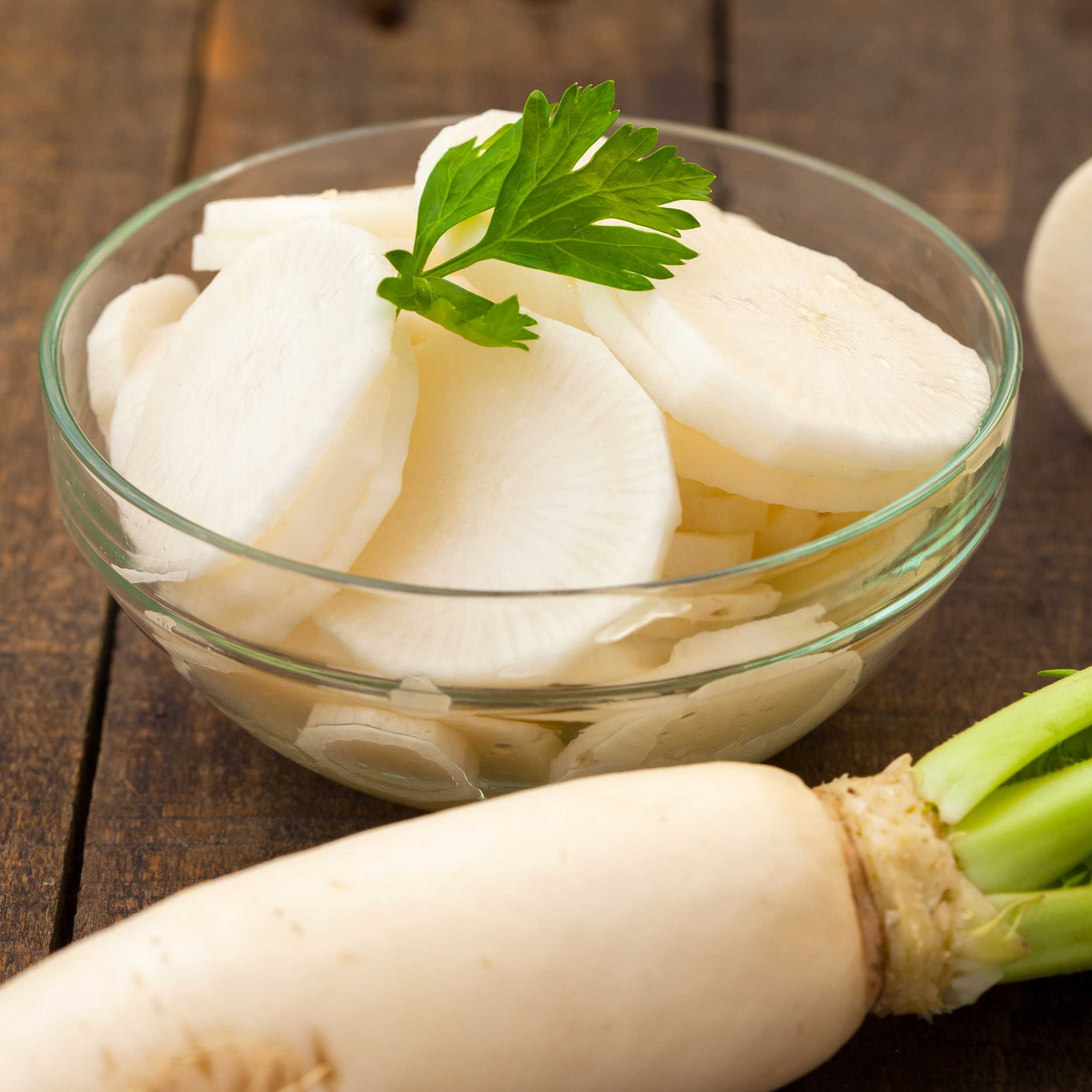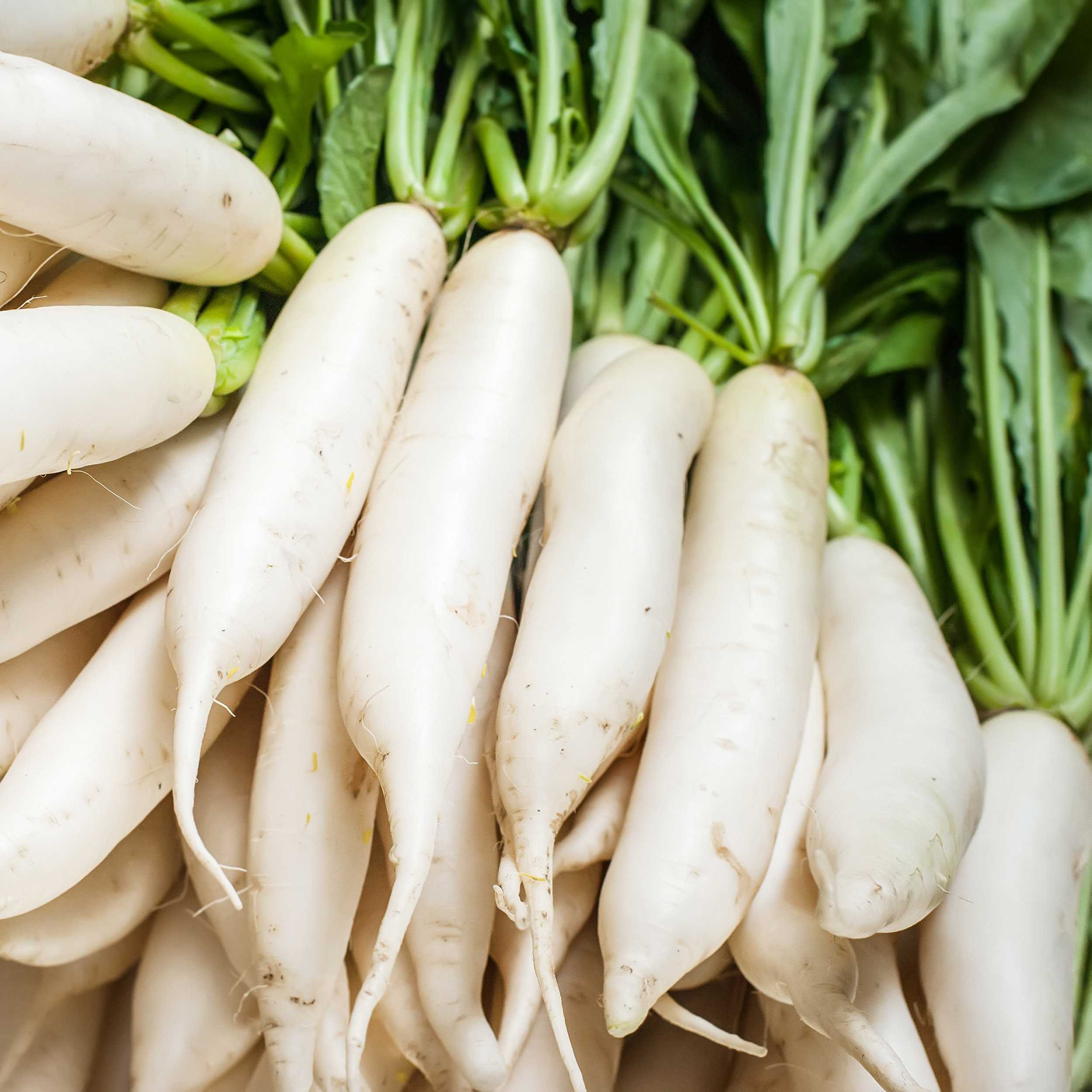 Fracking Daikon Radish is a deep rooted forage radish that will make an outstanding winter cover crop. The deep taproot of the large rooted plant can help break up the tough, compacted soil, improve water infiltration, suppresses weeds, eliminate pests and stores nitrogen. When planting daikon radish seed as a cover crop, the benefits will be optimized if planted in late summer:
That is not near all there is to know about Daikon radish. Some people refer to it as Oriental radish, but daikon is a vegetable that actually goes by many names including: mooli, Chinese radish, Satsuma radish amd Japanese radish. In fact, daikon in Japanese means "big root." It is grown around the world, but primarily here in the U.S. daikon radish seeds are planted as a cover crop to prevent soil compaction, which then allows soil to absorb more rainfall.
You can tell Daikon apart from other radishes by its appearance: it has large, fast growing leaves and a long white root which looks similar to a pale carrot. Daikon can grow up to 20 inches long with a diameter of 4 inches. As far as flavor, it is considered milder and less peppery than other radishes. If you prefer to eat it raw, then it will have a mild and tangy taste with a crisp and juicy texture. If you prefer to cook it, it tastes similar to turnips.
Benefits of Daikon
Reduces soil compaction
High Biomass production
Increases water infiltration
Excellent erosion control
Great weed suppression
Fast establishment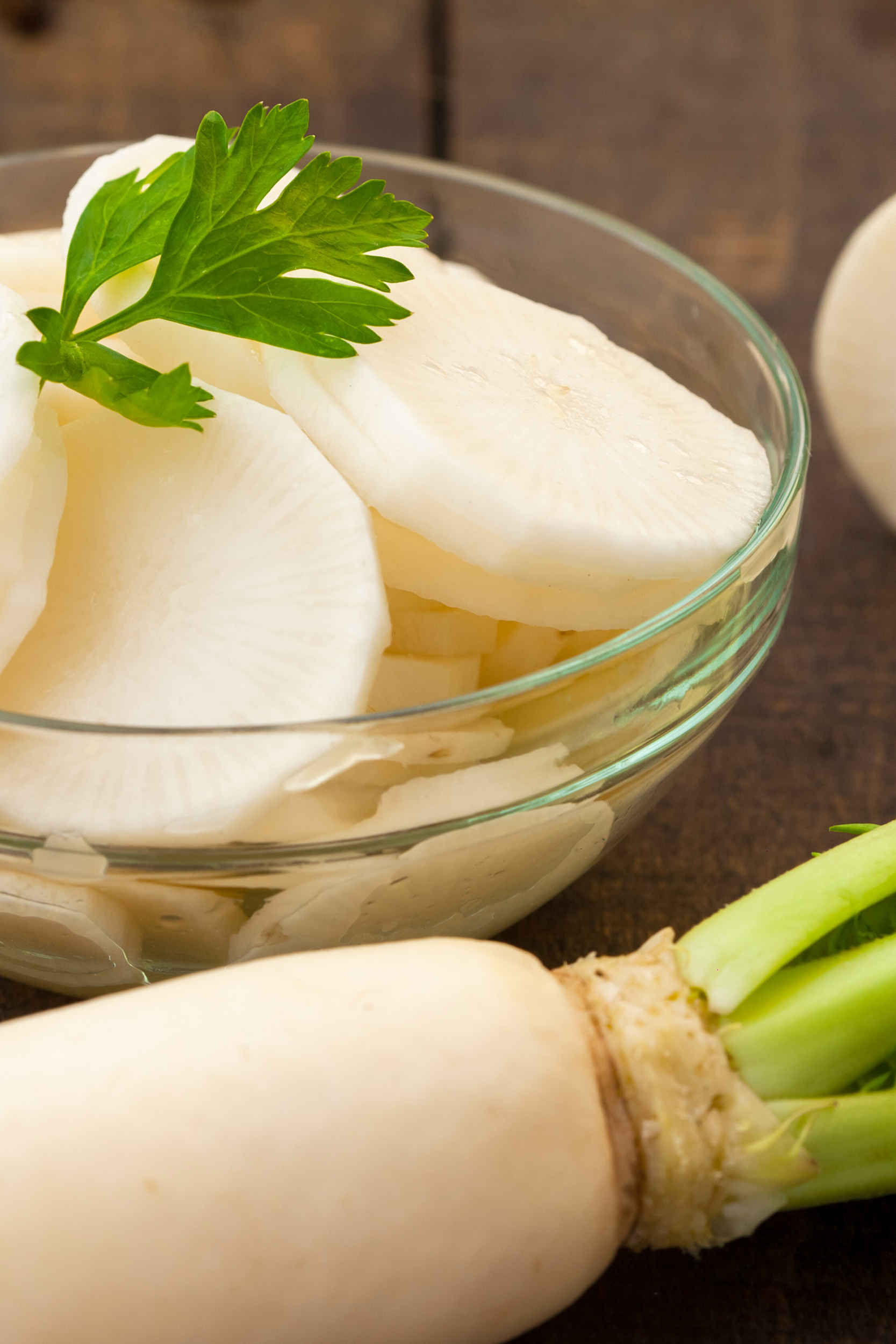 Daikon Radish | Edible
Cooking with Daikon Radish
Noodles: Try shredding daikon into "noodles" and adding to soups, stir-fries, or as the base for pasta sauce. Use a vegetable peeler to shave the long root into thin strips, then quickly cook into stir-fries, etc.

Salad: Peel, then grate, julienne, dice, or slice to add crunch to your favorite salad. Many like to sprinkle mine with Ume Plum Vinegar when using raw.

Stew: A somewhat traditional option, try adding big chunks of dakion radish to hearty stews. Try a Beef Stew with Red Wine & Herbs or Beet Bourguignon.

Roasted Like any root vegetable, daikon is great roasted. Use a basic recipe, then branch out to Miso Maple Roasted Vegetables.

Slow cooked baking pan or slow cooker with carrots, onions, garlic, low-sodium seasonings, low-sodium vegetable broth, lean meat. Turn on low and let the juices and flavors start mixing for an all-in-one meal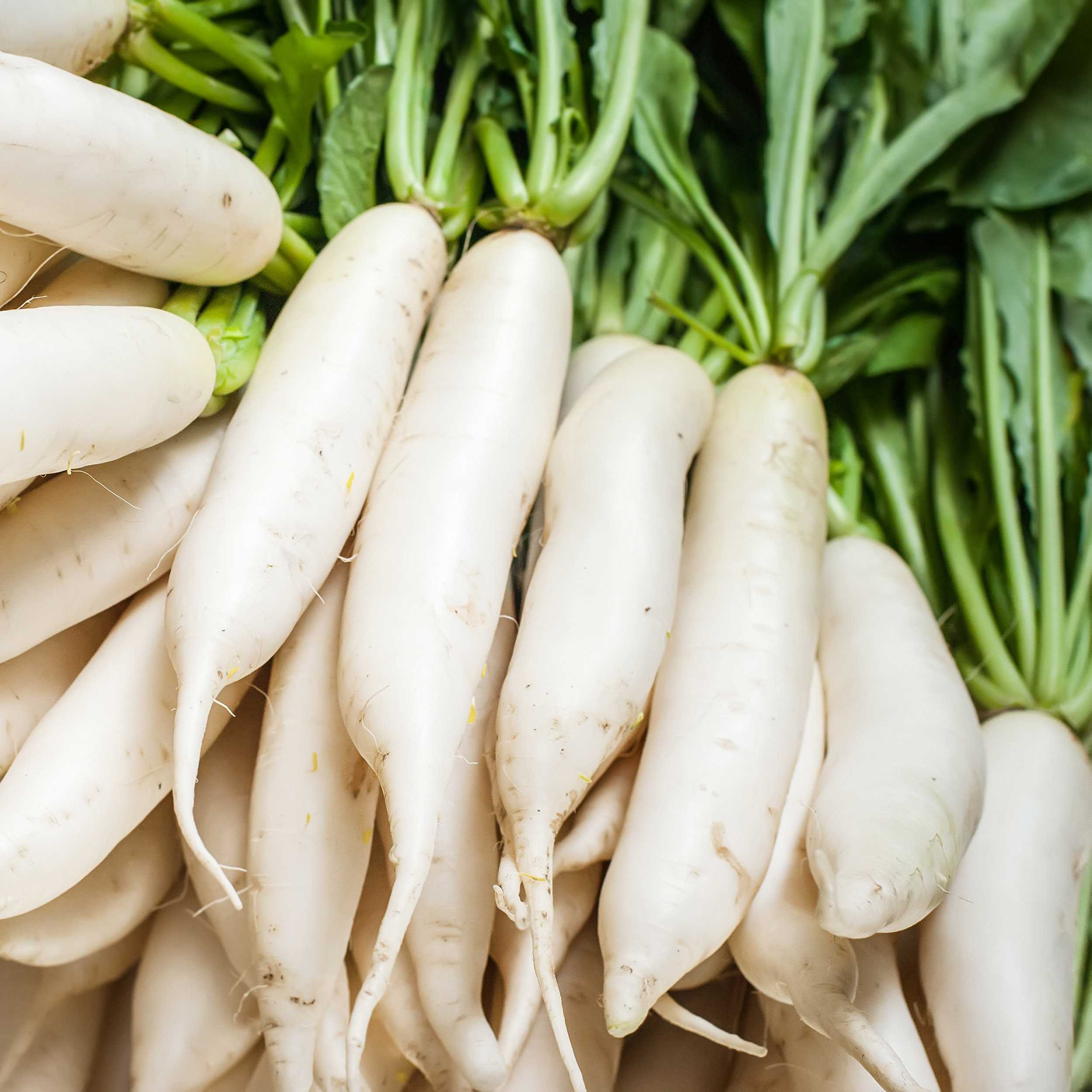 Health benefits
Boosting digestive health. Assists in detoxification — As a diuretic, daikon may help stimulate urination. Weight management — Daikon is a low-calorie and low-cholesterol vegetable, yet still high in fiber
Breaks through hard, compacted soil layers
Daikon radish is renown for softening the soil
Daikon captures last year's nitrogen, so you don't have to fertilize
pounds of delicious organic matter (up to 3700 lbs of roots/acre)
Plant daikon a little earlier than other over-wintering cover crops to give it time to grow a thick leaf canopy. Aim for 4-10 weeks before the first frost – late August in cooler climates, early September in warmer ones. Like all cover crops, how much seed you use depends on how you garden, seed costs, and your goals (more on this in future posts). In the garden, I use cover crop seeding rates up to 10-20 times higher than farm recommendations. For a quick cover that suppresses weeds, I'll use 1/4-1/2 a pound per 100 square foot of garden, broadcast and scratched into the top 1/2 of the soil surface. For my no-till beds, I might double this rate, since new plants will be competing with mulch and residue already present on the surface.