Groundcover Specifications
Season: Perennial
USDA Zones: 4 - 7
Height: 4 - 6 inches
Bloom Season: Mid-summer
Bloom Color: White
Environment: Partial shade
Soil Type: Well-drained, high in organic matter, pH 4 - 6
Deer Resistant: Yes
Temperature: 41F or less is very effective
Average Germ Time: 21 - 56 days
Light Required: No
Depth: Do not cover the seed but press into the soil
Sowing Rate: Approximately 1000 wintergreen seeds covers 20 square feet
Moisture: Keep seeds moist until germination
Plant Spacing: 24 inches
Note: For detailed directions for indoor and outdoor planting, please Click Here
Care & Maintenance: Wintergreen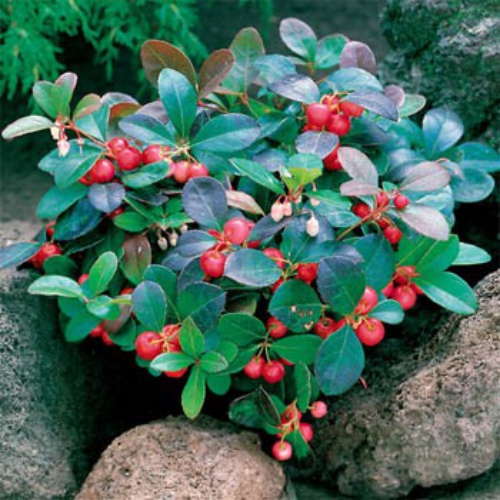 Wintergreen (Gaultheria Procumbens) - With a little patience, you can grow this beautiful creeping ground cover from Wintergreen seeds. Wintergreen ground cover is great for shady areas with acidic soil. It is low-growing, shrub-like and spreads to 24 inches wide by stolons. In the summer it has sweet little bell-shaped flowers, and in the fall and winter, it has lovely red berries. Creeping Wintergreen offers year round visual interest! This aromatic little ground cover plant is not only attractive, but it also has a history of medicinal uses. It contains methyl salicylate, a medicine related to aspirin, and has been used in medicines for both internal and topical use.
Wintergreen ground cover seeds germinate best after a cold treatment. It is recommended to refrigerate Wintergreen seeds 4 - 10 weeks as the cold temperature helps to break the dormancy of the seed. Remove the ground cover seeds from the refrigerator and sow them directly in a prepared seedbed. Creeping Wintergreen plants prefer somewhat acidic soil and soil that has lots of organic matter worked in.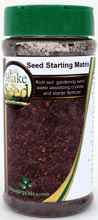 Shake 'n Seed - We are now offering shaker bottles filled with our seed starting matrix: rich soil, gardening sand, water absorbing crystals, and starter fertilizer. This not only helps dispense your seed, but it gets it off to a great start! Simply remove lid from shaker bottle, add seed from packet, put back on lid, shake the bottle vigorously for 15 seconds, and then shake your way to beautiful new plants! Use Shake 'n Seed over good quality soil, and then gently water to keep seed moist until it sprouts. Great for ground covers or mass planting flower seeds.