Season: Biennial
USDA Zones: 4 - 10
Height: 48 inches
Bloom Season: Late spring to early fall
Bloom Color: Bluish white
Environment: Full sun
Soil Type: Well-drained garden soil, ph 6.1 - 7.8
Deer Resistant: Yes
Latin Name: Salvia Sclarea
Temperature: 68F
Average Germ Time: 7 - 14 days
Light Required: No
Depth: Seeds must be covered thinly
Sowing Rate: 2 - 3 seeds per plant
Moisture: Keep seeds moist until germination
Plant Spacing: 24 - 30 inches
Planting & Care Guide: Clary Sage





Clary (Salvia Sclarea) - Clary is an herb plant that is well-known for its many uses. It is easy to grow from Clary seeds, in the mint family and related to common sage. Often it is called Clary Sage. The Clary Sage herb is a biennial having a 2-year life cycle, so it flowers and sets seed the second growing season. It has large, fuzzy green leaves, and it produces white to bluish white flowers. It is an easy plant to grow from herb seeds and maintain. It prefers a position in full sun and well-drained garden soil to grow in. If Clary is watered once each week, it will do very well. The Clary plant can handle some cold, but giving it some winter protection is beneficial.
The Clary Sage plant has been known as a medicinal herb since the ancient Greeks. Clary herb essential oil is used to treat inflammation, anxiety, PMS and hot flashes. The oils are still used today as a stabilizing agent in the manufacturing of perfumes and soaps as well as a flavoring for alcoholic beverages. Clary is not considered to be much of a culinary herb, but the leaves can be added to salads.
How To Grow Clary Sage From Herb Seed: It is recommended to start Clary seeds indoors 6 weeks before the end of frost season. Transplant the Clary Sage seedlings outdoors into a prepared seedbed once temperatures are warm overnight.
NOTE: Cannot be shipped to Washington State. Any order will be canceled.
Useful Herb
Clary is a popular medicinal herb that has been used since ancient times.
Lovely Biennial
How to Grow
It is recommended to start clary seeds indoors as opposed to outdoors. Sow the seeds into small pots or packs 6-8 weeks before the last expected frost date. Press the seeds into the soil and cover thinly. Keep the seeds moist until germination, which will occur in 1-2 weeks under proper conditions. Once seedlings are established, they can be transplanted outdoors after all danger of frost has passed. Transplant into a prepared seedbed of well-drained garden soil in an area of full sun.
Environment: full sun
Soil: well-drained w' pH 6.1-7.8
Sowing rate: 2-3 seeds per plant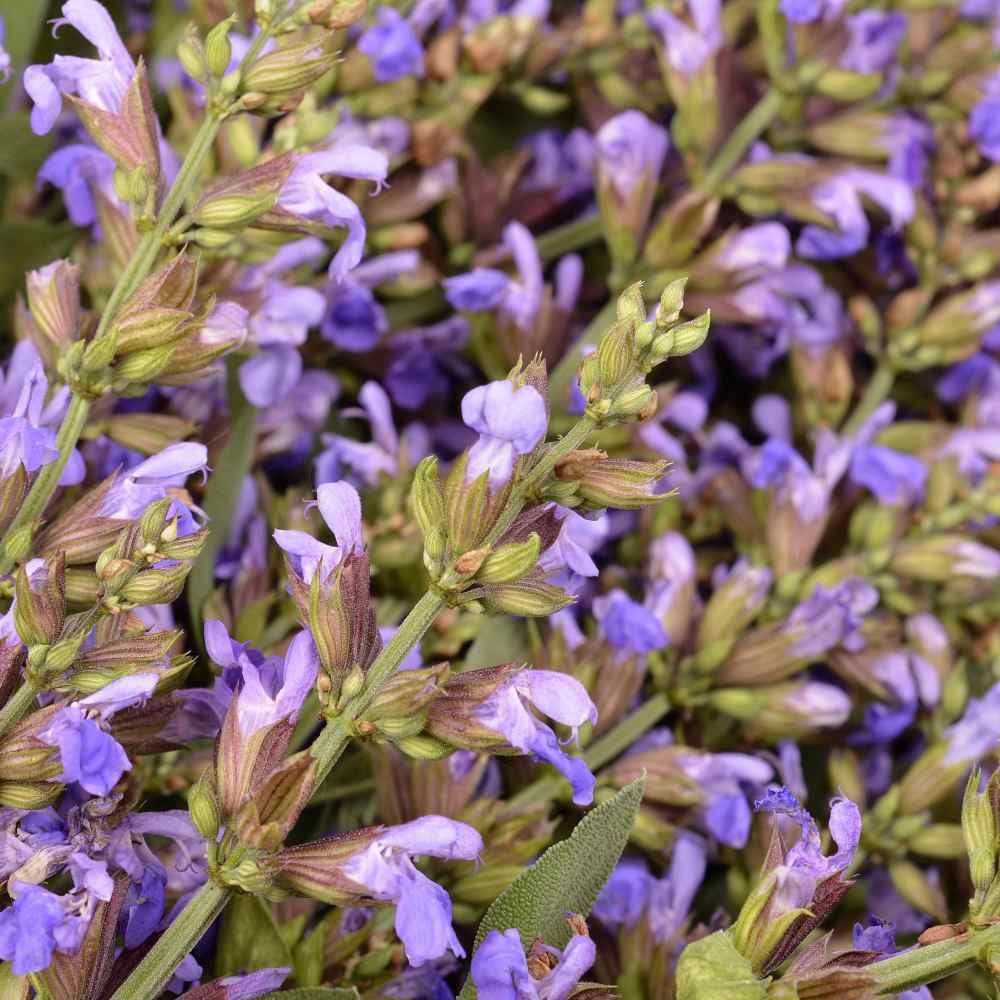 Plant Specifications
Clary is a biennial flowering herb that grows in USDA zones 4 through 10. It was used as a medicinal herb by the ancient Greeks, and is still used today to fight inflammation, anxiety, PMS, and hot flashes.
Bloom color: bluish white
Bloom season: late spring to early fall
Plant height: 48 inches