Season: Biennial
USDA Zones: 5 - 7
Height: 72 inches
Bloom Season: Summer
Bloom Color: Greenish-white
Environment: Full sun to partial shade
Soil Type: Rich, slightly acidic, medium to wet soils
Deer Resistant: Yes
Latin Name: Angelica Archangelica


Angelica (Angelica Archangelica Holy Ghost) - Commonly called garden angelica, sweet celery, Norwegian or American Angelica is a bold, somewhat coarse, biennial which is often grown in the garden for both ornamental and culinary purposes. By its second year, a hollow-but-stout stem rises to 6 feet tall bearing large, ornamentally-attractive, globular greenish-white flower umbels up to 6 inches across. The flowers bloom in early summer, followed by seed that ripens in late summer. After the seed ripens the Angelica plants will die.

Leaves, stems, roots and seeds all have a similar taste to licorice and have been cultivated for many years for both culinary and medicinal purposes. Culinary uses include: leaves may be added to mixed salads, stalks and young shoots may be used like celery (hence the often used name of wild celery) or crystallized in sugar for cake decorations or snacks, leaves, seeds and roots may be used for making tea, seed is commercially used for flavoring liqueur. Plants also have a long folk history in Europe and Asia for medicinal uses.
Garden Angelica Is..
Commonly known as Sweet Celery, Norwegian or American Angelica.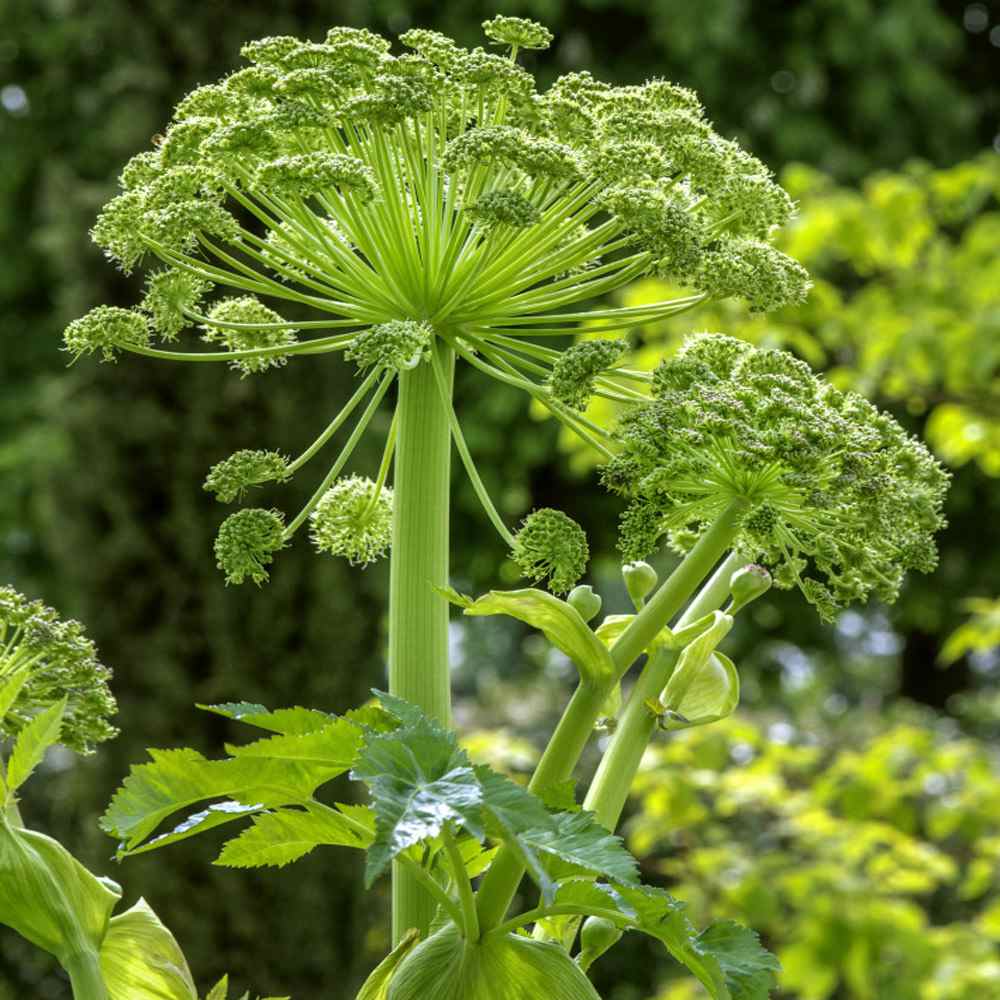 Angelica Seeds
How to Grow
Keep Angelica seeds cool and dry until sowing(can store them in the refrigerator). Sow seeds indoors in pots 8 weeks before planting in the garden. Move trays outside for two to three weeks, then back inside for germination. If no germination after 4 weeks, chill the plants again.
Sowing Rate: 2 - 3 seeds per plant
Average Germ Time: 45 - 60 days
Moisture: Keep seeds moist until germination
Plant Spacing: 4 - 6 feet
Herb Specifications
Alternatively sow seeds directly outdoors in the early spring or fall.
Height: 72 inches
USDA Zones: 5 - 7
Season: Biennial