Season: Perennial
USDA Zones: 4 - 7
Height: 10 inches
Width: 8 inches
Flower Color: Grey-blue
Growth Rate: Moderate
Soil Requirement: Average to dry soils, pH 5.8 - 6.8
Environment: Full sun
Deer Resistant: Yes
Moisture Requirements: Average to dry
Latin Name: Festuca cinerea





Blue Fescue (Festuca cinerea glauca Varna) - Create low-growing clumps with Blue Fescue seed. This drought tolerant ornamental grassk is excellent for the front of the border, and the blue-green color complements colorful ornamentals. Blue Fescue has traditionally been viewed only as a clumping ornamental grass with a few plants spaced in a landscape bed, but Blue Fescue grass also mixes well with wildflowers and does not crowd them out. A low maintenance, water conservation ground cover can be created by using Blue Fescue ornamental grass seed.
The waxy leaf covering reduces transpiration so the Blue Fescue plant can survive extended droughts and the stress of a drought only deepens the color of the ornamental grass. Blue Fescue is one of the shortest ornamental grasses available, with the foliage not exceeding 12 inches in height, so mowing is only needed to remove seed heads if desired. It has good winter color and looks green during this period. Blue Fescues are very shade tolerant, often found in the dry shade of trees. Blue Fescue plant care includes cutting the plant back to 2 inches in the early spring. Trim flower heads to prevent self-sowing. This ornamental grass seems to prefer some neglect so it is perfect for the xeriscape garden where water conservation and drought tolerance are important.
How To Grow Blue Fescue Ornamental Grass From Seeds: Blue Fescue seeds can be started either indoors in late winter or directly outside once frost danger has passed. For indoor sowing, use small peat pots or containers, fill with seed starting mix, and press 3 ornamental grass seeds into the soil. Lightly cover the grass seeds and keep them moist until germination. For outdoors sowing, weed and loosen the soil and add a generous amount of seed starting mix to the soil. Space the Blue Fescue grass seeds about 12 inches apart. Once seedlings are about 4 inches in height, bunch the leaves together and trim off 1/2 inch or so. Trimming encourages greater root development and a uniform look. The seedlings will appear green with the blue being added to the grass as the drought tolerant plant matures.
Ornamental Garden Grass
Blue Fescue is a hardy and unique clumping grass that serves as an excellent border decoration.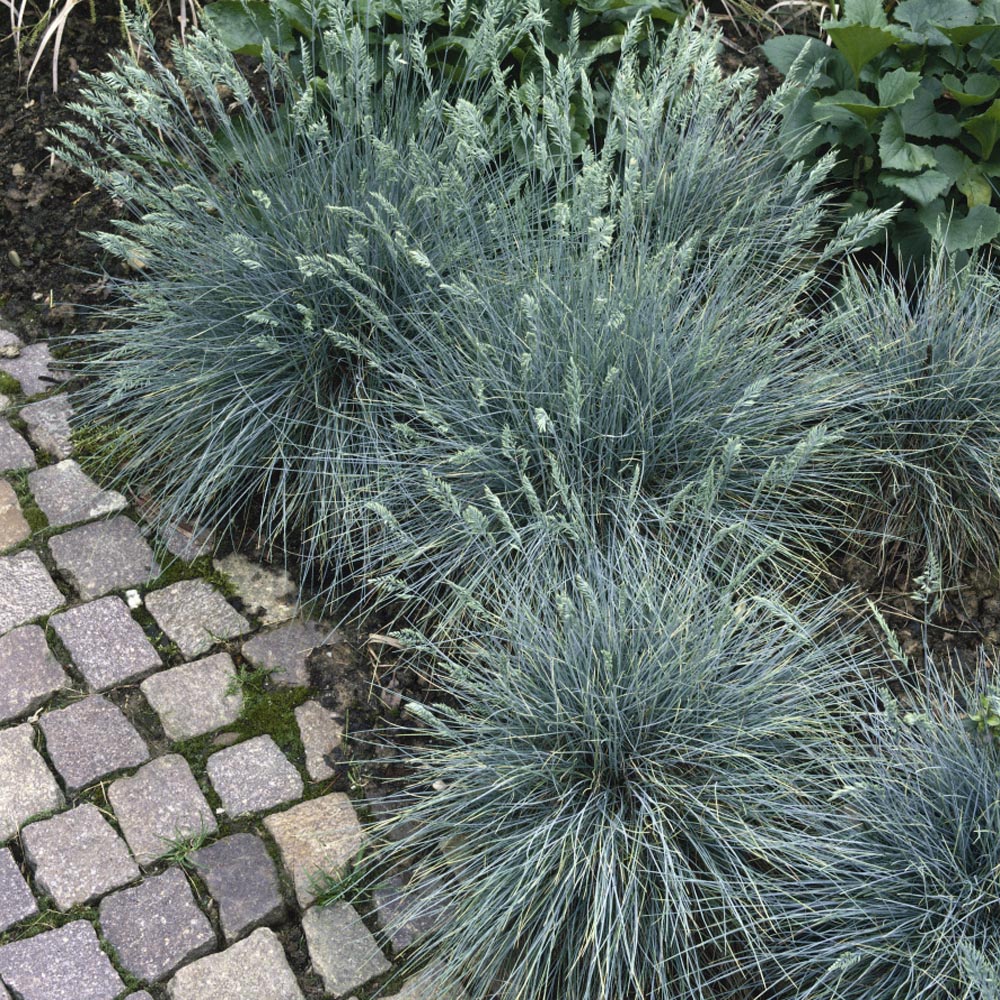 Unique Landscape Addition
How to Grow
Plant seed when temperatures reach 68 degrees Fahrenheit: average germination time is 2 - 3 weeks. Light is required during germination. Do not cover the seeds, but instead tightly press into the earth. Sow 3 seeds per plant. Grow fescues in a border or rock garden to provide foliage contrast with alpines.
Plant spacing: 12 inches
Soil: average to dry w' pH 5.8-6.8
Moisture: keep seeds moist until germination
Divide and replant every 2-3 years to maintain foliage color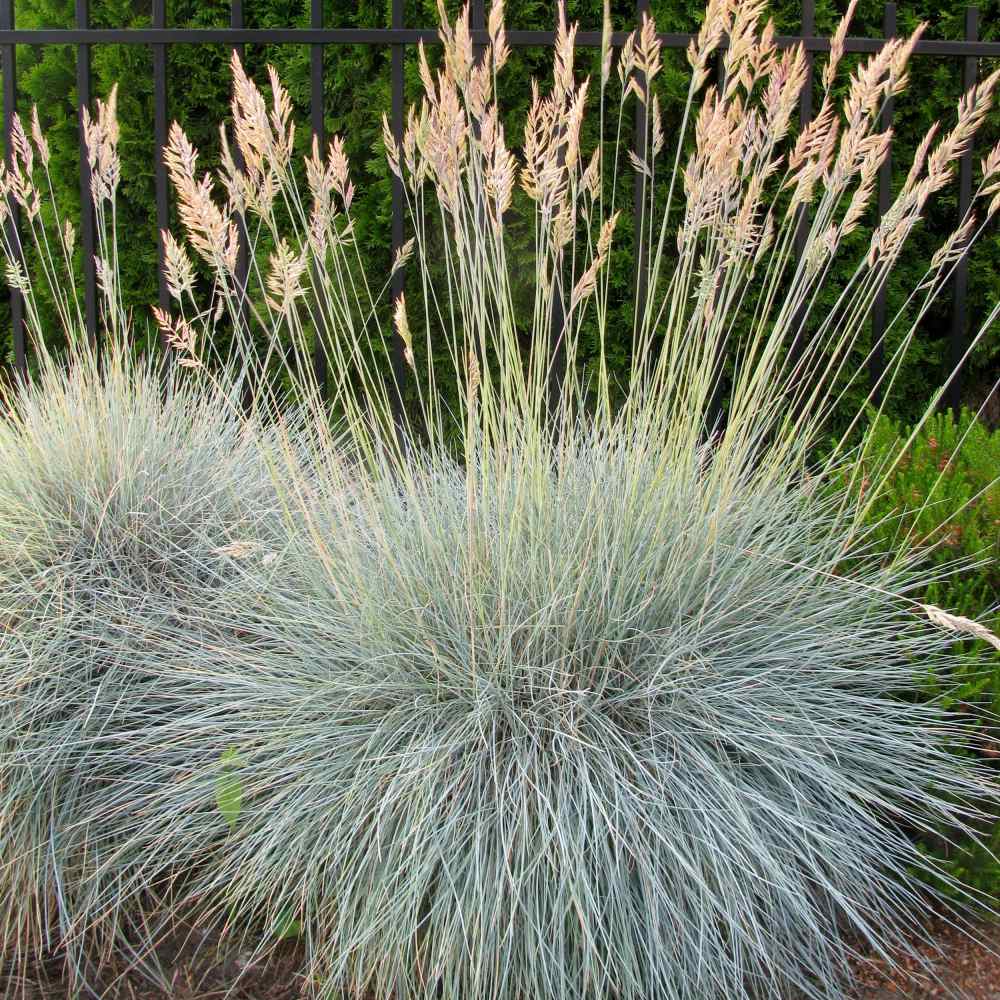 Grass Specifications
Blue fescue is a perennial ornamental grass that grows in USDA zones 4 through 7. It can survive extended periods of drought, and drought only serves to deepen the grass' vivid color. Blue fescue is one of the shortest ornamental grasses available.
Foliage color: grey-blue
Fall color: no change
Plant height: 10 inches