Horses, cows, and other grazing animals need high quality and nutrient-dense food sources to be healthy, strong, and to flourish. Outsidepride.com offers an incredible selection of pasture grass seed for sale, as well as selections of both pasture and wildlife seed mixtures made from grasses and legumes for whichever pasture animals you are currently raising.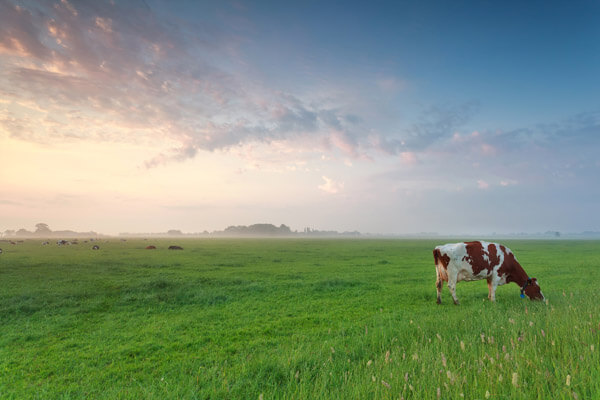 Pasture Grasses
Our team here at Outsidepride.com provides a wide selection of choices for pasture grass seeds, including individual species as well as mixtures that contain several varieties of grass seed species. Individual species include, but are not limited to: bermuda, bahia, fescue, fescue, ryegrass, orchard grass, timothy, sorghum, and much more! Options for mixtures include different varieties of pasture grass seeds blended together that are usually best suited for horse pastures or for an "all purpose" type of application where horses, cows, goats, other grazing animals may all be grazing together in a single location. Outsidepride.com even offers a special cold climate mixture for those areas and regions that get heavy frost and snow during the winter months.
Native Grasses
Many people want pasture grass seeds that are more indigenous to their particular area or that meet certain environmental conditions native to their region. In these situations, our team offers a broad line of various native grasses. Just as with our standard pasture grasses, this line includes both single species and mixtures. Individual single species packages include, but are not limited to: blue grama, big and little bluestem, switchgrass, sideoats grama, Indian grass, and much more. Native pasture grass mixtures include a wide variety of grass species that are all best adapted to specific geographical regions of the United States, depending on whether one lives in dryer climates in the West, the Midwest, Eastern coasts, certain Southern regions.
Legume Seed
No pasture seed offering would be complete without some legume seeds for higher protein content. Legume varieties such as peas, alfalfa, birdsfoot trefoil, clover, and vetches can all make for amazing additions to pasture for certain applications. Legumes are widely grown in many regions throughout the world as grazing forage for various types of pasture animals; they can also be made into silage or fed as greenchop. These plants usually tend to be deep-rooted and more tolerant than the grasses of summer moisture shortages. Mixtures of legumes with different kinds of pasture grass seeds can make excellent pastures as well.
Contact Us Today!
To learn more about the different sorts of pasture grass seed,
deer food plot seed
, native grasses, and legumes that we're offering for sale, don't hesitate to the call the team here at Outsidepride.com today for more information!