A Vast Selection of Flower Seeds
At Outsidepride.com, we offer a huge variety of flower seeds for sale. In fact, we carry over 1,000 species of seeds and seed mixtures, all to allow you to beautify your home and design the perfect landscape. We feature all different types of seeds, including annuals, biennials, perennials, half-hardy, and tender perennial flower seeds, each with different characteristics, colors, and benefits so you can choose the perfect flowers that are best for you, your climate, and your space.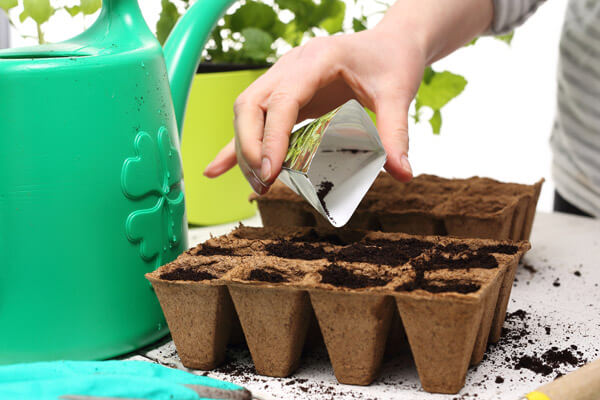 Let's take a look at the differences between our types of flower seeds, and what each of them has to offer you:
Annual Flower Seeds
A plant that completes its life cycle in one year is known as a true annual. This cycle consists of the plant growing from seed, to flower, then back to seed, after which it dies off. All of this occurs during the course of one growing season.
The most basic function of an annual plant is to produce seeds and ensure the propagation of future generations. They set flowers to attract insects, which help them to pollinate and continue the species.
These will bloom during the growing season, from spring until the fall frost. Annuals must be replanted each year, but the work is well worth it as they produce some of the most vibrant and long-lasting colors throughout the year. Another benefit of annuals is that their single-year lifecycle allows you to select different color palettes and textures each year for a continually updated look.
Biennial Flower Seeds
These types of flowers have a two-year life cycle. In the first year, biennials grow leaves, stems, and roots before going dormant for the winter. Over the course of the second year, the plant will flower, then produce seeds before it dies. Vegetables like spinach, fennel, and lettuce are all mostly biennial plants.
Perennial Flower Seeds
Perennials can live for three years or more, as long as they can survive the conditions. By combining different types of annuals and perennials in your garden, you can enjoy attractive colors all season long. These flowers require little maintenance, and have the added benefit of multiplying, which provides you with more and more beautiful plants as the growing seasons go by.
Half-Hardy Annual
Depending on your local climate, the meaning of this term can differ. Typically, it refers to plants that grow as perennials in warm weather, but can also act as annuals in colder climates. Because of their tendency to bloom their first year, these plants are categorized as annuals.
Half-hardy flowers get their name from their ability to handle frost, but not extreme winter weather like other, hardier plants can. This family of plants includes species such as geraniums, dahlias, and tuberous begonias.
Tender Perennials
As some of the most abundantly colorful plants in the summer garden, tender perennials are among our most useful plants for creating lively landscape designs. It typically refers to a perennial flower that's grown like an annual because it is killed by frost. However, some tender perennials have bulbs or bulb-like structures that can be stored for winter and then replanted. They might take some extra work, but they're well worth the effort.
If you are interested in large planting areas, be sure to check out our
wildflower seed
selection and for specific information regarding height, season, and color of wildflowers just go here:
wildflower specifications
. For more information on flowers, please refer to one of these links:
Flower Seed Planting Instructions
or
Flower Seed Plant Specifications