And remember, if you need any help with planting, make sure to check out our
Wildflower Seed Planting Guide
.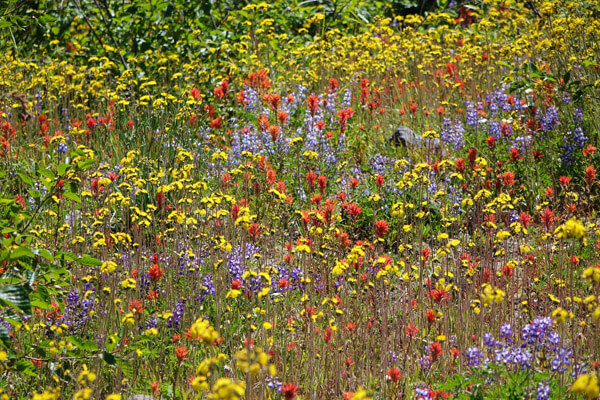 Wildflower Categories
Regional Wildflower Seed Mixtures
Regional wildflower seed mixtures are uniquely chosen and assorted to make these blends especially well-suited for a variety of terrains and climate conditions. These regional wildflower seed mixtures consist of annuals and perennials that have adapted to specific geographical locations to tolerate the rainfall, sunny conditions, extreme temperatures, and many other environmental conditions that these regional wildflower seed mixtures are uniquely formulated for. Do you have a large wildflower meadow where you need large quantities of seed? No problem! We give volume discounts as well.
Specialty Wildflower Seed Mixtures
Our specialty wildflower seed mixtures are designed with specific purposes in mind, such as an all-annual wildflower seed mix or an all-perennial wildflower mix. Not only that, but we also have wildflower mixtures for more unique circumstances, such as highly moist climates, areas where you would like to attract more birds and butterflies, dryland mixtures, deer-proof wildflower seed mixtures, and many more. And, just like with our regional wildflower seed mixtures, we also offer volume discounts for sale!
Flower & Wildflower Seeds
There are many kinds of flower seeds that you may be interested in buying that are, so to speak, not technically categorized as wildflower seeds. Such flowers as hollyhock, morning glory, sweet peas, nasturtium, and many other wonderful flowers can grow wonderfully in your flower garden, although they are not considered wildflowers. Therefore, if you'd like to see an even wider range of both wildflower single species and garden flower seeds, check out our selection of over 1000 more
flower seeds
to choose from.
Color Shades Wildflowers
If you would like to plant your own personalized color scheme using wildflowers, then look no further than our color shades selection! Here, you can find shades of green, blue, pink, orange, yellow, red, and white. The flowers in this selection are all annual wildflowers, giving them a long bloom season. The majority of annual flowers will drop their flower seeds in the autumn and germinate the following spring, giving you yet another dazzling display of colors for the new season. Try buying red, white, and blue flowers to form your own patriotic wildflower display!
Contact Us Today!
Are you interested in learning more about the different kinds of wildflowers and other varieties we have to offer? We'd love to hear from you! Give our team here at Outsidepride.com a call today for more information on what we can do for your garden or pasture.