Season: Perennial
USDA Zones: 3 - 8
Height: 12 inches
Bloom Season: Early summer to fall
Bloom Color: Pink
Environment: Partial shade
Soil Type: Rich, organic soils, pH 5.8 - 6.2
Deer Resistant: Yes
House Plant: No
Latin Name: Dicentra Eximia
Temperature: 64 - 72 for 2 - 4 weeks, followed by 4 - 6 weeks of 25 - 39F
Average Germ Time: 56 - 70 days
Light Required: Yes
Depth: Cover seed with vermiculite, sand or substrate after sowing
Sowing Rate: 4 - 6 seeds per cell
Moisture: Keeps seeds moist until germination
Plant Spacing: 18 inches
Care & Maintenance: Dicentra Eximia


Fringed Bleeding Heart (Dicentra Eximia) - There are not too many plants grown from flower seeds that have beautiful flowers for the shade garden; however, Dicentra Eximia is a tremendous performer. The leaves are deeply cut, grey green and fern like. The pink flowers are heart shaped with an inner petal that drips from the outer petals creating the appearance that the heart is bleeding. The Dicentra Eximia flowers are smaller and longer than the old-fashion bleeding heart, but still put on a show.
Fringed Bleeding Heart is growing in popularity with its heart-shaped flowers. Commonly called Fringed Bleeding Heart, Fern Leaf Bleeding Heart or Wild Bleeding Heart, the plants are more oblong and smaller than the old-fashioned bleeding heart. The Dicentra Eximia Fringed Bleeding Heart plant repeats bloom through the summer and reaches 12 inches in height. Bleeding hearts should be grown from flower seeds in moist, well-drained sites. They do not tolerate wet winter soils well. Heart-shaped flowers set above mounds of usually grey-green ferny foliage. Great creeping perennial for shade to semi-shade in humus-rich soil. Very easy and satisfying to grow from flower seeds. The main bloom period occurs in early summer but with good moisture and deadheading it will continue to bloom into the fall. The foliage of Dicentra Eximia will not die back like that of old-fashioned bleeding heart.
Persistent Foliage
Unlike old-fashioned bleeding heart, Dicentra Eximia's foliage will not die back, persisting as an attractive feature of the plant!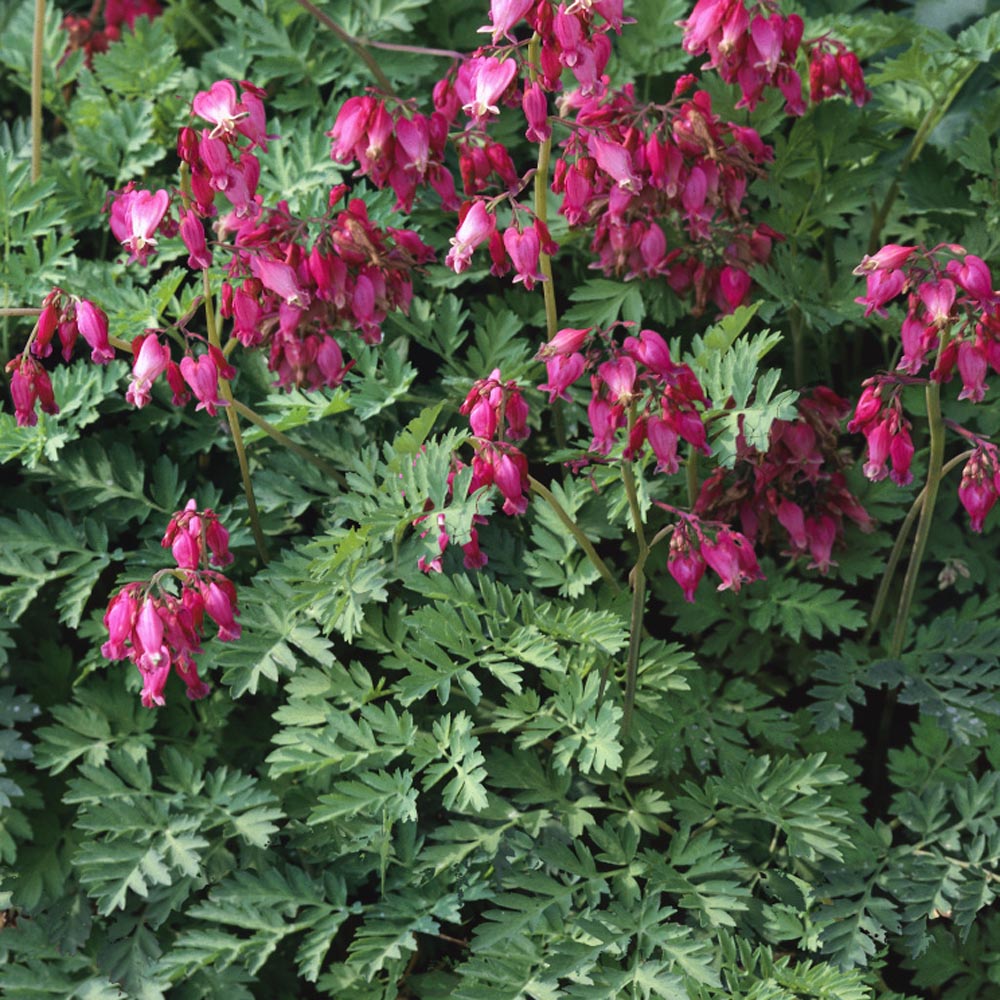 Unique Perennial
How to Grow
These seeds are a bit temperamental and require a moist, warm stratification, followed by cold stratification, followed by one final warm stratification. This is most easily accomplished by simply sowing the seeds in trays and letting them sit outdoors from summer through spring. The stratification process can also be replicated indoors if desired. Make sure to plant the seeds in fertile, humus-rich soil that is preferably neutral. Space plants 18 inches apart, and grow in an area of partial shade.
Environment: partial shade
Soil: rich & organic w' pH 5.8-6.2
Sowing rate: 4-6 seeds per cell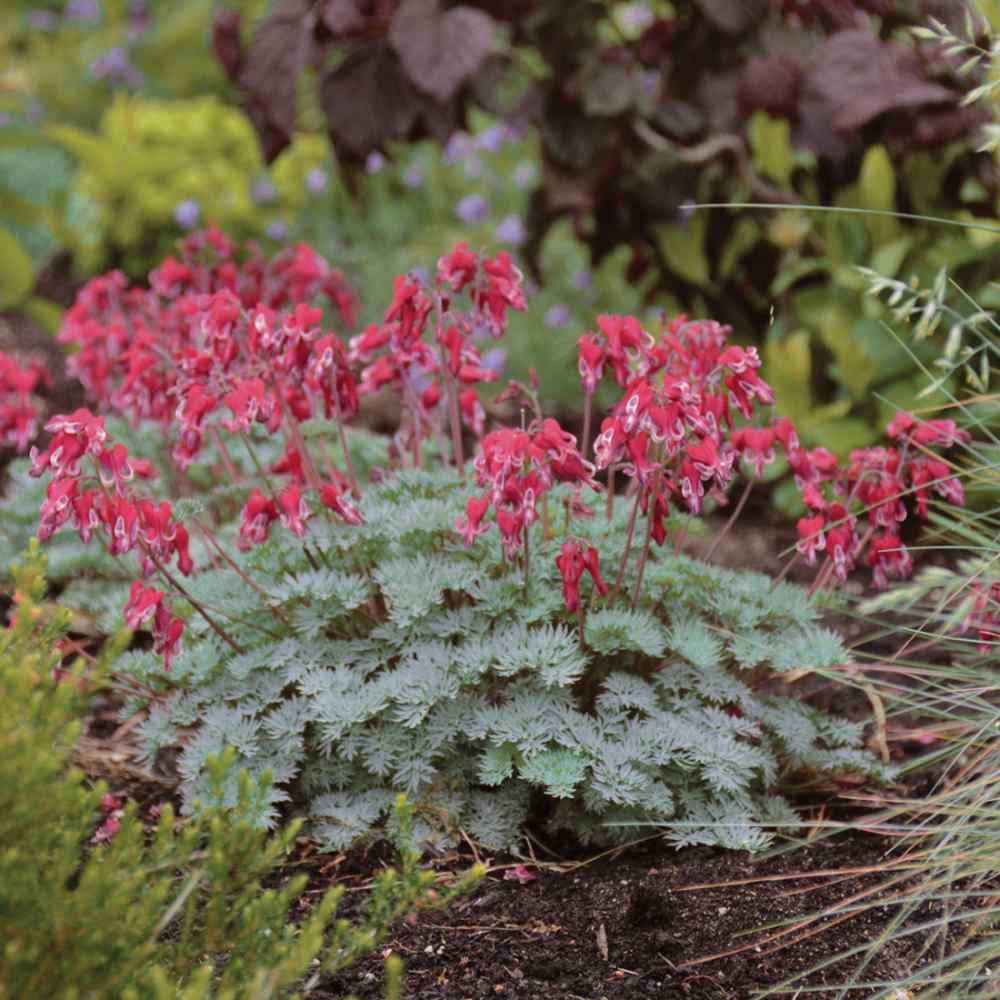 Plant Specifications
Fringed Bleeding Heart is a perennial flowering plant that grows in USDA zones 3 through 8. It is a unique show flower that blooms throughout the summer.
Bloom color: pink
Bloom season: early summer to fall
Plant height: 12 inches