Season: Annual
USDA Zones: 3 - 8
Height: 24 inches
Bloom Season: Summer and fall
Bloom Color: Mix
Environment: Full sun to partial shade
Soil Type: Moist, but Well Drained Soil
Deer Resistant: Yes
House Plant: No
Latin Name: Callistephus Chinensis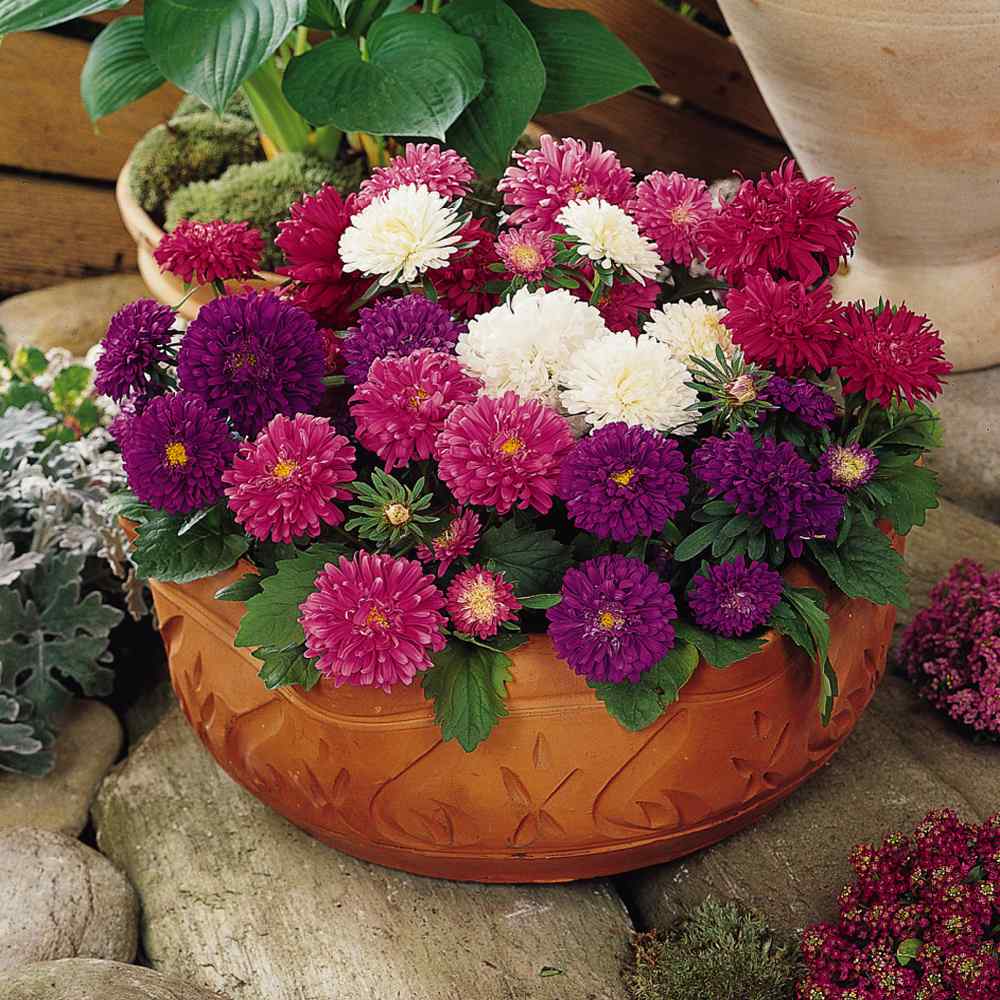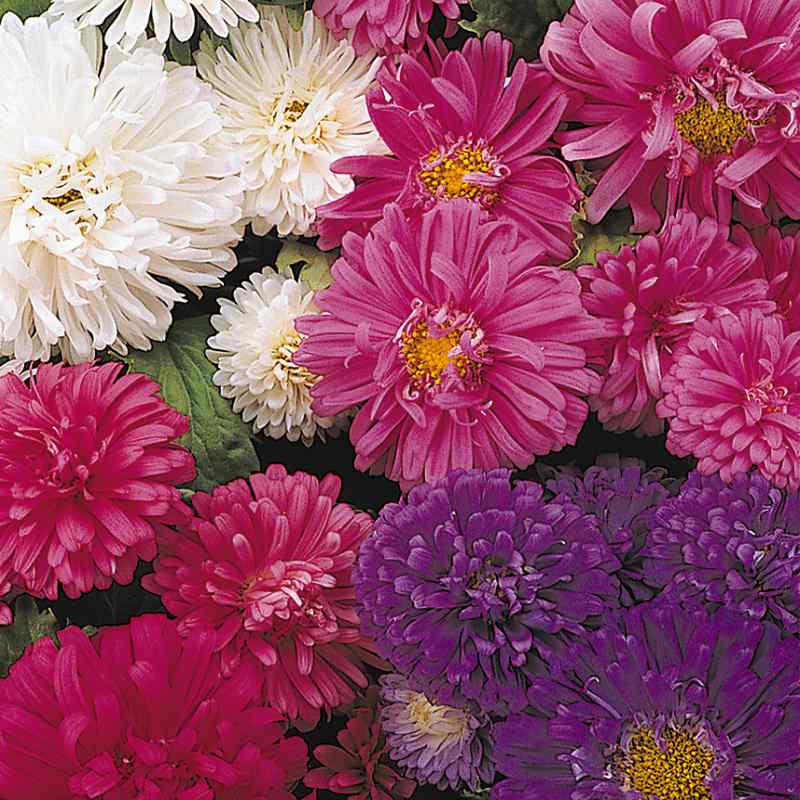 China Aster (Callistephus Chinensis Sea Star) - Start Aster seeds and grow many of these showy annuals for the flower beds or garden! China Asters are good as cut flowers in bouquets, beds, borders or pots because of their longevity. Visitors will do a double take when they pass these lovely and unusual Callistephus Chinensis, or China Asters, in the garden or the vase. Big 3 1/2 to 4-inch blooms are full of brightly-colored, needle-shaped petals that are arranged in swirls atop tall, sturdy stems. These blooms are dense, deeply colored, and long-lasting. Best of all, they appear profusely on very vigorous, uniform plants.
This Sea Star mix contains 5 complementary colors: white, pink, deep rose, and purple. These large-flowered China Asters make a spectacular bouquet all by themselves, and their unusual form combines well with other flowers in the bed, border, or vase.
Callistephus Chinensis is also known as Crego Aster and is quite wilt-tolerant and undemanding, asking only for a sunny spot in the garden. Crego Aster seeds can be direct-sown outside after the last frost or, for even earlier blooms, begin flower seed indoors. Sow China Aster flower seed indoors in early spring using starter mix. Press flower seed into soil and barely cover. Transplant into the garden 20 inches apart.
Beautiful Mix!
If you're in need of a thrilling display of gorgeous blooms, look no further! This seed pack is a mix of all your favorite aster colors.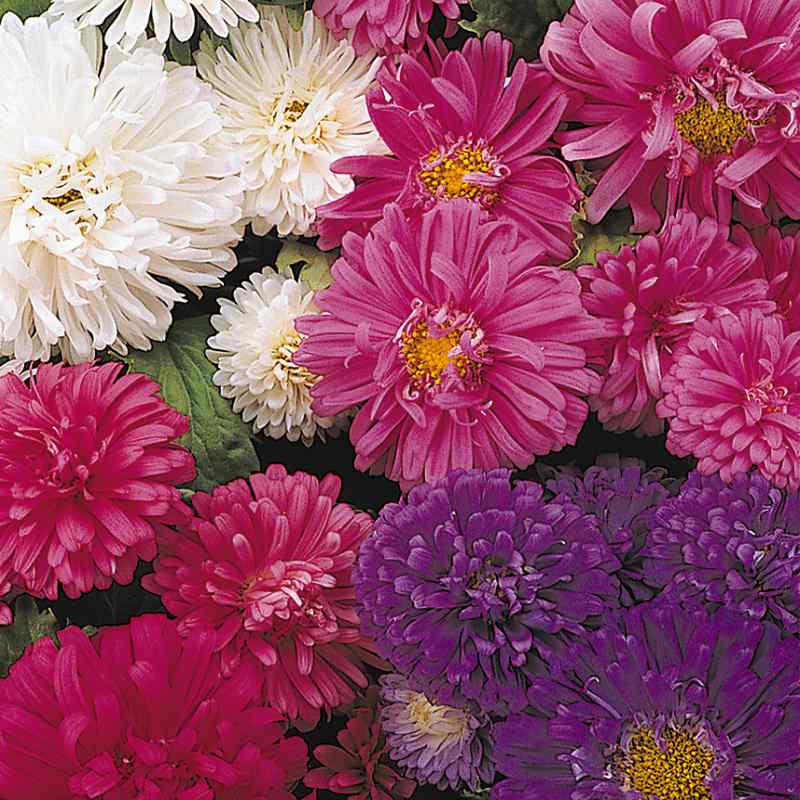 Excellent Bed Flower
How to Grow
This aster seed mix can be started both indoors and outdoors, according to preference. Make sure to plant in a final location that has plenty of sunlight and moist but well-drained soil. If starting indoors, sow the seeds 6-8 weeks before the last expected frost. Using a seed starter mix, press the seed into the soil and barely cover. Transplant after frost danger has passed. If starting directly outdoors, sow seeds after all danger of frost has passed. Sow 4 seeds per plant, and thin to the strongest seedling at a spacing of 20 inches.
Environment: full sun to partial shade
Soil: moist but well-drained
Sowing rate: 4 seeds per plant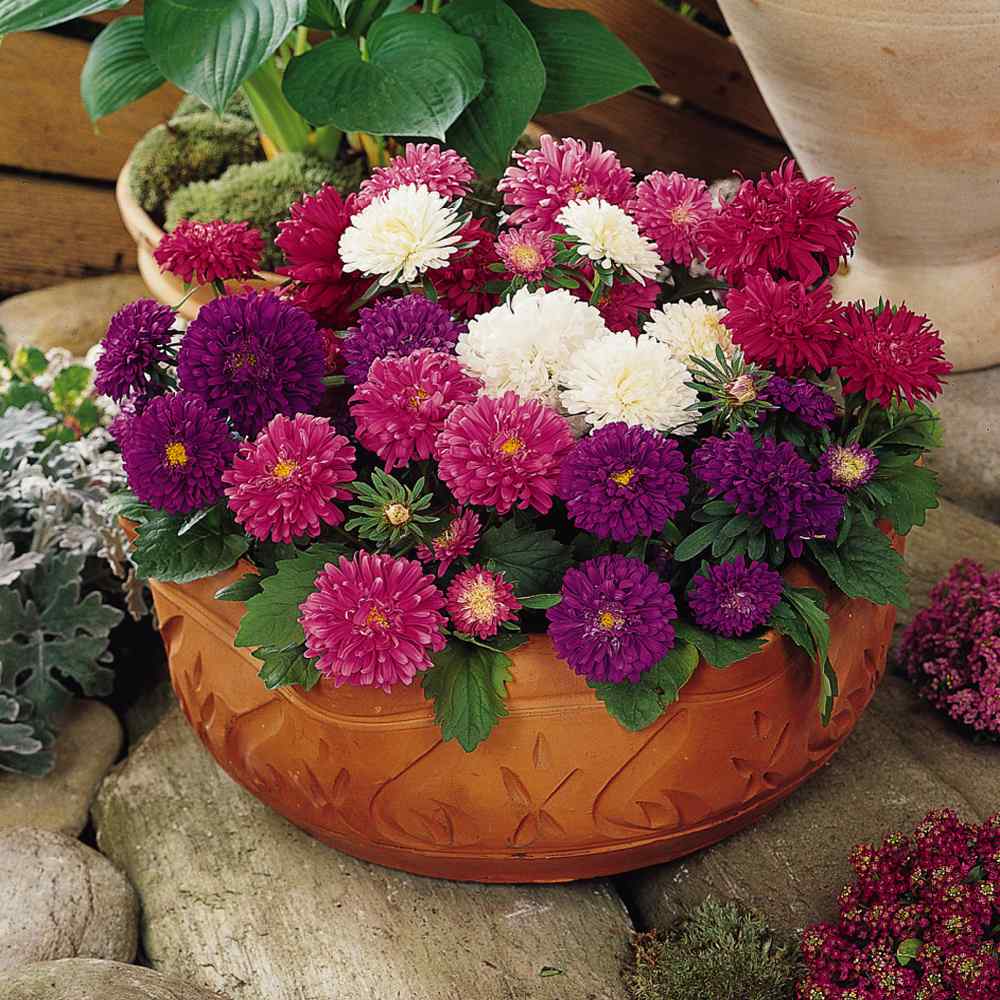 Plant Specifications
China Asters are annual flowering plants that grow in USDA zones 3 through 8. This Sea Star mix is a selection of 5 different aster varieties that form a delightful pink/purple color scheme when all in bloom.
Bloom color: mix
Bloom season: summer and fall
Plant Height: 24 inches