Flower Specifications
Approximate seeds per pound: 859,000
Season: Perennial
USDA Zones: 3 - 9
Height: 24 inches
Bloom Season: Summer and fall
Bloom Color: White
Environment: Full sun
Soil Type: Well-drained, pH 5.2 - 7.0
Deer Resistant: Yes
Planting Directions
Temperature: 70F
Average Germ Time: 14 - 28 days
Light Required: Yes
Depth: Do not cover the seed but tightly press into the soil
Sowing Rate: 2 ounces per 1,000 square feet or 5 lbs per acre or 7 - 8 seeds per plant
Moisture: Keep moist until germination
Plant Spacing: 18 inches
Care & Maintenance: See: Chrysanthemum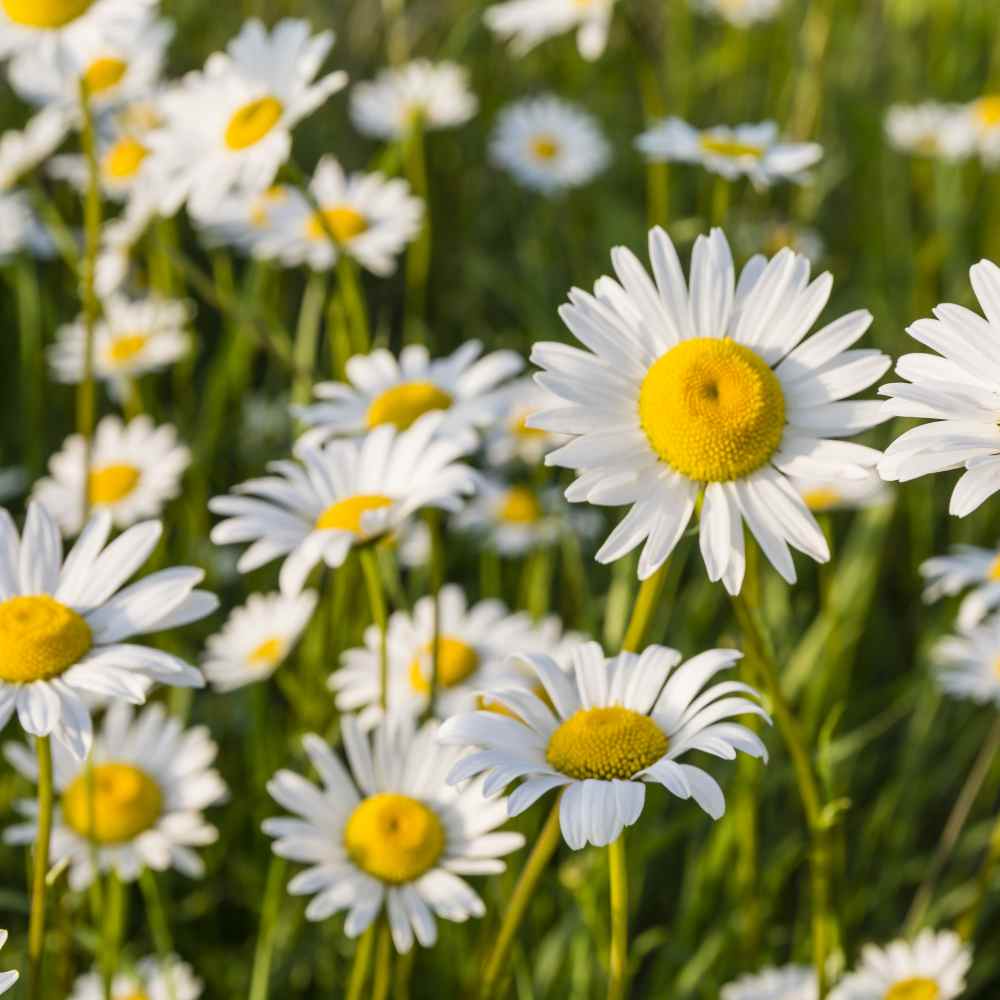 Chrysanthemum (Chrysanthemum Leucanthemum Ox-eye Daisy) - To create a lovely meadow, sow Ox-Eye Daisy seeds directly outdoors. Known for its long bloom season, the Ox-eye Daisy is a well-known and popular flower. It readily establishes from Chrysanthemum Leucanthemum seeds and loves a sunny spot. Ox-eye Daisy makes a great cut flower as well.
The Chrysanthemum Leucanthemum Ox-Eye Daisy is is one of our love-hate wildflowers. Almost everyone loves them for the beautiful, long-lived flowers and it is established in all 50 states and in Canada; however, many states consider Oxeye a weed, so check to see if its allowed in your area. Common roadside daisies grow anywhere, including in wet spots, and form tough big root masses with large blooming clumps.
Sow Chrysanthemum flower seeds directly outdoors in the late fall. The cold winter temperatures actually help the flower seeds to germinate in the spring when the temperatures warm up. Pinch back young daisy plants to keep them bushy. Grow Chrysanthemum plants in a rich, well-drained, evenly moist soil and in full sun. Good drainage in winter is essential for Oxeye Daisies. Deadhead the spent flowers regularly. Tall plants may require staking. Purchase Ox-eye Daisy seeds in bulk to cover large meadows.
Shaker Bottle With Seed Starting Matrix

Shake 'n Seed - We are now offering shaker bottles filled with our seed starting matrix: rich soil, gardening sand, water absorbing crystals, and starter fertilizer. This not only helps dispense your seed, but it gets it off to a great start! Simply remove lid from shaker bottle, add seed from packet, put back on lid, shake the bottle vigorously for 15 seconds, and then shake your way to beautiful new plants! Use Shake 'n Seed over good quality soil, and then gently water to keep seed moist until it sprouts. Great for ground covers or mass planting flower seeds.