Delphinium Seeds - Astolat
Season: Perennial
USDA Zones: 3 - 8
Height: 70 inches
Bloom Season: Summer
Bloom Color: Pink
Environment: Full sun
Soil Type: Rich, well-drained, pH 6.6 - 7.5
Deer Resistant: Yes
Temperature: 55F
Average Germ Time: 14 - 21 days
Light Required: No
Depth: 1/8 - 1/4 inch
Sowing Rate: 4 - 5 seeds per plant
Moisture: Keep seed moist until germination
Plant Spacing: 30 inches
Care & Maintenance: Delphinium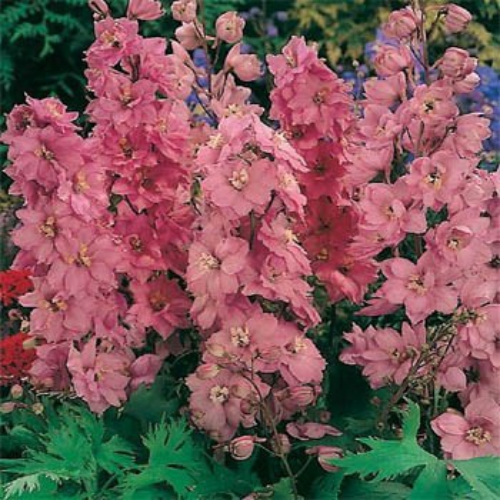 Delphinium (Delphinium Cultorum Astolat) - Start Delphinium seeds and grow this tall and stately flower in the sunny border. Astolat is from the Pacific Giant Hybrids, and it has blooms of pink shades with a contrasting black center often called a "bee". The flowering spikes are dramatic accents in perennial borders with a height of nearly 70 inches. Grow this impressive flower from flower seed and create a striking background in the summer flower garden! Hummingbirds and butterflies will not leave these flowers alone. Delphiniums make great cut flowers as well.
Delphiniums are perennial in cool summer climates, but grown as annuals or biennials, especially where summers are hot. Sow the flower seeds in early spring when frost season is completely over. Seedlings started in spring may not bloom until the next spring. For large flower spikes, give rich, well-drained soil and regular feeding. Stake tall plants and protect from strong winds.
To get a jump start on the growing season, sow Delphinium seeds indoors 4 - 6 weeks before last frost. Use sterile starter mix in trays and cover flower seeds 1/8 - 1/4 inches.