Season: Annual
USDA Zones: 3 - 10
Height: 40 inches
Bloom Season: Spring through fall
Bloom Color: Rose
Environment: Full sun to partial shade
Soil Type: Moist, well-drained, pH 6.6 to 7.5
Deer Resistant: Yes
Latin Name: Helichrysum Bracteatum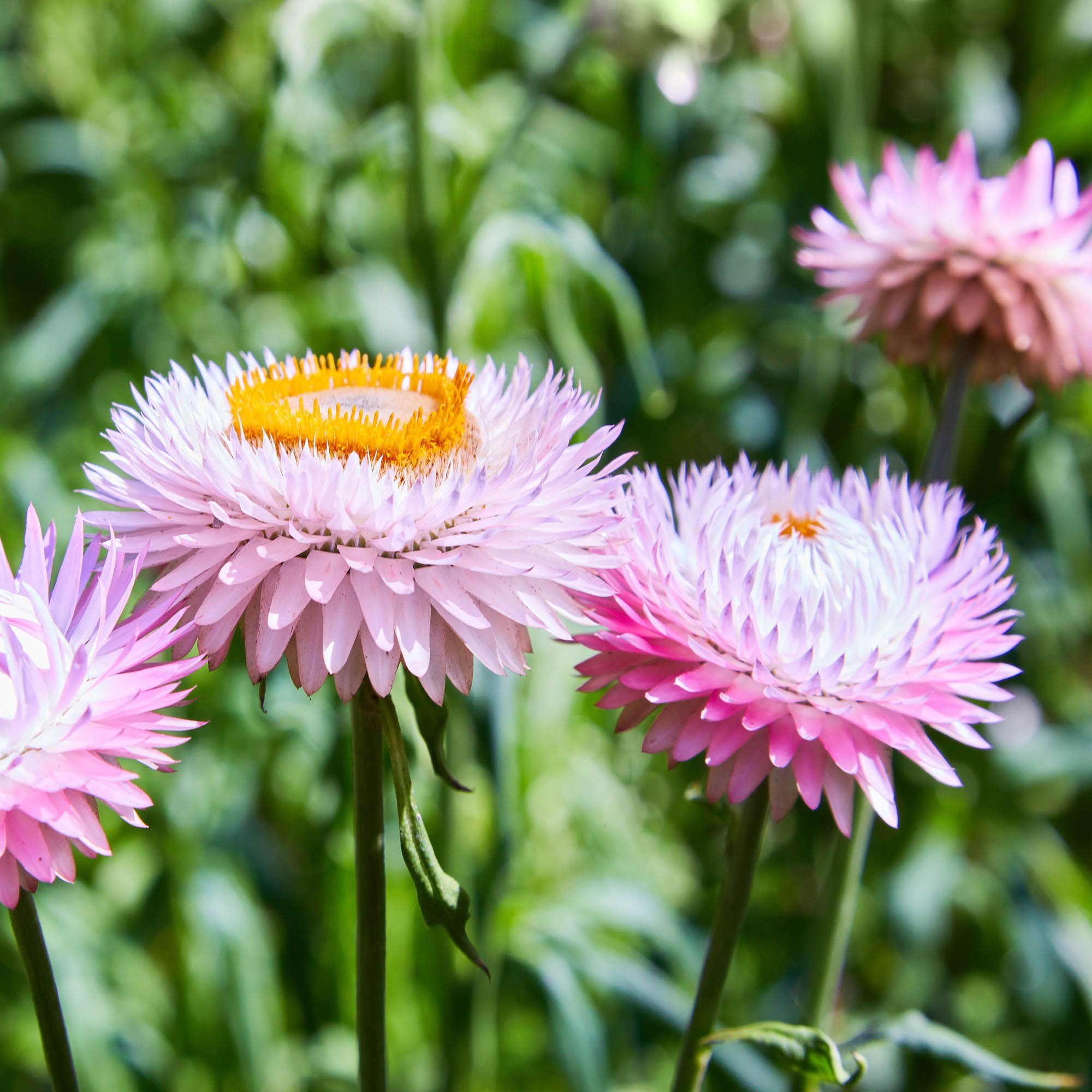 Helichrysum (Helichrysum Bracteatum Rose) - Easy and fast growing from Helichrysum seed, Strawflower, is a hardy perennial native to Australia. In most areas of the United States, however, it is grown as a summer annual. The 36 - 40 inch tall plants have 5 inch long lance-shaped leaves and double blooms often over 2 1/2 inches across. Flowers of this species are great as cut flowers and when they are dried, the papery flowers will last indefinitely. The plants are easy to grow from flower seed and make excellent drought tolerant container plants. This flower has several common names: Strawflower, Paper Daisy, and Everlasting Daisy. Many gardeners grow Helichrysum Paper Daisy for the purpose of drying the everlasting blooms for dried arrangements, wreaths and crafts.
Helichrysum Everlasting flowers do best in full sun with a well-drained soil mix. In the greenhouse, you can use a soil mix consisting of 1 part peat moss to 2 parts loam and sand. Strawflower plants need to be well watered and allowed to dry before watering again. During the spring and summer months, fertilize the plants monthly with a balanced fertilizer diluted to 1/2 the strength recommended on the label. Even though this rose Paper Daisy plant is considered to be an annual, when growing in the landscape, it tends to re-seed by dropping its own flower seed on the ground. With the right conditions the Helichrysum flower seeds will germinate the following spring and new flowers will appear.
For earlier blooms, sow Strawflower seeds indoors 6 - 8 weeks before planting time. Helichrysum seeds can be directly sown outdoors once frost season has passed and temperatures are consistently warm.