Flower Specifications
Season: Perennial
USDA Zones: 3 - 10
Height: 28 - 32 inches
Bloom Season: Summer
Bloom Color: Rosy red
Foliage Color: Silver-gray
Environment: Full sun to partial shade
Soil Type: Well-drained, pH 5.8 - 6.8
Deer Resistant: Yes
Planting Directions
Temperature: 68 - 70F
Average Germ Time: 14 - 21 days
Light Required: Yes
Depth: Seeds must be covered thinly
Sowing Rate: 3 seeds per plant
Moisture: Keep seeds continuously moist until germination
Plant Spacing: 18 inches
Care & Maintenance: See: Lychnis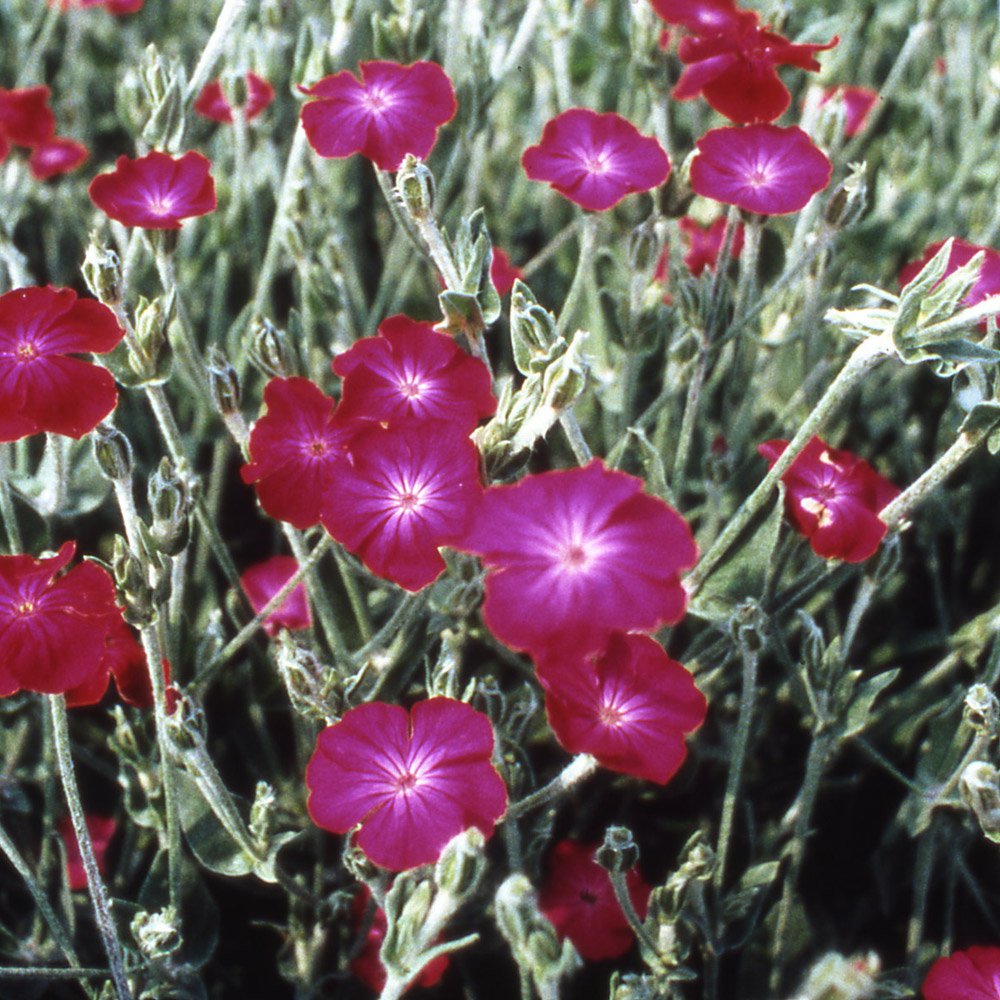 Lychnis (Lychnis Coronaria) - This Lychnis is also known as Rose Campion, and it is easily established from Lychnis seeds. It is erect with many-branches that have softly wooly, silver-gray leaves and stems. The plant gets 28 - 32 inches tall with a spread of 12 - 24 inches. The first year it will only produce a few blooms, but in the second year of establishment, Lychnis Rose Campion blooms with a profusion producing many long-stemmed rose to red colored trumpet-shaped flowers. They measure an inch across and just as long. A synonymous botanical name is Silene coronaria, and another common name is Mullein Pink.
Mullein Pink Rose Campion is well-loved for its long bloom season. This Lychnis plant begins blooming in late spring and lasts throughout the summer. The rosy-red Rose Campion flower is a beautiful contrast with the silvery foliage. Lychnis Coronaria Rose Campion plants perform well in both full sun or partial shade, and they are deer resistant.
Grow Lychnis Coronaria from flower seeds. Start Lychnis seeds indoors 6 - 8 weeks before the last frost is expected. Use well-draining starter soil. Sow the Lychnis seeds on the surface, lightly covered. Keep seed continuously moist until germination. Some gardeners will cover with plastic wrap to keep humidity high. Transplant outdoors after danger of frost and when seedlings are 2 inches tall. Lychnis care includes watering deeply throughout the growing season, mulching around the base to keep the roots cool, and deadheading spent blooms to prolong the blooming season. Let the last blooms go to seed so that Lychnis can re-seed itself. If re-seeding is not desired, cut the stems back down to basal growth after blooming.