Flower Specifications
Approximate seeds per pound: 295,000
Season: Annual
USDA Zones: 3 - 10
Height: 8 - 12 inches
Bloom Season: Mid spring to late summer
Bloom Color: Red
Environment: Full sun
Soil Type: Prefers gritty, fast-draining conditions, pH 6.6 - 7.5
Deer Resistant: Yes
Planting Directions
Temperature: 60 - 70F
Average Germ Time: 14 - 28 days
Light Required: Yes
Depth: 1/8 inch
Sowing Rate: 4 ounces per 1,000 square feet or 10 pounds per acre
Moisture: Keep seeds moist until germination
Plant Spacing: 12 inches
Care & Maintenance: See: Poppy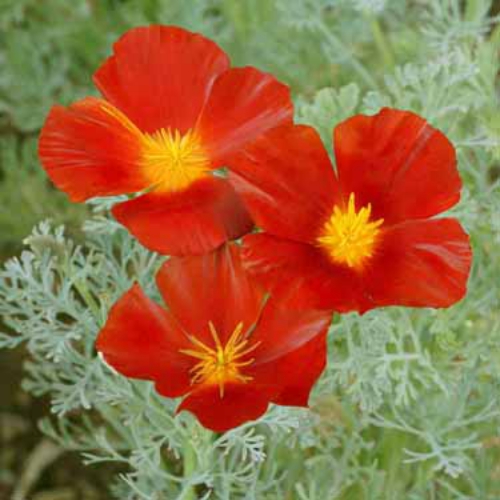 California Poppy (Eschscholzia Californica Red Chief) - Nothing brings more beauty and drama than brilliant red blooms! This California Poppy Red Chief grows easily from flower seeds and is a real viewing pleasure. Poppy Red Chief reaches 8 - 12 inches in height and has blooms that are accented by a dark center and a vivid blend of red and orange. The attractive blue-green lacy foliage is offset by a slight purple tint. Grow red California Poppy seeds alone or with orange California Poppies for a wonderful naturalized landscape scene. Start Poppy seeds directly outdoors in the early spring. Prepare the area by weeding and loosening the top 1 - 2 inches of soil. Sow the Poppy flower seeds and rake the soil covering the seed about 1/8 inch deep, and keep the soil moist until germination. Thin the Poppy seedlings to about 12 inches apart. Decrease watering after the plants begin to flower.
Shaker Bottle With Seed Starting Matrix

Shake 'n Seed - We are now offering shaker bottles filled with our seed starting matrix: rich soil, gardening sand, water absorbing crystals, and starter fertilizer. This not only helps dispense your seed, but it gets it off to a great start! Simply remove lid from shaker bottle, add seed from packet, put back on lid, shake the bottle vigorously for 15 seconds, and then shake your way to beautiful new plants! Use Shake 'n Seed over good quality soil, and then gently water to keep seed moist until it sprouts. Great for ground covers or mass planting flower seeds.