Flower Specifications
Season: Perennial
USDA Zones: 4 - 9
Height: 6 - 8 inches
Bloom Season: Late spring and summer
Bloom Color: Golden
Environment: Full sun to partial shade
Soil Type: Well-drained, pH 5.5 - 6.8
Deer Resistant: Yes
Planting Directions
Temperature: 68F
Average Germ Time: 14 - 21 days
Light Required: Yes
Depth: Do not cover the seed but press into the soil
Sowing Rate: Approximately 500 seeds covers 10 square feet
Moisture: Keep seeds moist until germination
Plant Spacing: 12 inches
Care & Maintenance: See: Yarrow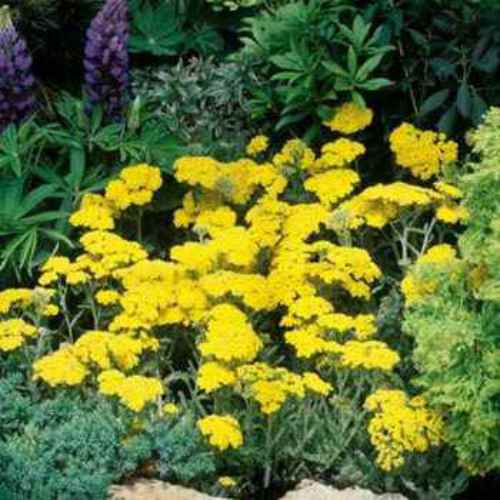 Yarrow (Achillea Tomentosa Aurea) - Grow Yarrow seeds for this delightful variety known as Dwarf Yarrow or Woolly Yarrow. This low-growing yellow Yarrow is perfect for the front of the border, general ground cover plants, or in containers. It has a silvery fern-like foliage and brilliant golden flowers when in bloom. This dwarf Achillea plant is very attractive to bees and butterflies, and it makes a wonder cut flower and dries well too. Yarrow has very good drought tolerance and is adaptable to most soils. Fertilize sparingly as nitrogen rich soil will produce lush foliage production but less flowering.
Sow Yarrow seeds indoors 6 - 8 weeks before frost season ends. Use starter trays or small pots. Press Woolly Yarrow seeds into the soil but do not cover. Light aids germination. Keep the ground cover seeds moist until germination. Or, after frost danger has passed, directly sow Yarrow ground cover seeds outdoors in prepared soil. Thin the Yarrow seedlings to 12 inches apart.
Shaker Bottle With Seed Starting Matrix

Shake 'n Seed - We are now offering shaker bottles filled with our seed starting matrix: rich soil, gardening sand, water absorbing crystals, and starter fertilizer. This not only helps dispense your seed, but it gets it off to a great start! Simply remove lid from shaker bottle, add seed from packet, put back on lid, shake the bottle vigorously for 15 seconds, and then shake your way to beautiful new plants! Use Shake 'n Seed over good quality soil, and then gently water to keep seed moist until it sprouts. Great for ground covers or mass planting flower seeds.