Castor Bean Seeds - Gibsonii
Season: Annual
USDA Zones: 5 - 11
Height: 72 inches
Bloom Season: Late summer to early fall
Bloom Color: Red
Environment: Full sun
Soil Type: Well ammended soil, pH 5.8 - 7.0
Temperature: 65 - 70F
Average Germ Time: 7 - 14 days
Light Required: Yes
Depth: Plant seeds 1/4 inch deep
Sowing Rate: 1 - 2 seeds per plant
Moisture: Keep soil slightly moist but not wet, avoid soil drying out
Plant Spacing: 36 - 48 inches
Note: Seeds are poisonous, DO NOT eat
Care & Maintenance: Castor Bean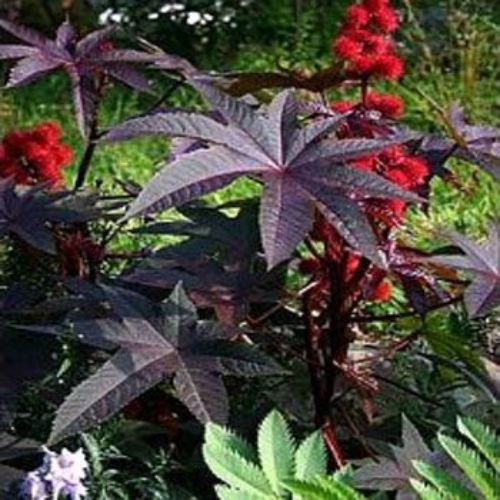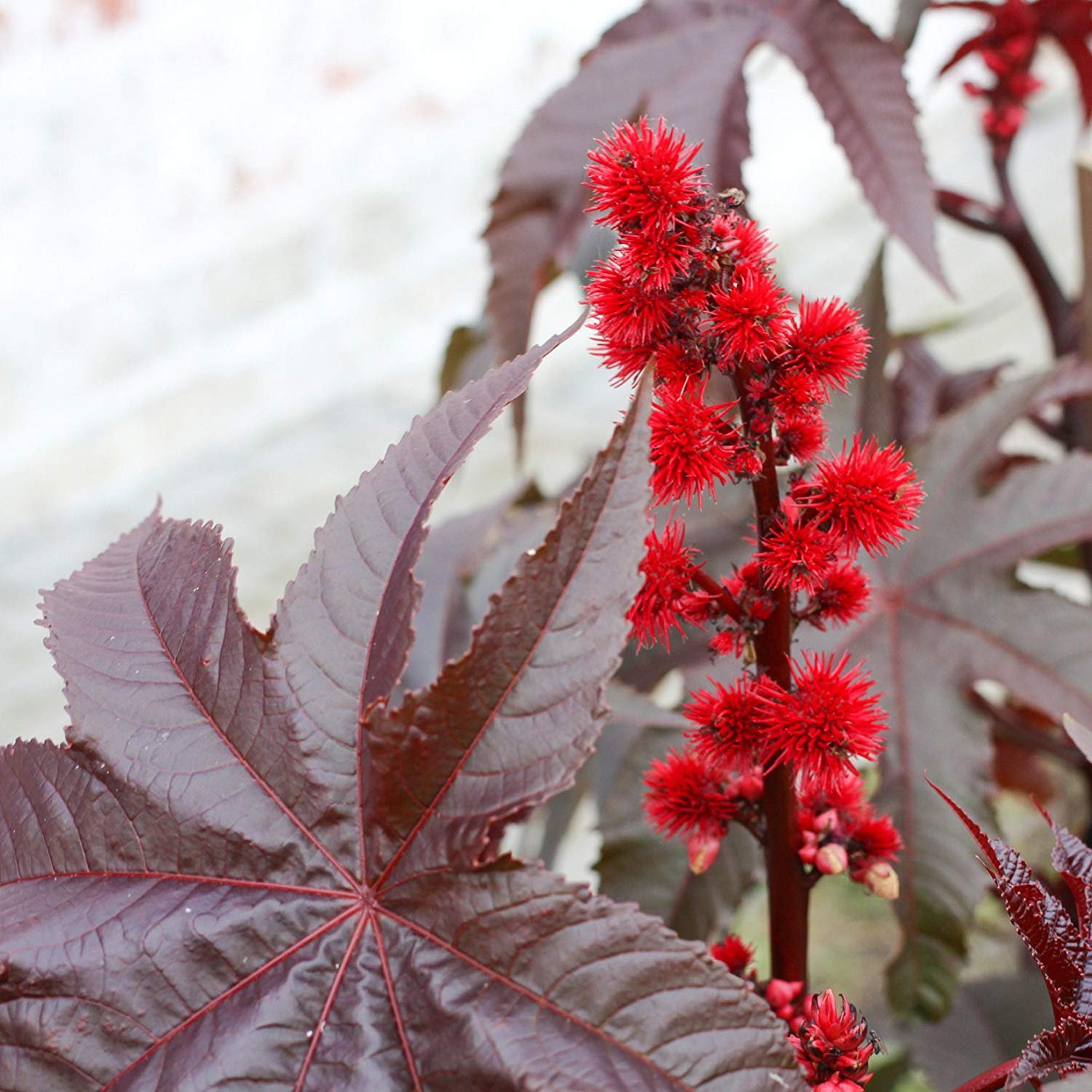 Castor Bean (Ricinus Communis Gibsonii) - Starting Castor Bean seeds is an easy and fast way to grow this incredibly beautiful annual. The Castor Oil plant is a very useful tropical foliage plant. It is grown from seed annually, easily reaching 5 feet plus in one season. Gibsonii produces a tall and dramatic plant with huge dark red leaves and stunning scarlet seed heads. To add an exotic look to your landscape, grow these flower seeds and enjoy this stunning specimen plant.
Castor Bean seeds can be started indoors 6 - 8 weeks before the last frost date or directly outdoors after frost season has passed. It is recommended to soak the Ricinus seeds for 24 hours in water to help break the seed coat. Cover the seed with 1/4 inch of soil and keep moist. Grow the plant in full sun and in soil that is rich and has been amended with organic matter. Care of the Gibson Castor Bean plant would include staking the plant if needed, trimming the faded flowers to produce new blooms, and fertilizing every month (or adding a slow-release fertilizer at the time of planting). In the fall after the first frost, remove the plant and discard.
NOTE: All parts of the plant, including the seeds, are poisonous. Eating the seeds may be fatal. This plant is not recommended if you have small children. Again if you have children that naturally put things into their mouths, you probably should avoid this plant. If you do decide to grow it, educate your children about the dangers of this plant.