Flower Specifications
Season: Annual
USDA Zones: 3 - 9
Height: 6 - 12 inches
Bloom Season: Spring through fall
Bloom Color: White
Environment: Full sun to partial shade
Soil Type: Well-drained, pH 6.1 - 7.8
Deer Resistant: Yes
Planting Directions
Temperature: 60 - 65F
Average Germ Time: 14 - 21 days
Light Required: Yes
Depth: Do not cover
Sowing Rate: 2 - 3 seeds per plant or 2 ounces per 1,000 square feet
Moisture: Keep seeds moist until germination
Plant Spacing: 12 inches
Care & Maintenance: See: Chrysanthemum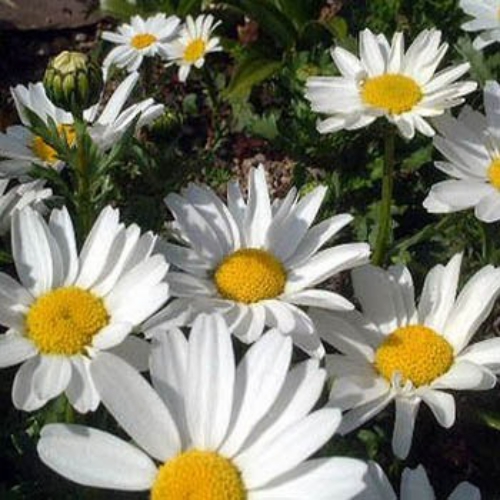 Chrysanthemum (Chrysanthemum Paludosum Creeping Daisy) - Easy to grow from flower seeds and quick to flower with a spreading habit, these little Creeping Daisies are a great filler for garden beds, rock gardens, containers, and window boxes. Chrysanthemum Paludosum seeds produce a compact, low growing flowering plant that has 1 1/2 inch flowers. Deadheading and pinching help maintain the compact growth. Creeping Daisy plants typically only grow about 6 - 12 inches tall, but they will spread to 15 inches in no time. Chrysanthemum Paludosum does not waste anytime. After being sown from flower seeds, it blooms in about 12 weeks! Creeping Daisy ground cover is perfect for sunny sites and it's usually resistant to deer.
Butterflies love to visit these sweet little flowers! Chrysanthemums can be liberal self-sowers, and Creeping Daisy will drop its own flower seeds giving you brand new Creeping Daisy plants the following year. Creeping Daisy is technically a perennial, but only in frost free zones 9 and 10.
Creeping Daisy seeds can be sown directly outside in the spring after frost season is over. In a prepared seedbed that is weed free, so the flower seeds about 12 inches apart and press the Chrysanthemum seeds into the soil. Keep the seeds moist until germination occurs. Creeping Daisy care includes an application of all purpose fertilizer each month throughout the growing season and pinching back spent flowers to encourage continued blooming. Approximately 47,000 seeds per ounce.