Nierembergia Seeds - Purple Robe
Groundcover Specifications
Season: Perennial (zones 7 - 10)
USDA Zones: 3 - 10
Height: 8 inches
Width: 8 - 10 inches
Bloom Season: Summer through fall
Bloom Color: Blue-violet and purple
Growth Rate: Moderate
Environment: Full sun
Soil Type: Well-drained, pH 6.6 to 7.5
Temperature: 70 - 75F
Average Germ Time: 14 - 30 days
Light Required: Yes
Depth: Press gently into soil, cover lightly with peat moss
Sowing Rate: Approximately 5000 nierembegia seeds covers 100 square feet
Moisture: Keep soil slightly moist, but not wet until germination
Plant Spacing: 6 - 9 inches
Note: For detailed directions for indoor and outdoor planting, please Click Here
Care & Maintenance: Nierembergia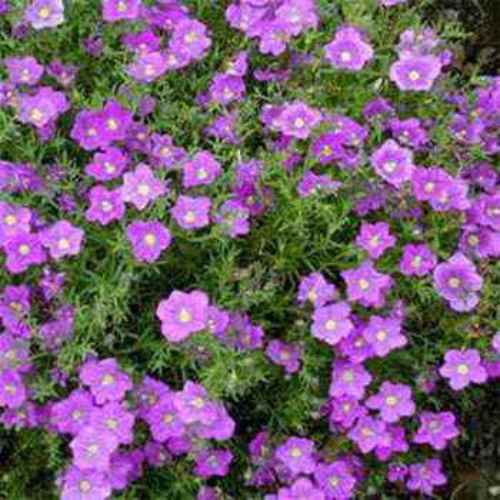 Nierembergia (Nierembergia Hippomanica Purple Robe) - Also called Purple Robe Cup Flower, this excellent ground cover plant has early, bright blooms of blue-violet or dark purple, and it establishes well from Nierembergia seeds. The mounding foliage has a fern-like appearance, is vigorous, and free-flowering all summer long. Nierembergia Purple Robe makes a wonderful addition next to other bedding-plants as it will not take over, but it fills its own space. Nierembergia Cupflower creates a colorful edging or ground cover in borders or rockeries all summer. In addition, purple Cup Flower makes a great container plant as well.
Sow Nierembergia seeds on the surface of lightly firmed, moist compost outdoors or in pots or trays and cover with a fine sprinkling of peat moss. Keep at a temperature of between 70 - 75F. After sowing this ground cover seed, do not exclude light as this helps germination. Keep the surface of the compost moist but not waterlogged; germination of Purple Robe Cup Flower seeds usually takes 14 - 30 days. Cup Flower ground cover is perfect if you want a long-blooming, easy-care perennial to edge the front of a bed or border, and it flowers all summer. The Cup Flower plant is considered a perennial in zones 7 - 10 but it can be grown as an annual in cooler zones.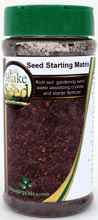 Shake 'n Seed - We are now offering shaker bottles filled with our seed starting matrix: rich soil, gardening sand, water absorbing crystals, and starter fertilizer. This not only helps dispense your seed, but it gets it off to a great start! Simply remove lid from shaker bottle, add seed from packet, put back on lid, shake the bottle vigorously for 15 seconds, and then shake your way to beautiful new plants! Use Shake 'n Seed over good quality soil, and then gently water to keep seed moist until it sprouts. Great for ground covers or mass planting flower seeds.