Herb Specifications
Season: Perennial
USDA Zones: 9 - 11
Height: 20 inches
Bloom Season: Mid summer to early fall
Bloom Color: Pink
Environment: Full sun
Soil Type: Well-drained, pH 6.1 - 7.3
Planting Directions
Temperature: 70F
Average Germ Time: 7 - 14 days
Light Required: Yes
Depth: 1/4 inch
Sowing Rate: 1 seed per inch
Moisture: Keep seeds moist until germination
Plant Spacing: Rows 18 inches a part; thin seedlings 6 inches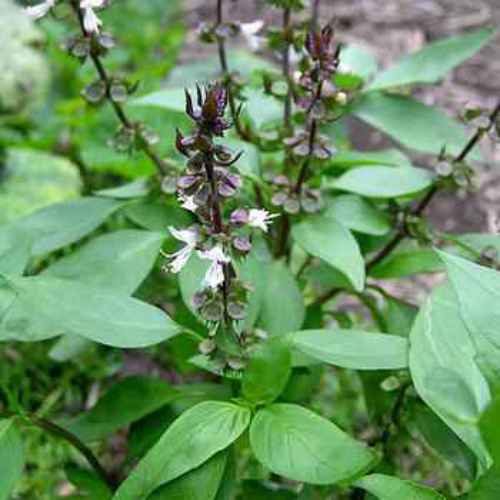 Green Holy Basil (Ocimum Tenuiflorum) - Holy Basil is a widely cultivated herb plant that can be grown from Basil seeds. It is a tender perennial, and in many areas is grown as an annual. Holy Basil is a bushy, aromatic herb that is native to Asia but now is grown in many warm climates world-wide. It has a pungent, peppery flavor and can be used as a culinary herb. There are two main types of Holy Basil: green-leaved and purple-leaved.
Holy Basil plants are extremely important in the Hindu religion. In the Hindu religion the herb plants, called Tulsi, are worshiped morning and evening. As a medicinal herb, Tulsi Holy Basil is used to fight fevers associated with malaria, dengue fever, colds and flu by making a tea from the leaves. The Holy Basil teas also soothe sore throats, coughs, and respiratory ailments. Holy Basil is considered to be an adaptogen and helps protect the body against stress.
How To Grow Holy Basil From Herb Seeds: Start the Holy Basil herb seeds indoors 6 - 8 weeks before the end of frost season. Use a good, sterilized seed starting mix. Keep the soil moist but not saturated until germination occurs. In warm climates, the Basil seeds can be directly started outdoors in prepared seedbeds. The Holy Basil plants benefit from regular fertilizer feeding. Start feeding once the first true leaves appear, and used a diluted liquid fertilizer, like fish emulsion, every other week.