Season: Perennial
USDA Zones: 9 - 11
Height: 30 - 40 feet
Bloom Season: Summer until Fall
Bloom Color: Violet
Environment: Full sun
Soil Type: Moist, but well drained neutral to slightly acidic soils
Deer Resistant: Yes
House Plant: No
Latin Name: Cobaea Scandens
Temperature: 70 - 75F
Average Germ Time: 6 - 30 days
Light Required: Yes
Depth: Surface sow sticking seed vertically into the media
Sowing Rate: 1 - 2 seeds per plant
Moisture: Keep seeds moist until germination
Plant Spacing: 24 inches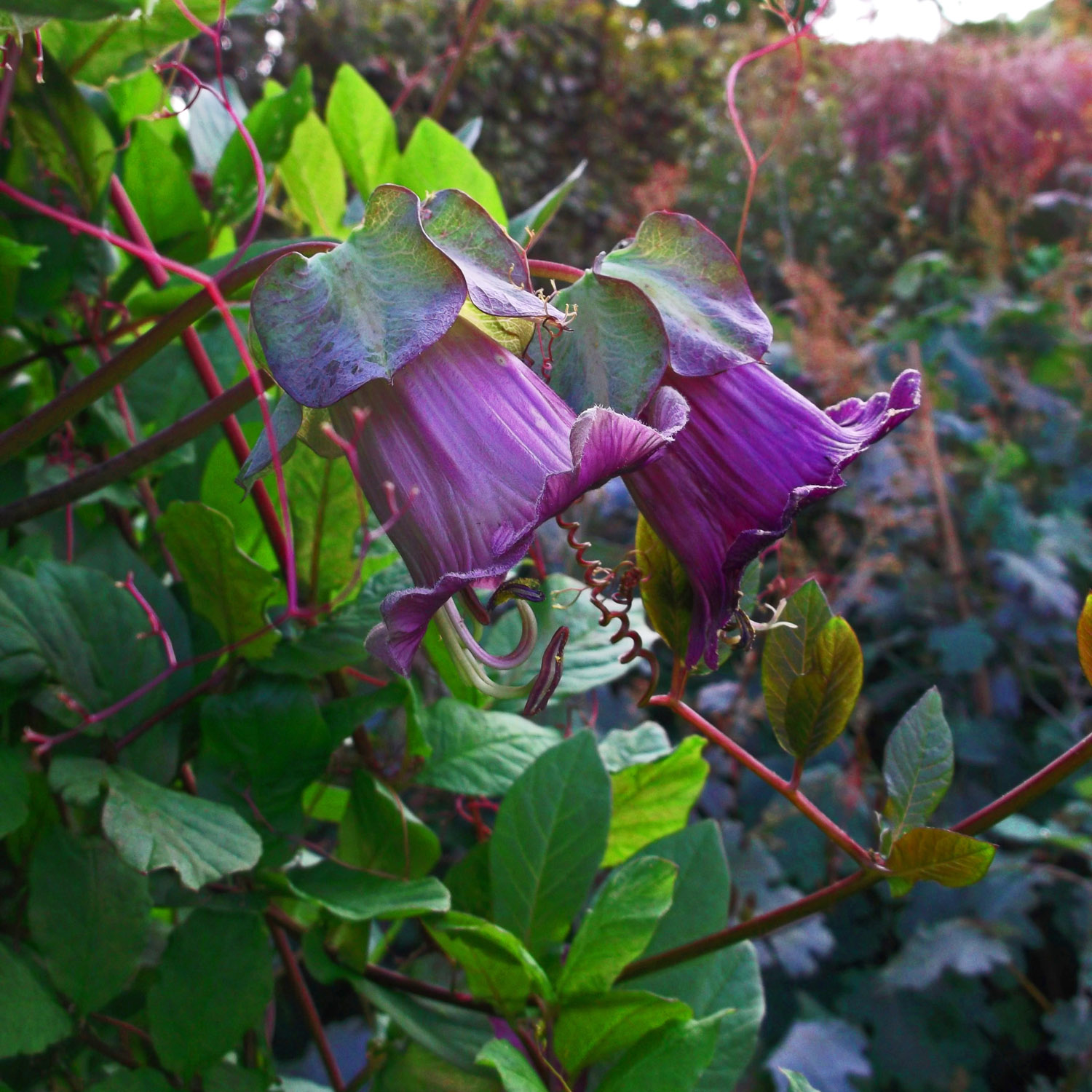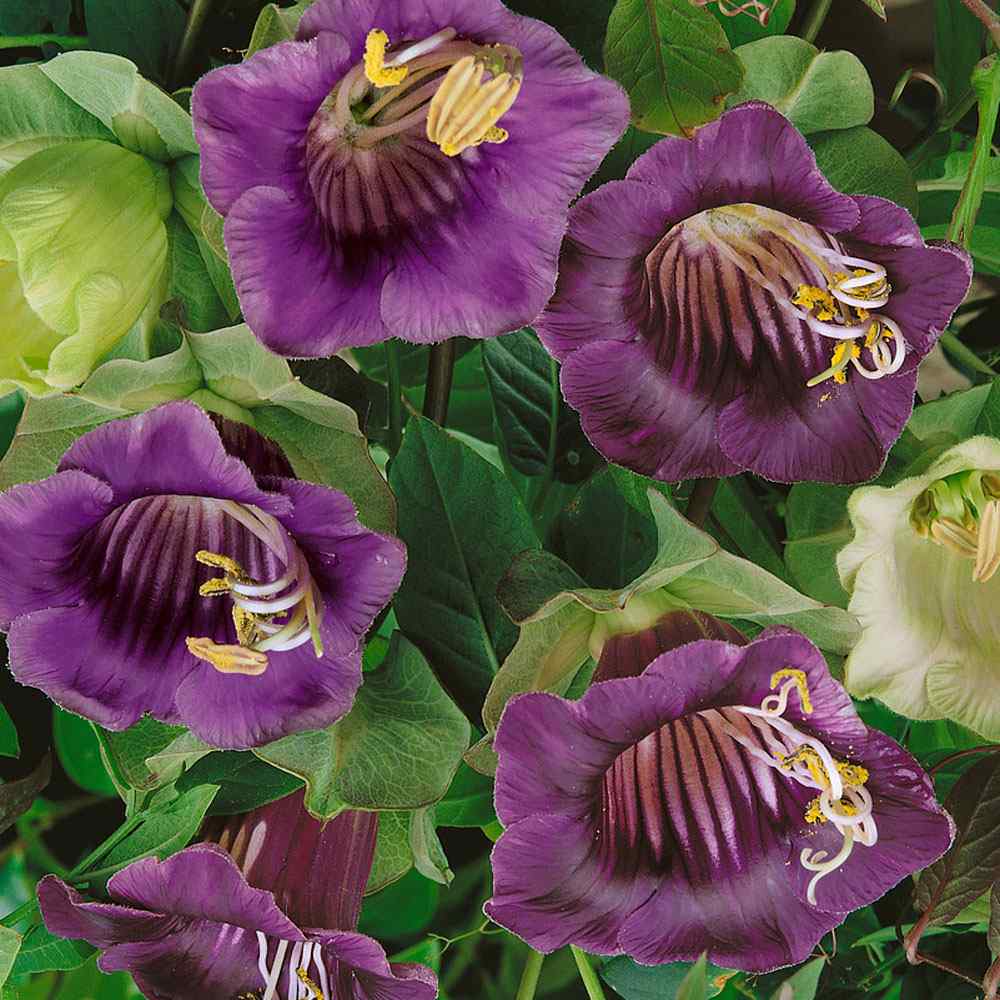 Cup & Saucer Vine (Cobaea Scandens Violet) - Commonly called cup and saucer vine, this vining plant is native to Mexico and tropical South America. It is a vigorous, rapid-growing, climbing vine that typically grows to 30 - 40 feet in its native habitat! When grown as an annual, it can grow 10 - 20 feet in a single season even covering a 25 foot chain link fence in a single season. The descriptive common name is in reference to its bell-shaped flowers (cups), each of which is subtended by a saucer-like green calyx. Flowers last about 4 days, emerging green but maturing to purple. Flowers have a musky fragrance. Blooms late summer into fall. Also commonly called cathedral bells. Only perennial in USDA Zones 9 - 11.
Fantastical, 3 1/2 inch flaring violet bells sporting long sexy stamens create a mas­sive bloom display that'll be much admired by neighbors. Attractive, deep green, heart-shaped foliage. Give it room to grow, rich soil and stand back! Hummers will swarm! Cut back in Winter for bushiest appearance next year in warmer climates where it can survive as a perennial.
Fast-Growing Vine
Cup & Saucer Vine is an excellent choice for a plant that can swiftly beautify unsightly structures!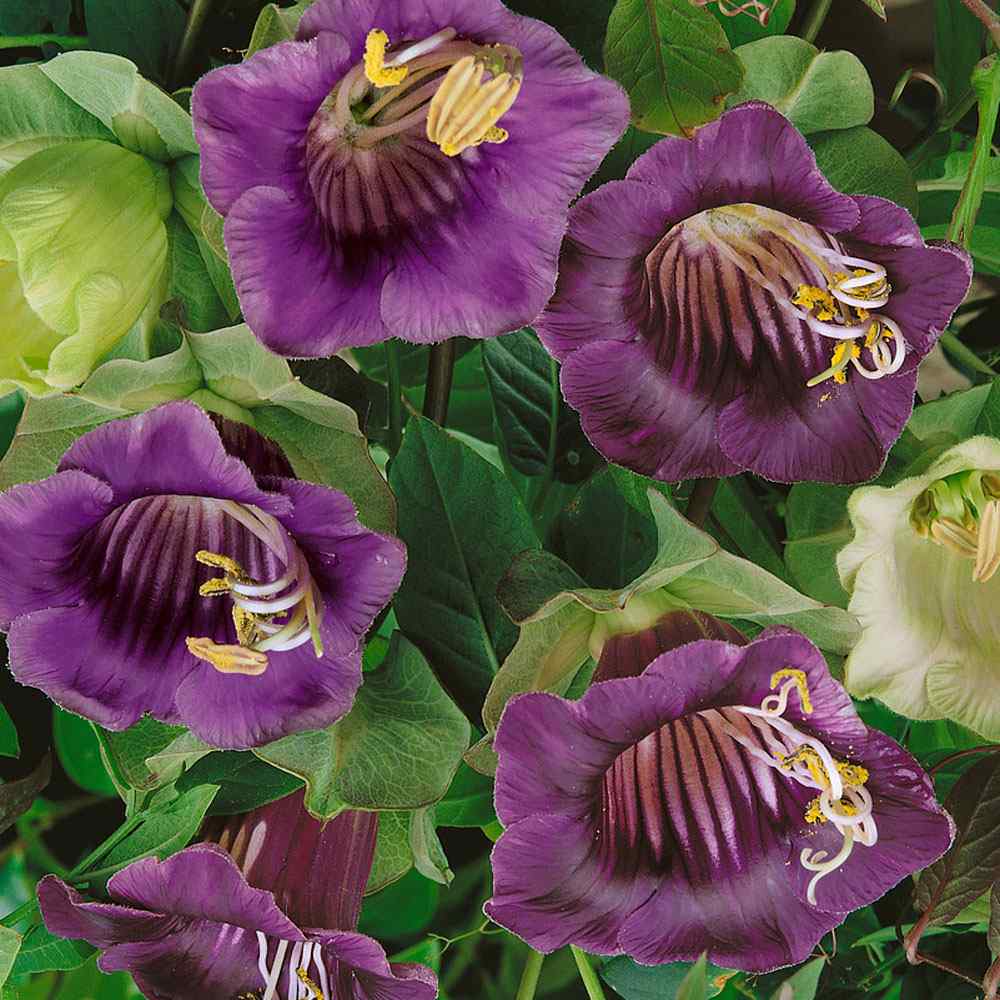 Vining Perennial
How to Grow
Since these plants are cold-sensitive, it is safest to start the seeds indoors 6-8 weeks before the last expected frost. Sow the seeds into a starter mix in small pots. Surface sow by pressing seed into the soil without covering. Keep the seeds moist until germination, which is erratic but should occur in 2-4 weeks under proper conditions. These vines can become easily tangled, so it is a good idea to start the seeds in separate pots and stake them immediately upon germination. Transplant seedlings outdoors once they are established and all danger of frost has passed.
Environment: full sun
Soil: well-drained & neutral
Sowing rate: 1-2 seeds per plant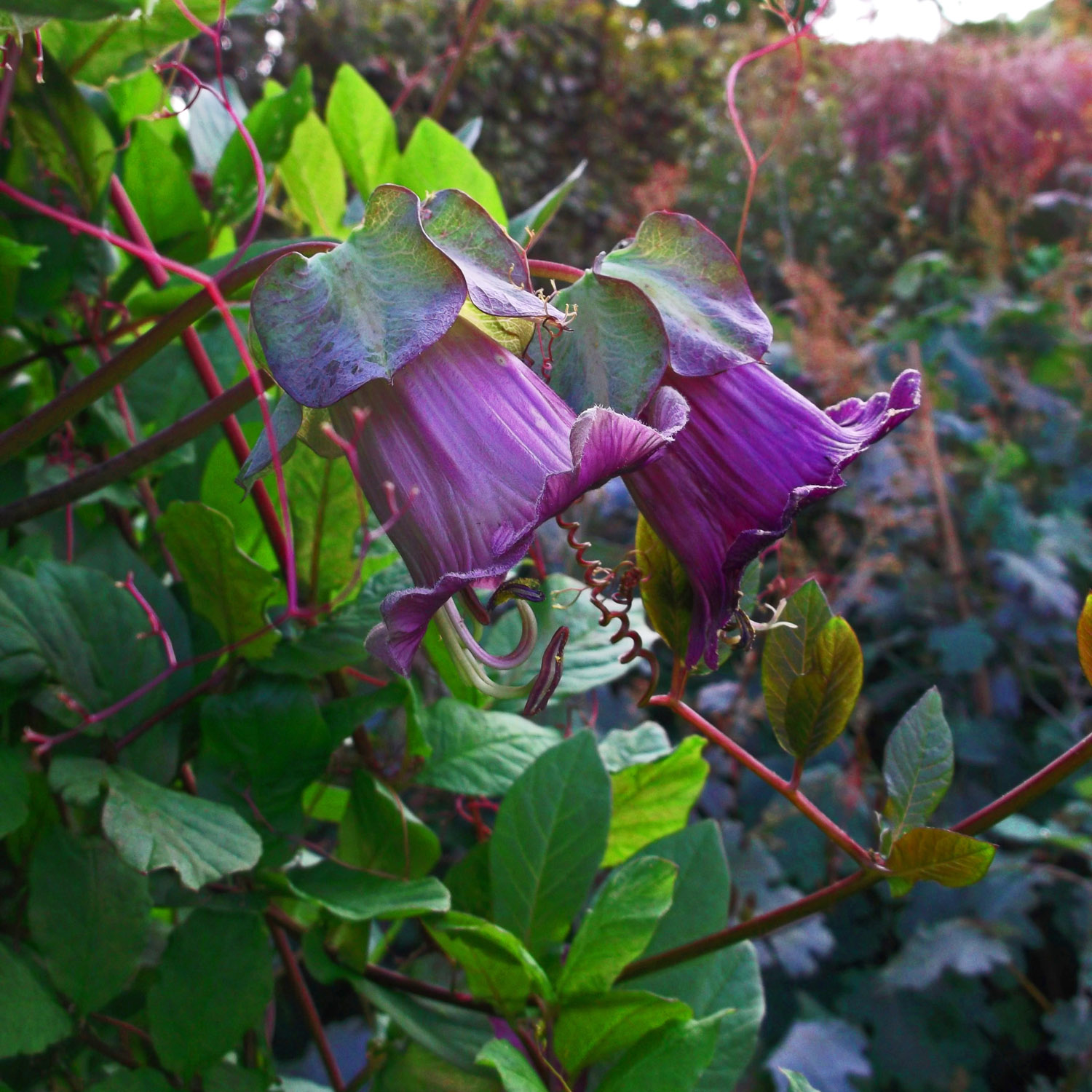 Plant Specifications
Cobaea (commonly known as Cup & Saucer Vine) is a flowering perennial vining plant that grows in USDA zones 9 through 11. It grows and spreads quite rapidly, and is a good choice for a plant that can quickly beautify unsightly structures in the garden or yard.
Bloom color: violet
Bloom season: summer until fall
Plant height: 30-40 feet (vining)