Season: Perennial
USDA Zones: 6 - 8
Height: 30 inches
Bloom Season: June - August
Bloom Color: Pink
Environment: Full sun to partial shade
Soil Type: Average, well-drained soils
Deer Resistant: Yes
House Plant: No
Latin Name: Acanthus Mollis
Temperature: 68F
Average Germ Time: 7 - 14 days
Light Required: Yes
Depth: 1/8th inch
Sowing Rate: 1 - 2 seeds per plant
Moisture: Keep seeds moist until germination
Plant Spacing: 30 inches





Bear's Breeches (Acanthus Mollis) - This acanthus is known for its shiny green leaves adorned with striking, 30 inch tall spires of pink flowers which are clasped by showy purple bracts. Acanthus bear's breeches is a great plant for partial shade locations.
Acanthus Bears Breeches is a striking cut flower, both fresh and dried. It may be grown in the sunny border and placed where the entire plant can be seen as a main attraction. In cold winter regions, grow bear's breeches in a large container, and bring indoors to a cool, bright location which is free of frost. If you can not bring indoors, plan to mulch deeply in late fall. May be divided in spring, and any roots left in the ground will form new little Acanthus plants.
Unique Perennial
This variety of acanthus makes for a special addition to the garden or landscape, and can serve as a great filler plant.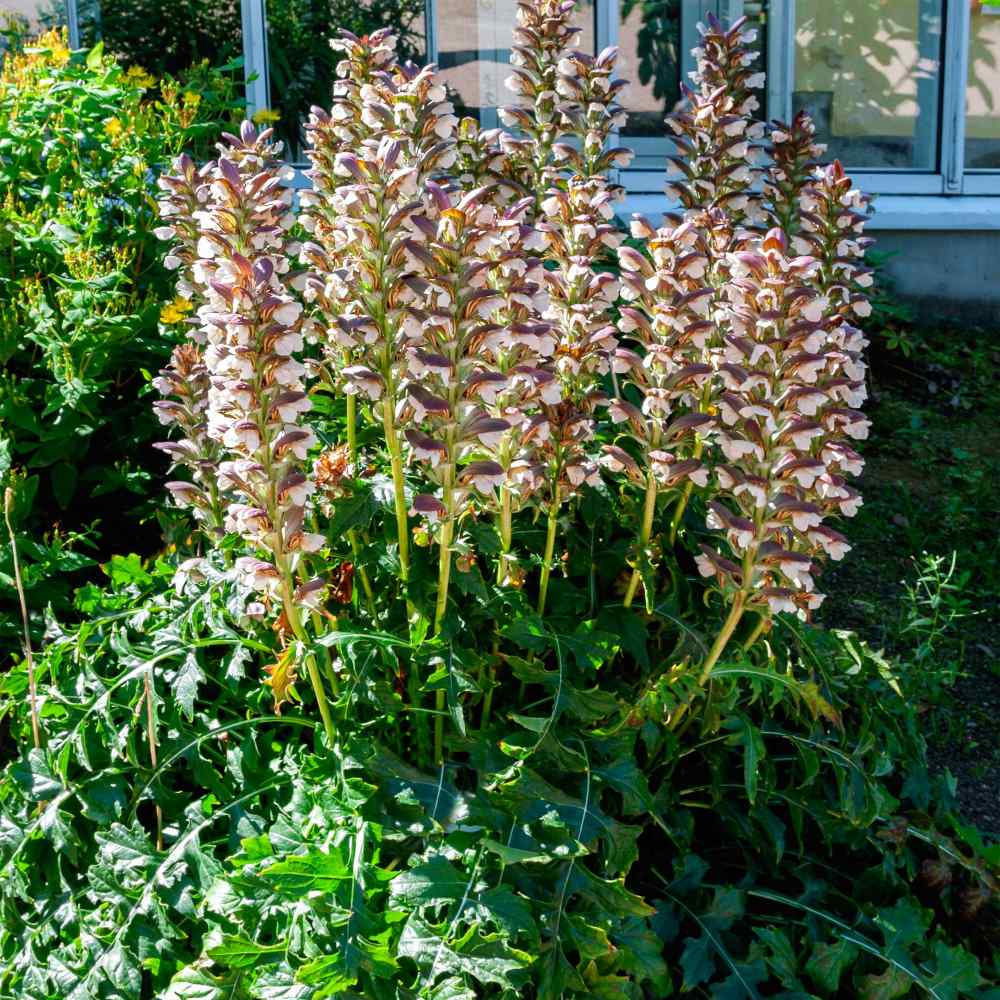 Great Partial Shade Plant
How to Grow
Before planting, it is ideal to prep these seeds by soaking them in cool water for 24-48 hours. Further assist seed germination by planting in early spring right after the final frost. Sow seeds outdoors in a prepared site at a planting depth of 1/8 inch. Space plants about 3 feet apart, as they need plenty of room to expand. Keep soil moist until germination. Under proper conditions, these seeds will germinate in 1-2 weeks, although it can be somewhat unpredictable. Grow in partial shade to full sun, and enjoy this evergreen!
Environment: full sun to partial shade
Soil: average & well-drained
Sowing rate: 1-2 seeds per plant
Plant Specifications
Bear's Breeches is a perennial evergreen flowering plant that grows in USDA zones 6 through 8. This blooms from June through August, and will grow to a height of 30 inches.
Bloom color: pink
Bloom season: summer
Germ time: 7-14 days