Flower Specifications
Season: Perennial
USDA Zones: 3 - 8
Height: 28 inches
Bloom Season: Summer and fall
Bloom Color: Mix
Environment: Full sun
Soil Type: Sharply-drained, even rocky, pH 5.8 - 7.2
Deer Resistant: Yes
Planting Directions
Temperature: 60F
Average Germ Time: 28 - 42 days
Light Required: Yes
Depth: Do not cover
Sowing Rate: 2 - 4 seeds per plant
Moisture: Keep moist until germination
Plant Spacing: 24 inches
Care & Maintenance: See: Butterfly Weed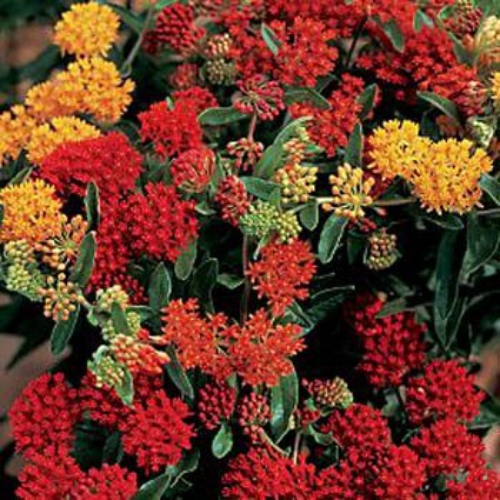 Butterfly Milkweed (Asclepias Tuberosa Gay Butterflies) - Start some Butterfly Weed seeds for both your garden and your neighbor's as well! Asclepias Gay Butterflies is not only an attractive perennial but it is also a wonderful food source for many beneficial insects. These Butterfly Weed giant flower heads are more than 5 inches across and in vivid shades of red, yellow, and orange. These vigorous Butterfly Weed plants can bloom from early summer until frost, and they flowers are also great for cutting.
Butterfly Weed AKA Milkweed is a trouble-free wonder in the sunny garden. It readily establishes from flower seed, and then it blooms unchecked through the most severe heat and drought. Winter-hardy as well, Asclepias Tuberosa Gay Butterflies returns for years to repeat its glorious show!
Many gardeners recommend a cold treatment to help Asclepias Tuberosa seeds germinate more quickly. To do this, dampen a paper towel, place the flower seeds on the towel and seal it in a ziploc bag. Place the bag in the refrigerator for 3 - 4 weeks. After the cold treatment, start the Butterfly Milkweed seeds indoors. Do not cover the flower seeds as they need light to germinate. Transplant the Butterfly Milkweed plants outdoors once temperatures are warm and plants have 4 - 5 leaves.