Delphinium Seeds - Crystal Mix
Season: Perennial
USDA Zones: 3 - 8
Height: 36 inches
Bloom Season: Summer
Bloom Color: Mix
Environment: Full sun to partial shade
Soil Type: Rich, well-drained, pH 6.6 - 7.5
Deer Resistant: Yes
House Plant: No
Latin Name: Delphinium Elatum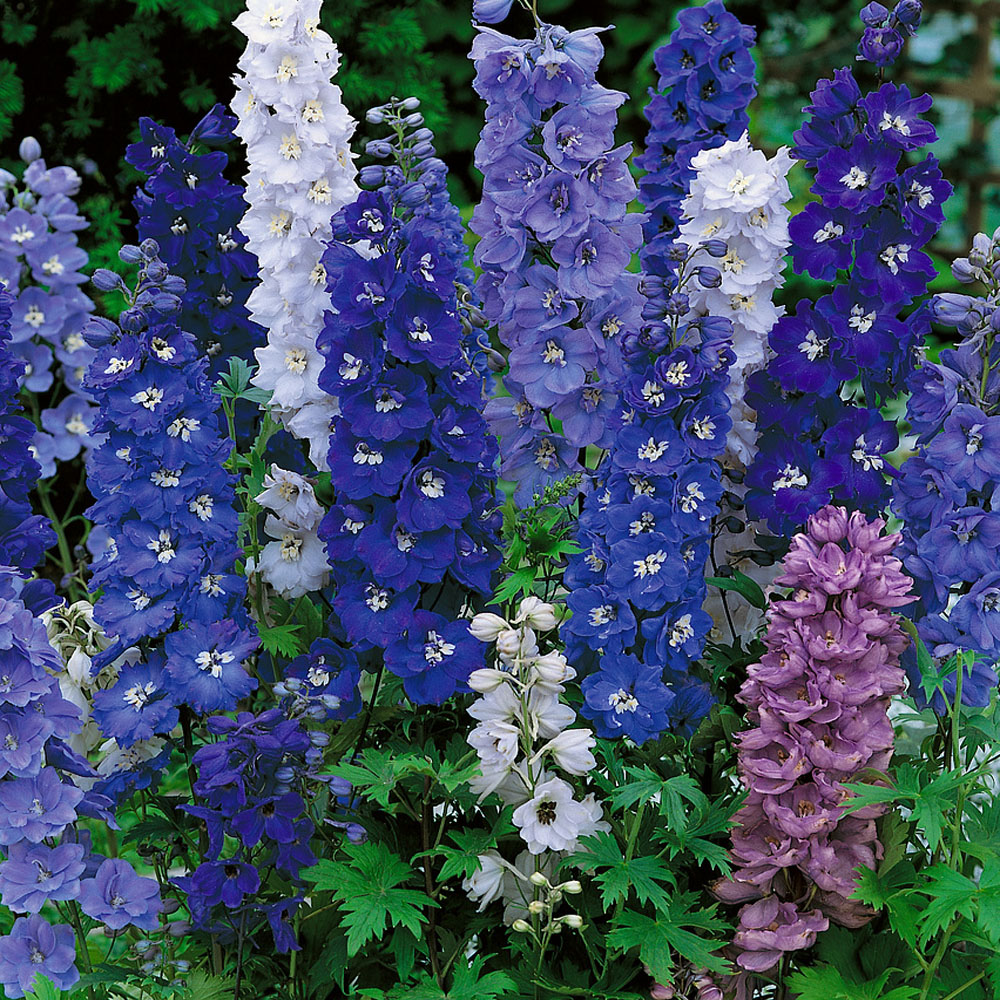 Delphinium (Delphinium Elatum Magic Fountains Crystal Mix) - A great compact habit for small spaces but all the beauty of the traditional tall delphiniums. Attracts butterflies and hummingbirds, but not deer or rabbits! This mid-sized series has strong stems with large spikes of flowers in shades from white to lilac, pink, blue and purple, sometimes with a contrasting centre or "bee".
Delphinium grow best in full sun; however, in hotter zones they may be planted in bright shade areas that still receive some direct sunlight during the day. They thrive in rich, deeply worked soil that drains well. Prefers cool, moist summer nights. Space plants approximately 24 inches apart for optimum performance. Grows well in zones 3 - 7, but in hotter zones you may need to treat as hardy annual. Delphinium care includes applying a balanced liquid fertilizer every month as the plants are heavy feeders.
To get a jump start on the growing season, sow Delphinium seeds indoors 4 - 6 weeks before last frost. Use sterile starter mix in trays and cover flower seeds 1/8 - 1/4 inches.
Excellent Landscape Flower
Delphiniums provide rich stalks of flowers that will bring a relaxing background of color to your garden or landscape!
Beautiful Garden Flower
How To Grow
Delphinium seeds can be sown indoors 4-6 weeks before the last expected frost in order to get a jumpstart on the growing season. Use a sterile starter mix in trays and cover seeds with 1/8-1/4 inch of soil. Keep the soil moist until germination occurs, which should take 12-18 days. Wait until seedlings have developed 2-3 sets of true leaves before transplanting outdoors. Harden off prepared seedlings by placing the seed trays in an area outside that is free from wind and weather for one week. Afterwards, they will be ready to plant directly in the garden.
Environment: full sun to partial shade
soil: rich and well-drained with pH 6.6-7.5
Sowing rate: 2-3 seeds per plant
Plant Information
Delphiniums are perennial flowering plants that grow in USDA zones 3 through 8. This is a mix that will produce colors of white, lilac, blue, purple, and pink. Delphiniums are effective at bringing pollinators to the garden, and butterflies and hummingbirds are particularly fond of this plant.
Bloom color: mix
Bloom season: summer
Height: 36 inches