Erigeron Seeds - Karvinskianus
Season: Perennial
USDA Zones: 5 - 8
Height: 8 inches
Bloom Season: Summer and fall
Bloom Color: White and pink
Environment: Full sun to partial shade
Soil Type: Well-drained, pH 6.1 - 7.8
Temperature: 60F
Average Germ Time: 14 - 30 days
Light Required: Yes
Depth: Do not cover
Sowing Rate: Appoximately 1000 seeds coves 20 square feet or 4 seeds per plant
Moisture: Keep seeds moist until germination
Plant Spacing: 12 - 24 inches
Care & Maintenance: Erigeron
Erigeron (Erigeron Karvinskianus Profusion) - Erigeron seeds easily grow a lovely yet hardy perennial. Also known as Santa Barbara Daisy and Mexican Daisy, this is a versatile perennial that performs well in low and high deserts. It produces a profusion of small daisy-like white flowers that turn pink and lilac in color as they age. It has bright green, fine textured foliage that fits well into lush landscapes. Erigeron is considered to make a good ground cover plant as it spreads rapidly and only reaches 8 inches tall by 24 inches wide. Erigeron is excellent cascading down banks or rock walls, in containers, or as edging. Part shade is recommended in hot locations, but it can handle full sun at higher elevations. Establishing easily from flower seeds, Erigeron Karvinskianus Profusion, a cultivar of a Mexican species, is a heavy bloomer, with flowers starting in June and ending in October. In low deserts the flower production is heaviest in the spring and fall, while summer color is the norm in colder climates.
Sow Erigeron flower seeds indoors 4 - 6 weeks before last frost. Use sterile starter mix and sow the flower seeds onto the mix. Do not cover the seeds because they do need light for germination. Transplant seedlings when temperature are warmed up. For directly sowing Santa Barbara Daisy seeds outdoors, wait until frost danger has passed and directly spread flower seeds onto prepared beds. Keep the flowers seeds moist but do not cover. Because Erigeron needs moderate to ample irrigation, it is most suited to oasis zones. Erigeron Karvinskianus Profusion can be cut back in the winter to remove any scruffy foliage. If ample water is available, this plant can re-seed in the landscape.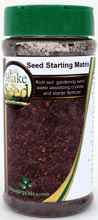 Shake 'n Seed - We are now offering shaker bottles filled with our seed starting matrix: rich soil, gardening sand, water absorbing crystals, and starter fertilizer. This not only helps dispense your seed, but it gets it off to a great start! Simply remove lid from shaker bottle, add seed from packet, put back on lid, shake the bottle vigorously for 15 seconds, and then shake your way to beautiful new plants! Use Shake 'n Seed over good quality soil, and then gently water to keep seed moist until it sprouts. Great for ground covers or mass planting flower seeds.