Approximate seeds per pound: 4,535,924
Season: Biennial
USDA Zones: 3 - 9
Height: Up to 72 inches
Bloom Season: Early summer
Bloom Color: Mix
Environment: Full sun to partial shade
Soil Type: Well-drained, pH 5.8 - 7.2
Deer Resistant: Yes
Temperature: 60 - 65F
Average Germ Time: 20 - 30 days
Light Required: No
Depth: Do not cover the seed but tightly press into the soil
Sowing Rate: 1/4 ounce per 1,000 square feet or 1/2 pound per acre or 4 - 6 seeds per plant
Moisture: Keep seeds moist until germination
Plant Spacing: 12 - 18 inches
Care & Maintenance: Foxglove
Foxglove (Digitalis Purpurea Excelsior Mix) - This mix is perfect for the cottage garden or bordering the back of the perennial garden. These tall stately beauties easily establish from Foxglove seeds. This biennial or short-lived perennial produces spires of large tubular flowers that are enchanting vertical accents in the sun or partial shade garden. The flowers are in colors that include cream, pink, purple, yellow and white. They bloom in late spring or early summer and if the main spike is cut, side shoots will develop and flower until September. Foxgloves look wonderful in a woodland setting, and they attract hummingbirds and butterflies.
Sow Foxglove wildflower seeds in late spring to early summer outdoors in a well prepared seed bed. Sow the seeds on the surface and press them in gently. Keep the flower seeds and soil damp until germination takes place.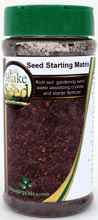 Shake 'n Seed - We are now offering shaker bottles filled with our seed starting matrix: rich soil, gardening sand, water absorbing crystals, and starter fertilizer. This not only helps dispense your seed, but it gets it off to a great start! Simply remove lid from shaker bottle, add seed from packet, put back on lid, shake the bottle vigorously for 15 seconds, and then shake your way to beautiful new plants! Use Shake 'n Seed over good quality soil, and then gently water to keep seed moist until it sprouts. Great for ground covers or mass planting flower seeds.