Nasturtium Seeds - Canary Creeper
Season: Perennial
USDA Zones: 9 - 10
Height: 78 - 144 inches
Bloom Season: Summer to fall
Bloom Color: Yellow
Environment: Full sun to partial shade
Soil Type: Moist, neutral to acidic, fertile well drained soil
Deer Resistant: Yes
Latin Name: Tropaelum Peregrinum


Canary Creeper Nasturtium (Tropaeolum Peregrinum) - Start nasturtium seeds and grow this exotic vine that is from the Canary Islands. Known as Canary Creeper Vine or Canary Bird Vine, this beautiful and delicate vine will climb a structure. Provide a string, and it will climb a fence or porch railing nicely. The Canary Creeper flower resembles the feather wings of a canary. Nasturtium Canary Vine adds an exotic look to the landscape. Canary Creeper is normally treated as an annual in zone 8; however during mild years, it does winter over. As long as there is not a hard frost, Canary Creeper will grow as a perennial climbing vine.
Canary Creeper seeds should be soaked in water overnight to help break down the tough outer seed coat. Sow the Nasturium seeds directly outside and cover the flower seed 1/4 inch with soil. Canary Creeper care includes watering deeply, but letting the roots dry out in-between waterings. There is no need to either fertilize or deadhead the vine. The Canary Bird flowers, young leaves, and fruit are edible and, like its cousin the nasturtium, has the same peppery taste.
Exotic Climbing Plant
Canary creeper is a most unusual and delightful flowering vine that sports tropical yellow blooms.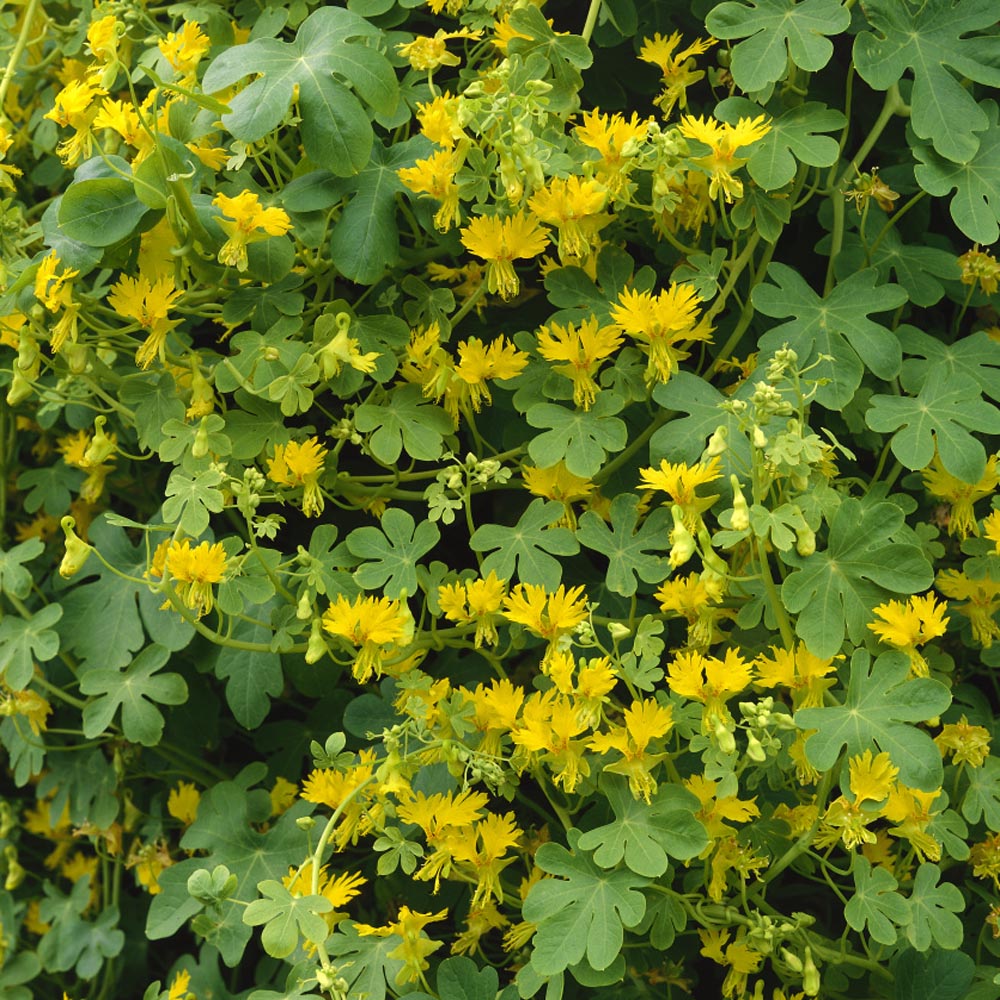 Gorgeous and Unique Flower
How To Grow
To assist the germination process, it is best to soak these seeds overnight: this helps break down the tough outer seed coat. Nicking with sandpaper is another way to prep the seeds. Seeds can be sown directly outdoors after all danger of frost has passed. Cover seeds with 1/4 inch of soil: darkness is required for these seeds to germinate. Keep seeds moist until germination. Once seedlings have developed, thin plants to about 24 inches apart. Water these plants deeply, but allow the roots to dry out in-between waterings.
Soil: fertile and well-drained
Moisture: keep seeds moist until germination
Environment: full sun to partial shade
Sowing rate: 1-2 seeds per plant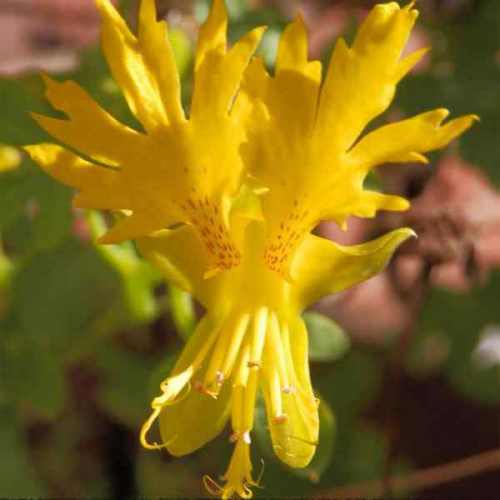 Plant Information
Canary creeper is a perennial vining plant that grows best in zones 9-10, although it can grow as an annual in zone 8. It can grow up to 12 feet in length each year, and its flowers and leaves are edible.
Bloom season: summer to fall
Bloom color: yellow
Plant type: vining
Average germ time: 7-14 days