Season: Annual
USDA Zones: 3 - 9
Height: 30 - 36 inches
Bloom Season: Summer
Bloom Color: Orange
Environment: Full sun
Soil Type: Dry, light, well drained soils, pH 6.0 - 7.0
Deer Resistant: Yes
Latin Name: Carthamus Tinctorius
Temperature: 60 - 70F
Average Germ Time: 7 - 14 days
Light Required: Yes
Depth: Sow seed 1/4 inch deep
Sowing Rate: 1 - 2 seeds per plant
Moisture: Keep seeds moist until germination
Plant Spacing: 6 - 10 inches
Care & Maintenance: Safflower






Safflower (Carthamus Tinctorius Orange) - For an unusual yet lovely flower, grow Safflower seeds for this annual with orange flower heads. The plant has foliage that is thistle-like and reaches 30 - 36 inches in height. It blooms throughout the summer with orange, tubular flowers. The Carthamus flower is often used for dried arrangements as is considered to be an everlasting. Plant orange Safflowers on banks and slopes, beds and borders, containers, cottages gardens, and many other applications. The color of the blooms is outstanding, and the foliage is mildly prickly.
Traditionally Carthamus Safflower was grown from herb seeds for its flower used in coloring and flavoring food, making dyes for silk or wool, and in medicine. The Carthamus herb makes a good replacement for expensive saffron. In the last 30 - 40 years, however, due to an increasing demand for vegetable oil in the human diet, its production as an oilseed crop has received a great deal of attention as it provides a quality oil that is considered to be a healthier option over other types of vegetable oil.
How To Grow Safflower Seed: When sowing Carthamus Tinctorius flower seeds outdoors, it should be planted at a depth of 1/4 inch in light soil in the early spring, before the last frost of the season. When growing Safflower seeds indoors, the seed should be sown in peat pots about 8 weeks before they are ready to be transplanted outdoors after danger of frost has passed. The seedlings should be planted out with a spacing of 6 - 10 inches in a sunny part of the garden. Protection from rabbits may be needed.
Very Versatile Plant
Not only does safflower look beautiful, but its petals make a great replacement for saffron!
Delightful Garden Plant
How To Grow From Seed
When sowing outdoors, plant at a depth of 1/4 inch in light soil in the early spring, before the last expected frost. If growing indoors, sow in peat pots about 8 weeks before final frost, and transplant outdoors after frost danger. These seeds germinate best in dry and well-drained soils. Make sure to keep moist until germination, which takes around 7-14 days. Sow 1-2 seeds per plant, and then thin emerged seedlings to about 6-10 inches. Plant in full sun, as safflower does best with plenty of light. Note that protection from rabbits may be necessary.
Soil: well-drained with pH 6.0.-7.0
Environment: full sun
Plant spacing: 6-10 inches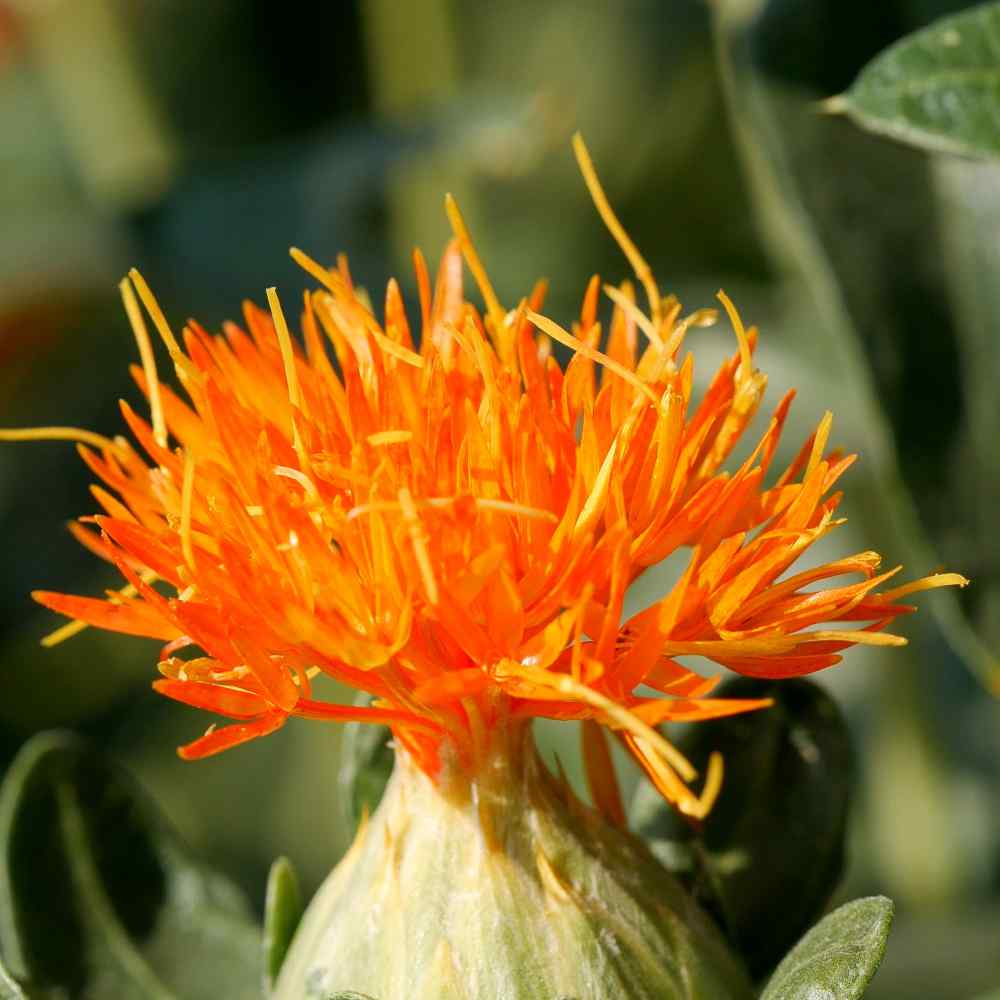 Plant Information
Orange safflower is an annual flowering plant that grows in USDA zones 3 through 9. These plants grow up as very stiff and prickly barriers, and they have traditionally been planted around gardens as a wall against unwelcome critters.
Bloom season: summer
Bloom color: orange
Height: 30-36 inches