Groundcover Specifications
Season: Perennial
USDA Zones: 8 - 11
Height: 8 inches
Bloom Season: Summer and fall
Bloom Color: Mix
Environment: Full sun
Soil Type: Well-drained, especially in winter; pH 5.8 - 6.8
Temperature: 68F
Average Germ Time: 14 - 21 days
Light Required: No
Depth: Do not cover the seed but tightly press into the soil
Sowing Rate: Approximately 100 seeds covers 10 square feet or 2 seeds per plant
Moisture: Keep seed moist until germination
Plant Spacing: 12 inches
Care & Maintenance: Gazania
-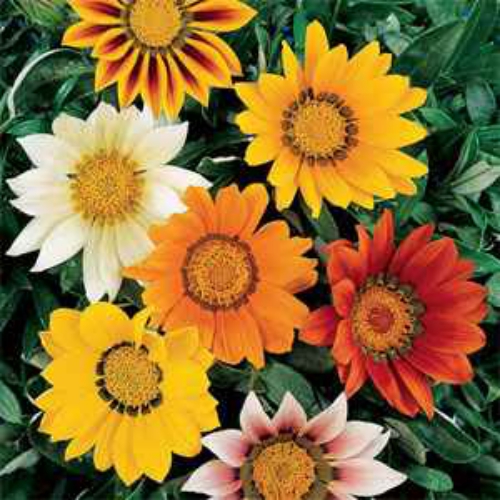 Gazania (Gazania Splendens) - Easily grown from Gazania seeds, this incredible little flower is a delight all summer long! Gazania, or Treasure Flower as it's commonly called, is a hardy little plant that makes a wonderful ground cover. It is covered with large 3 - 4 inch blooms ranging in colors of red, yellow, orange, white and pink. Gazania ground cover plants will bloom 12 weeks after sowing the ground cover seed! You just can't improve upon these huge blooms, glowing with bright color, that completely cover the small plants. They reach 8 inches tall and spread 10 inches wide. Gazania Treasure Flower has a lot to brag about as a ground cover plant! With large, showy flowers, an early and long bloom season, and ultra-tolerant low, rapidly spreading foliage, you will want to sow the Treasure Flower seeds in your garden!
Hardy in zones 8 - 10, Gazania ground cover plants are a fabulous long-season annual elsewhere. Start Gazania seeds indoors 4 - 6 weeks before last frost, or sow the ground cover seeds directly outdoors as soon as the soil can be worked in spring. They make a great permanent ground cover in areas where they are perennial -- particularly southern California and the deep South!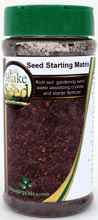 Shake 'n Seed - We are now offering shaker bottles filled with our seed starting matrix: rich soil, gardening sand, water absorbing crystals, and starter fertilizer. This not only helps dispense your seed, but it gets it off to a great start! Simply remove lid from shaker bottle, add seed from packet, put back on lid, shake the bottle vigorously for 15 seconds, and then shake your way to beautiful new plants! Use Shake 'n Seed over good quality soil, and then gently water to keep seed moist until it sprouts. Great for ground covers or mass planting flower seeds.