Groundcover Specifications
Season: Perennial
USDA Zones: 4 - 8
Height: 2 - 3 inches
Bloom Season: Summer
Bloom Color: Golden yellow
Environment: Full sun to partial shade
Foot Traffic: Light
Soil Type: Well-drained, pH 6.8 - 7.2
Planting Directions
Temperature: 68 - 72F
Average Germ Time: 14 - 28 days
Light Required: Yes
Depth: Do not cover the seed but press into the soil
Sowing Rate: Approximately 5000 seeds cover 100 square feet
Moisture: Keep seeds moist until germination
Plant Spacing: 12 inches
Note: For detailed directions for indoor and outdoor planting, please Click Here
Care & Maintenance: See: Sedum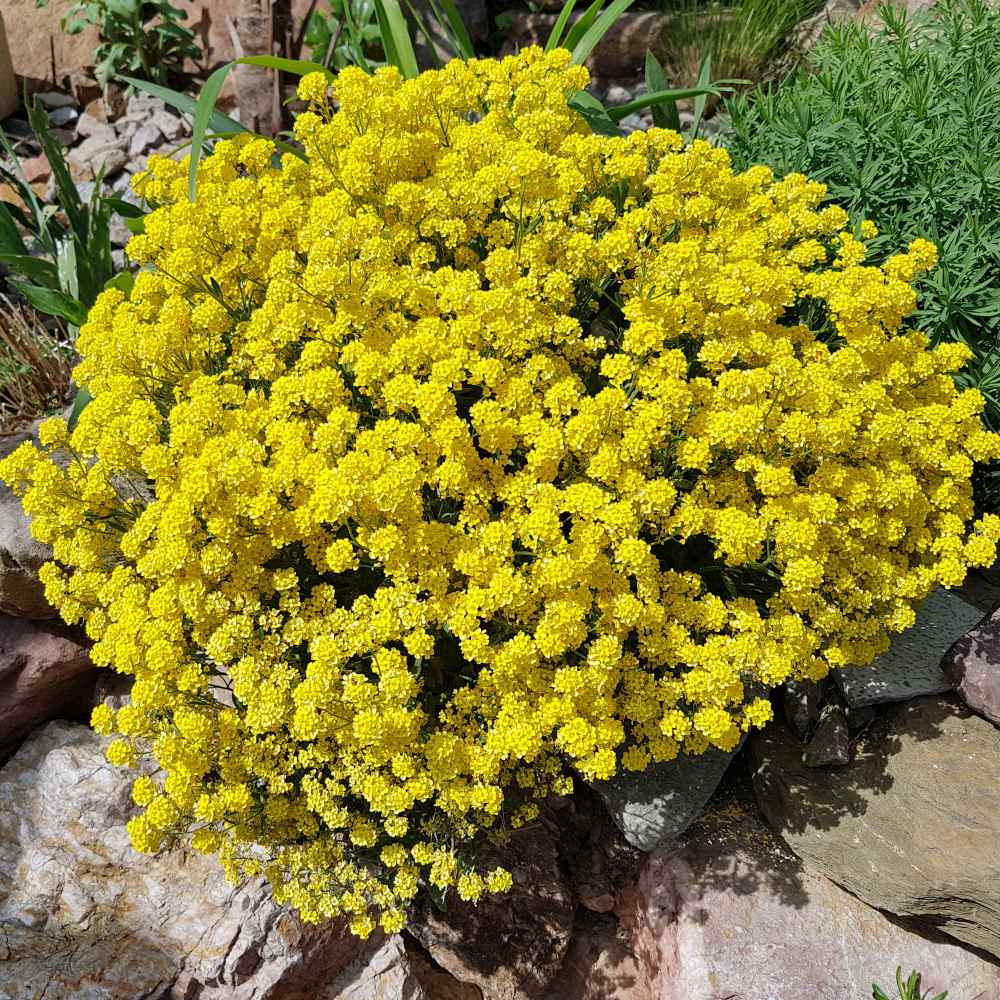 Sedum (Sedum Acre) - Start Sedum Acre seeds to grow an excellent performing ground cover commonly known as Stonecrop. Yellow Stonecrop ground cover plants form a brilliant, intense golden yellow carpet that will rapidly spread and fill in, giving you ground cover over a large area in a very short time. Yellow Sedum is so well-known and used that it has many common names: Goldmoss Stonecrop, Goldmoss Sedum, or Golden Carpet Stonecrop. It is a perennial plant native to Europe but also naturalized in North America. Sedum Acre Goldmoss grows well in poor soils, sand, rock gardens, and rich dirt, in a variety of light conditions, but prefers mostly sunny conditions. It is such a versatile plant. Sedum Acre Stonecrop is well-suited for use in hanging baskets and container gardens as a trailing accent, as borders and edging in the flower garden, or as a general ground cover plant.
Sedum Acre seeds can be sown indoors or directly outdoors. Indoor sowing can be done 6 - 8 weeks before last frost date. Use small pots or flats and sterile starter mix. Pre-moisten the starter mix and sow 5 - 7 Stonecrop seeds per container. The Sedum seeds are exceptionally small, so only press the ground cover seed into the moistened soil, and do not cover the seed. Keep the seeds moist but not saturated until they germinate. For outdoor sowing, wait until garden soil temperatures are 70F. Select a site with well-draining soil. If necessary amend soil with organic matter. Loosen the top 1 - 2 inches of soil, remove any weeds, and gently broadcast the Sedum ground cover seeds over the soil. Lightly press the seeds into the soil, and keep the seed continuously moist until germination.
Shaker Bottle With Seed Starting Matrix

Shake 'n Seed - We are now offering shaker bottles filled with our seed starting matrix: rich soil, gardening sand, water absorbing crystals, and starter fertilizer. This not only helps dispense your seed, but it gets it off to a great start! Simply remove lid from shaker bottle, add seed from packet, put back on lid, shake the bottle vigorously for 15 seconds, and then shake your way to beautiful new plants! Use Shake 'n Seed over good quality soil, and then gently water to keep seed moist until it sprouts. Great for ground covers or mass planting flower seeds.